Back to Blog Front page
What to think through when choosing an Extruder?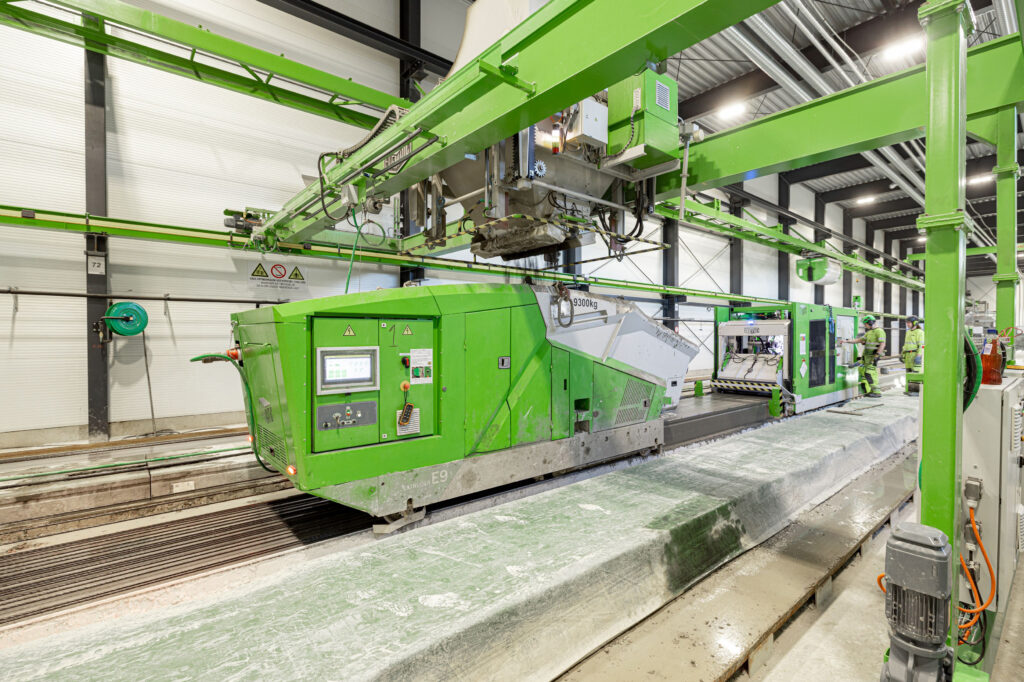 If you are pondering what kind of an extruder would best match your hollow-core slab production capacity and cost-efficiency requirements, this blog is for you. I will explain the main differences between Elematic Extruders E9, P7 and S5, and how to choose the most suitable one for your precast plant.
Where to start?
Whether you are looking for a new extruder for your existing hollow-core plant or for a completely new factory, you must be searching for a reliable producer of a machine that enables cost-efficient and high-quality casting. In my opinion, there are three main things to consider; maximum production capacity, production costs and lifetime support from the machine provider. In other words, it is worth thinking how to reach maximum profit for your capital and investment. In some cases it is worthwhile to accept higher production costs if it increases the capacity and subsequently profit more than the added extra cost.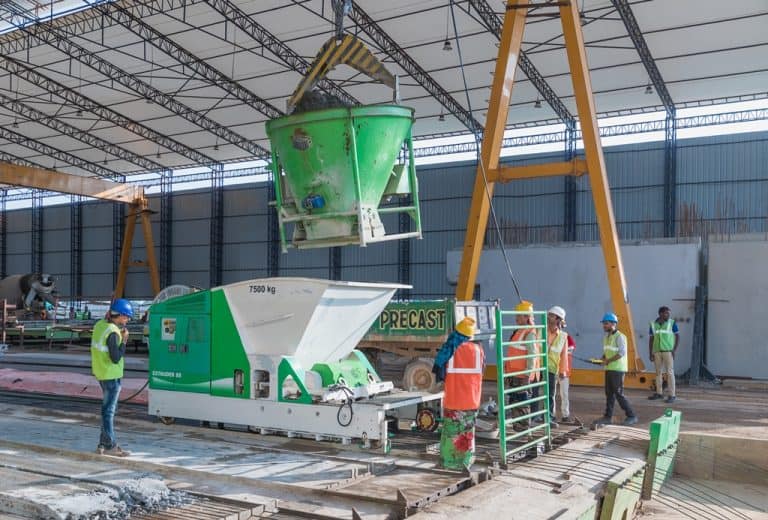 Elematic extruders have been designed for three different production capacity requirements – SEMI, PRO and EDGE – which all represent advanced technology, modern design and good functionality. Extruder S5 is a part of the SEMI line and offers an easy production startup of hollow-core slabs up to 320 mm with a low investment. S5 is a very good choice when high capacity or a wide variety of products don't play a key role. The machine is extremely simple to use with push buttons instead of a touch screen, however, the machine does not have automatic compaction.
In contrast, if you are planning to produce slabs that are higher than 320 mm with high capacity, Extruders P7 and E9 match your needs. P7 is suitable for producers aiming at 500-1,500 m2/day production and E9 for 1,000-3,000 m2/day. Both of them are equipped with efficient automatic shear compaction and highly durable wear parts. Production versatility also sets them apart from their little brother, S5, because with the extruders P7 and E9, you can produce narrow hollow-core slabs (filler slabs), piles & poles, solid slabs, wing-slabs, walls, fences, sockle and stadium slabs only by changing the nozzle module or exchange parts.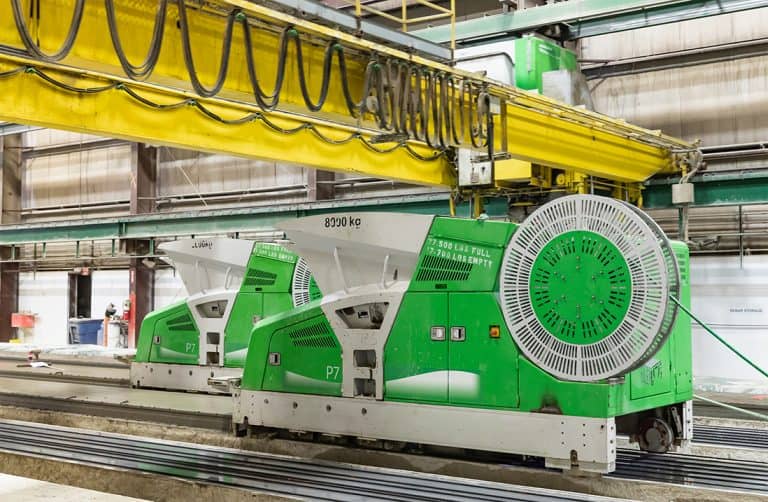 The casting quality and speed
In an earlier blog, I described why it makes sense to invest in Extruder P7 if your goal is to significantly reduce production costs and increase the quality of casting. I explained that compared to a slipformer, you will need 30 % less concrete and save up to 100 kg / m³ of cement with Extruder P7. Furthermore, the machine has 10 – 15 % more efficient compaction and saves 15 – 50 kg / m³ of cement compared to previous Elematic extruders, namely EL 900. This is thanks to automatic shear compaction, which reacts to the changes in the concrete mass, together with a more rigid frame, higher pressure in the casting chamber and the geometry of the feeding screws.
The new Extruder E9 represents the 2nd generation of automatic compaction control extruders, the algorithm of which results in even more reliable casting, even with high speed.
With the industry's highest casting speed of up to 2.7 meters per minute – 30% to 70% faster than its predecessors – Extruder E9, perfectly responds to the requirements for fast slab production. The speed is achieved with a new design of the extruding screws, optimized casting parameters and independent screw drives. The separate drives ensure the even quality of the slabs with greater casting speed. However, it is not only about speed – the machine is equipped with slow motion feature, which enables constant casting even when you need to wait for more concrete to be delivered to the hollow-core hall. The feature is also beneficial in situations where the finishes – e.g. plotting, digging openings and drilling water holes – take more time and you want to recycle all the excess concrete.
Note: the casting speed is not the only thing that affects capacity, as other work processes at the hollow-core plant also impact the work flows. For example, bed preparation, slab maturing, cutting, and transportation to the storage, should support the casting speed to be able to utilize all its benefits. In some cases it is also possible that slower casting speed is more suitable for your concrete transport system and design of the plant.
Moreover, the added intelligence of the new E9 increases the casting quality, because one common problem has been fixed: the unwanted bouncing of the top surface. This is the only machine in the market that prevents this bouncing with no need for any mechanical procedures.
Increasing safety
Even though Elematic extruders come in three different technology levels, all of them are designed as safe as possible. Machine safety is the sum of several factors, and thus, the extruders have been designed so that the space where the machinery is placed, the people working with it, the maintenance operations and the production of the machine, are considered.
For example, you may wonder why Elematic extruders don't have ladders for climbing on top of the machines. Our answer is that there is actually no need to climb. The amount of concrete can be seen from the screen and if you want to see inside, it can be done through the peek hatch. The machine will, however, stop casting if any of the hatches are opened while in production. Another good example is the attachment and detachment of the lifting hook of the Extruder E9, because it can be done without climbing from the service platform at the rear of the machine.
Elematic extruders have been designed keeping safety the priority in every detail. Of course, the more automated the processes are, the safer it is for your employees. If you have noticed safety issues while using our extruders, we would be happy to hear your comments.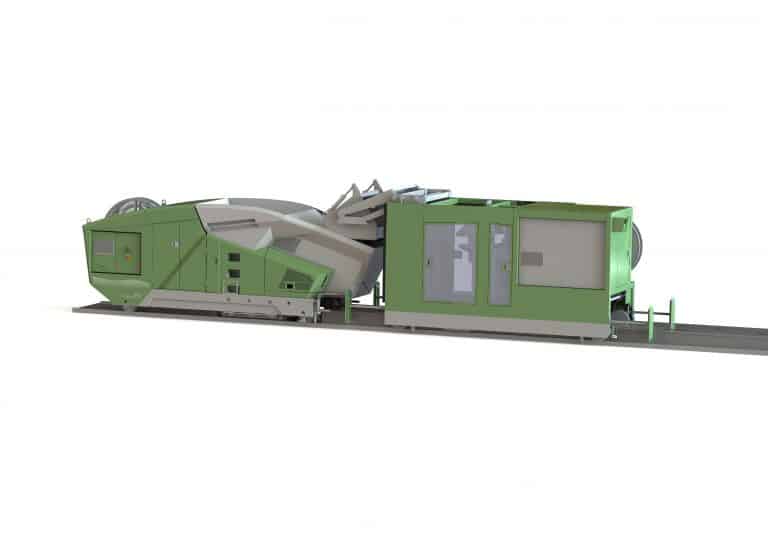 What's new?
Are you producing hollow-core slabs for which you have to dig openings and recesses and drill water holes while the concrete is still fresh? If yes, Extruder E9 is a good choice because it works together with Modifier E9, which is used for marking cutting lines and doing modifications straight onto unhardened slabs. The machine doesn't use any water in digging, which is why the concrete removed from openings can be recycled. Extruder E9 is equipped with a smart concrete recycling option, and thus, has a separate container and conveyor for recycled concrete. The recycling happens by transporting recycled concrete back into the extruder with the compatible Modifier E9, after which it is slowly mixed together with the fresh concrete. The only difference concrete recycling brings is that it is an additional part to clean. It's rather insignificant if you think of the savings in waste expenses.
In addition, if your clients order filler slabs – non-standard narrow hollow-core slabs – from you, they can be easily produced with Extruder E9 on the same production line. The standard slab can be divided into two identical, two asymmetric or even three slabs. You can choose from varied widths between 300 – 1,200 mm on a basic 1.2-meter-wide bed. The need to saw hard slabs in half can thus be significantly reduced, which means no more related dust, noise and injury risks at your factory. The same can be done with Extruder P7.
Lifetime support
Remember that when choosing an extruder, the machine is not the only thing that matters, because the machine provider should also be there to support you throughout the lifecycle of the machine. From Elematic you can receive training on how to best use and maintain your extruder and quickly get help as well as spares and wears when needed. Whether you would like to improve profitability, increase equipment uptime, solve problems or increase overall efficiency, our professionals are at your service with vast experience from unique hollow core plants around the world.
The main thing to remember is that whichever extruder you choose, it should match not only your capacity and quality requirements, but also other work processes at the factory. The decision also depends on your priorities; cost-efficiency, return on investment, sustainability and automation to name a few. Let's discuss together to see what kind of an extruder would best meet your needs.
Writer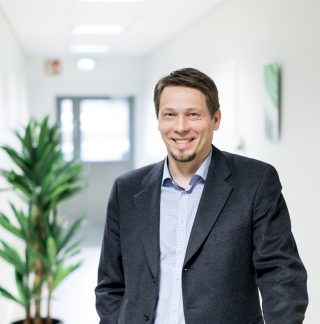 Jani Eilola
Product Director, Floor Technologies
Elematic Oyj
RELATED PRODUCTS
DO YOU HAVE QUESTIONS? CONTACT US!