Back to Concrete Issues Front page
Xuan Mai modernizes building construction in Vietnam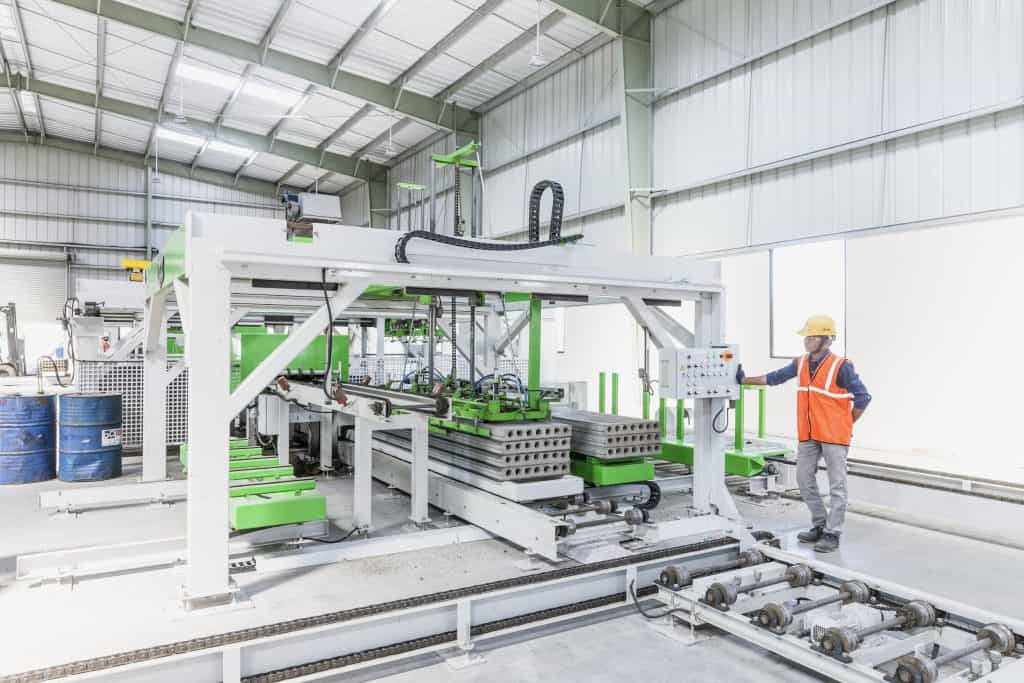 When the Vietnamese construction company Xuan Mai wanted to modernize its production processes and create better, more durable buildings, the use of lightweight precast concrete partition walls became central to its vision.
Elematic Acotec is a technology for light, non-load bearing, room-high partition wall panels. Because the Acotec line covers the entire production process from concrete batching all the way to storage yard management, it can help construction companies achieve reliable results fast.
Acotec panels are lightweight, making them easy to handle on site and quick to put up. These factors and the modularity, easy set-up and small size of the production line became a key factor for one of Vietnam's best-known construction companies, Xuan Mai, as it sought to develop its business.
The Acotec production line does not need much floor space or a large plot. It can also be easily placed in existing premises, which enables fast production set-up in minimal time.
An easy and economical alternative to replace clay bricks
Xuan Mai was looking for an easy partition wall solution, which is how they came across the Acotec concept and the panel's production technology.
"Elematic's Acotec wall line technology was superior," says Bui Khac Son, the President of the Board at Xuan Mai.
"The highlight of this technology is the high degree of automation, high productivity, good product quality, and the fact that it requires little space for production," he adds.
Economics were another key factor that helped Xuan Mai come to a decision. Being aware of project budgets is essential for any contractor these days. Using Acotec panels as partition walls can help companies generate cost savings in labor and time.
The traditional approach of clay bricks in partition walls is questioned to an increasing degree discussed, as the industry is small-scale and has no emission control measures. Clay brick manufacturing has a negative effect on air quality, which means there is a need for more sustainable solutions. Xuan Mai chose Acotec instead to cut down harmful effects and maximize benefits.
The Acotec partition wall solution is primarily made from concrete and lightweight expanded clay aggregate, i.e., Leca materials, which are easily available all over the world.
"It generates material and labor savings. The thin structure and the hollows of the wall panels should save on material costs in comparison to traditional wall types such as brick wall, block or air-pressured concrete. Traditional production processes require costly raw materials, but simple hollow wall materials such as cement, sand, and water are in abundant supply in Vietnam. The raw materials used also offer superior qualities, such as moisture resistance, excellent fire resistance and very good sound insulation.
Good sound insulation was actually one of the key criteria for Xuan Mai in large public projects.
"Acotec panels should be used in projects that require a high degree of soundproofing and insulation such as schools and hospitals," Son says.
Buildings with Acotec walls also have a longer life and more durability than ordinary brick-based structures.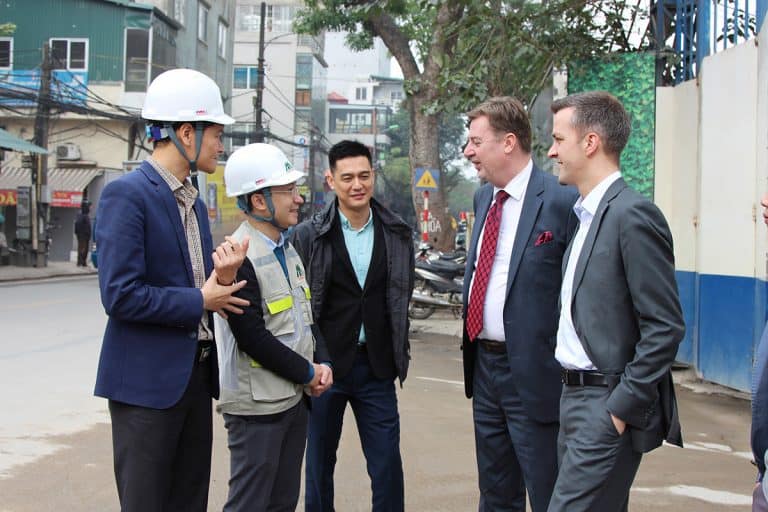 Matthias Jonas, Rieckermann (right) and Ismo Kallio, Elematic visiting Xuan Mai in Vietnam.
Easy installation
The superiority of the finished product helps projects to progress smoothly. Walls made in the factory with high precision and smooth surfaces can be painted directly, and there is no need to plaster them.
"In addition, Acotec walls can be easily installed, resulting in time savings," explains Son.
"The pore hollows in the product are practical as they can be used flexibly for installation of water distribution. Construction of the ME system is also easy due to the holes. It is possible to produce the length needed depending on the height of the work in the factory without having to pair at the site," Son says.
The grading using ordinary materials is easy to choose and the high intensity, homogeneous structure can ensure the trouble-free hanging of heavy objects such as paintings, TV or even air conditioning units.
Future profits realized today
Xuan Mai wanted to bring the world's leading construction technology to Vietnam.
Since the installation of Elematic's Acotec line, the company has successfully used the technology across multiple projects such as residential and public buildings, including the Xuan Mai Complex and Xuan Mai Sparks Tower, Vinschool, Golden Silk B and Ecohome Phuc Loi.
"The hollow wall is only 68 mm to 140 mm thick, which is a significant reduction when compared to other traditional walls. This naturally increases the area of the apartment, which therefore also means an increase in profits for the builder," Son explains.
"Prefabricated hollow wall panels are used extensively around the world, from developed countries such as Germany, Finland, Spain, the USA, and Korea to developing countries such as the Philippines, Thailand and Indonesia, which means learning about the technology is relatively easy," Son notes.
For Xuan Mai, the use of the Acotec line means future profits are realized today.
"Thanks to the Acotec wall, Xuan Mai is more widely known in the construction market, contributing to increased sales in the overall construction of buildings, and making us the leader in construction technology in Vietnam," Son concludes.
"The highlight of Acotec technology is the high degree of automation, high productivity, good product quality, and the fact that it requires little space for production."
Bui Khac Son, the President of the Board at Xuan Mai