Quality, strength, and water savings
Five years ago, Finnish precast manufacturer Betset invested in a new Recessor E9. Since then, it has produced more than 200,000 square meters of high-quality bathroom slabs.
Recessor E9 is at work every day at Betset's precast plant in Nurmijärvi, Finland.
Out of the 267,000 square meters of hollow core slabs that the factory delivered in 2022, 41,000 square meters – or a good 15 percent – were recessed bathroom slabs. And there are no signs of a decline in demand, says Factory Manager Tuomas Puoliväli.
"There is a trend towards more and more ready elements. Bathroom slabs are in high demand, and the designs are complicated with more recesses and lots of different angles and details," Puoliväli notes.
Betset's factory in Nurmijärvi has offered bathroom slabs since 1996 when Tuomas Puoliväli's father was part of starting up production there. In the beginning, recesses were made by hand, but they have come a long way since.
Even with challenging slab designs, the plant can deliver what its customers require, partly due to Recessor E9.
"The quality of the slabs is much better compared to our previous recessor: They look better, they are stronger, and Recessor E9 uses a dryer concrete mix, which gives us substantial savings on water."
From a user perspective, the Betset team is also satisfied with the recessor from Elematic. It was easy to take into use and is simple to operate.
"I have nothing negative to say about the machine. I'd buy it again any day," concludes Puoliväli.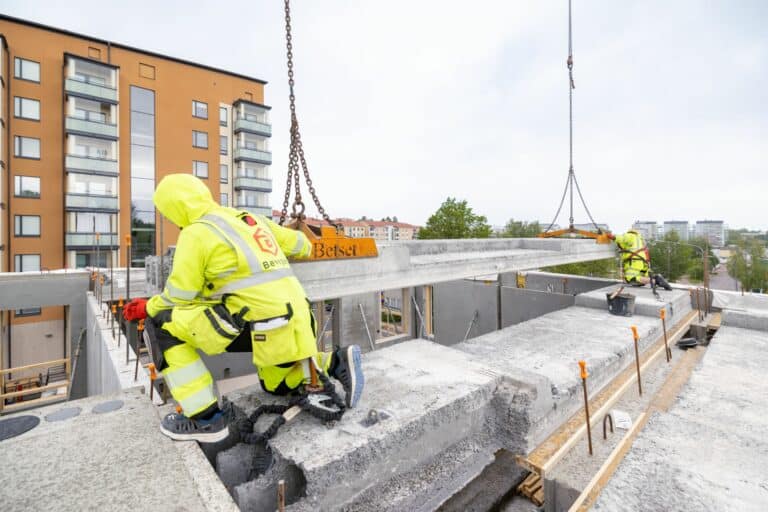 "The quality of the slabs is much better compared to our previous recessor: They look better, they are stronger, and Recessor E9 uses a dryer concrete mix, which gives us substantial savings on water."
Tuomas Puoliväli, Factory Manager, Betset