Back to Concrete Issues Front page
Motorized opening-and-closing-device for battery molds – Increasing work ergonomics and safety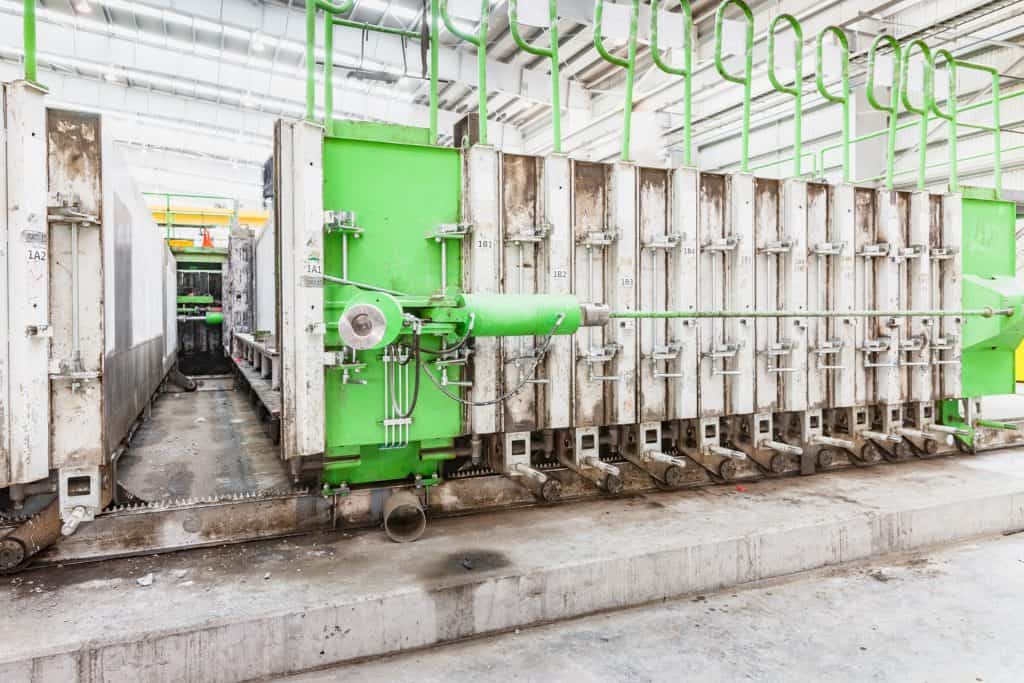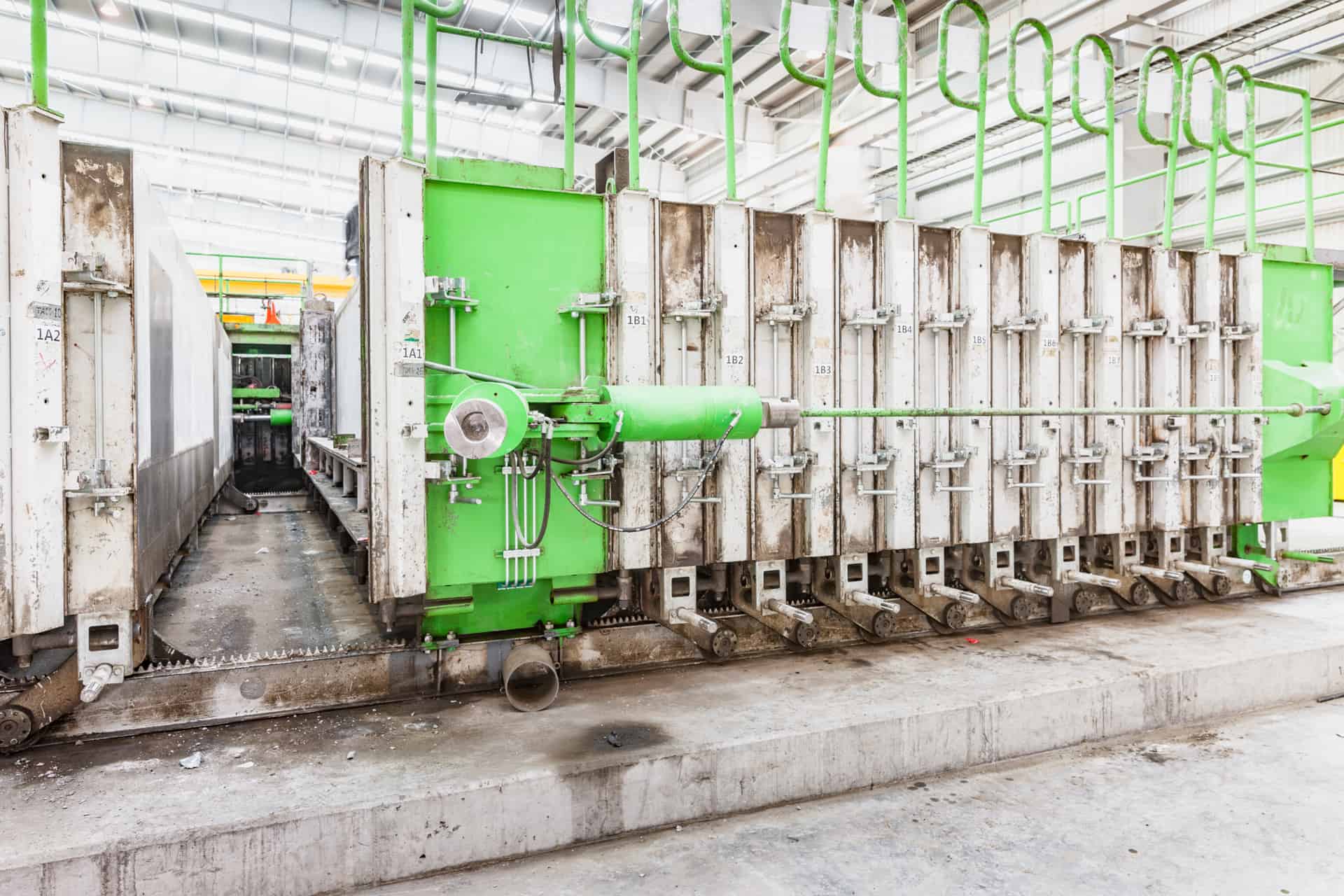 In the precast process, even small developments can significantly improve work safety, such as the semiautomatic system enabling battery molds to be opened and closed at the press of a button. The solution was recently launched by Elematic.
Traditionally, battery molds used for precasting wall elements have been opened and closed manually. Casting cells with casted elements weigh several tons, and operating the opening and closing of the mold has been a heavy work phase for the operator. Encouraged by user feedback, Elematic has created an innovative, easy-to-use, and ergonomic mechanism for opening and closing molds.
"The starting point was to develop the battery mold by mechanizing the opening and closing process, and improve the user experience and safety. The new mechanism enables the mold to be closed and opened at the press of a button. This increases work safety and improves work ergonomics, minimizing the risk of injury," says Jouni Sirkka, Director, Product Development at Elematic.
The battery mold device includes a semiautomatic, fixed chain mechanism at the bottom of the mold. A control cabin with push buttons is the default way of operating the device, but there is a radio-control option for challenging working spaces.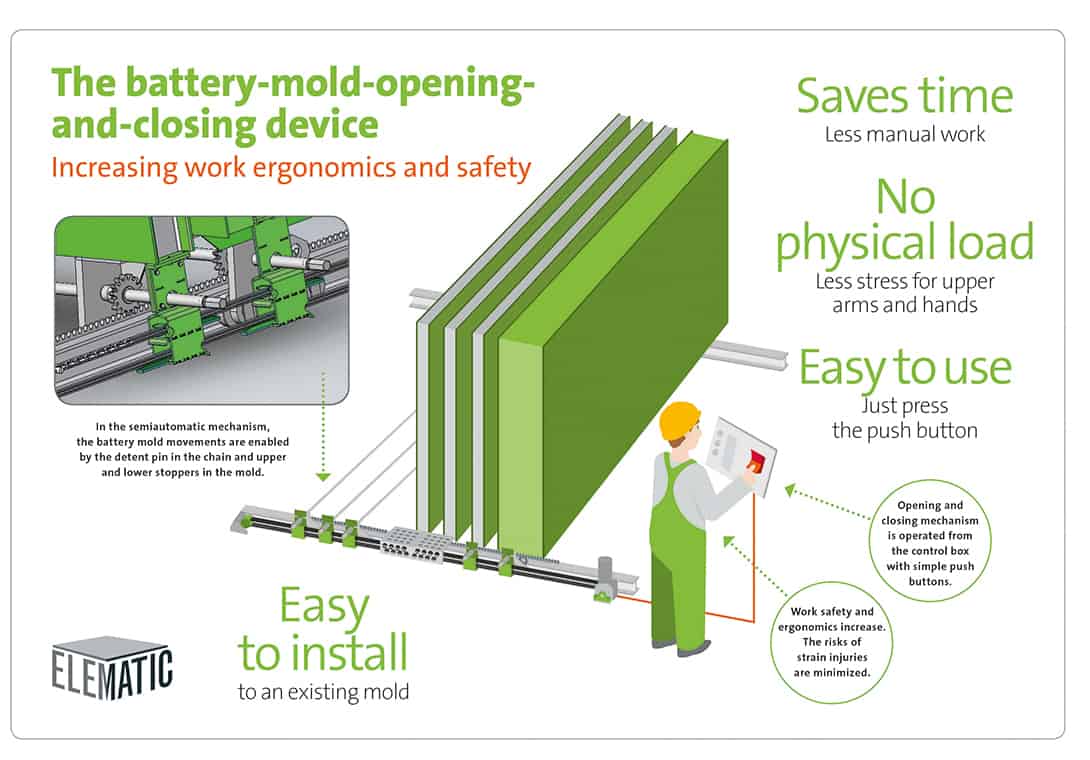 "The control cabin is installed near the mold. All that is needed is a power supply. Opening and closing actions can be performed a small distance from the mold. Operating the battery mold manually with a ratchet wrench may cause stress, especially on the upper arm and elbow. With the new device, the working position is more ergonomic: the mechanism can be operated without continuously burdening the same arm," explains Ismo Kallio, Product Director, Walls at Elematic.
"As the manual work during the opening and closing is lighter, more time is available to ensure that all work phases go smoothly. This further contributes to safety in the workplace." The new device can be installed in both traditional and cold-shuttering battery molds. It can also be retrofitted to existing molds. Installation is quick: it takes approximately two days, depending on the battery mold. Even after the motorized opening and closing mechanism is installed, the battery mold can still be operated manually if needed.
Saving time and minimizing physical load
The new mechanism has been used since the end of last year by VaBe Oy, a Finnish company providing precast concrete wall panels, installation and design work with over 20 years' experience. According to Supervisor Peter Palojärvi from VaBe, the team working on the battery mold have had only positive experiences on the new device.
"We had the mechanism installed in an existing battery mold. The new device saves time and lessens the physical load. Previously, the team that worked on the battery mold experienced aches and stresses on the upper arms and hands due to the heavy opening and closing operations. After we started using the new mechanism, these injuries have been history," Palojärvi states. "The new device is easy to use. Just press the push button on the remote control. Battery mold adjustments can still be made mechanically as well," Palojärvi says. He says that the mechanism has been trouble-free and has functioned better than expected. "You could anticipate some minor flaws with a completely new device, but there haven't been any."