Back to Concrete Issues Front page
Mega project showcases the potential of precast in India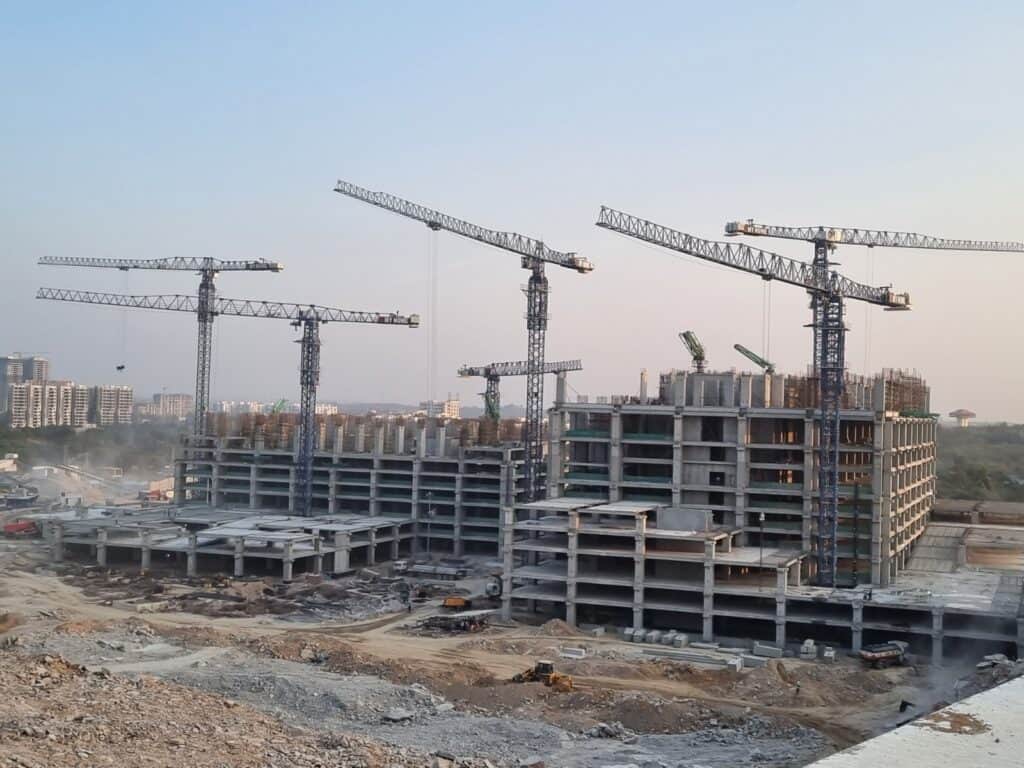 Story by story, Asia's tallest precast towers with a total planned Built up Area of 3.7 million square meters are stretching toward the sky in Hyderabad, Telangana State, India. My Home Construction chose Elematic as its structural design partner and equipment supplier for this monumental project.
Hyderabad's two 43-story, 180-meter landmark towers will be followed by six more. Each tower takes up a Built up Area (BUA) of 241,000 square meters, and the total eight-tower development is a mind-boggling 1.9 million square meters, meaning that these skyscrapers are part of the world's largest commercial precast development.
The tower and non-tower areas together stretch over 3.7 million square meters.
The first two towers should be ready by next year. In 2050, when the whole project – named My Home – GRAVA – is finished, about 250,000 people will be working in the IT buildings.
Pioneering precast in India
Unlike most traditional Indian buildings, every element of this development will be made in a factory and assembled on-site using precast construction technology.
Pioneering by nature, this mega project is challenging and exciting for everyone involved, says Ravi Sai, Senior president for projects at the firm behind the development, My Home Construction.
India is among the fastest-growing economies in the world, and the Hyderabad-based prominent developer and construction company My Home Construction has seen phenomenal growth lately. To keep up the pace and scale up, My Home needed a building technology that would save time, material, and manpower and offer sustainability.
"We needed support to find the right technology to take our development to the next level," as Sai puts it. And that is where precast technology and Elematic come into the picture.
Quality and speed with less labor
Before deciding to use precast technology for the project, however, My Home investigated other construction methods.
"We looked into steel, but the availability and price cannot compete with precast concrete buildings. Precast offers quality and speed with far fewer people, and as the volume of construction increases, costs come down. When capacity utilization goes up, the price goes down. In the end, it was clear that this type of project has to be done with precast," says Sai. "After a lot of homework, I feel that we are on the right path."
Sai estimates that a project this size would require up to 7000 workers with traditional cast-in-situ concrete construction. Today, about 200 people take care of manufacturing all the needed elements in what has become India's largest precast plant, and the quality of the slabs, panels, beams, columns, and staircases they produce is easily controlled. Another 150 people manage the project at the site.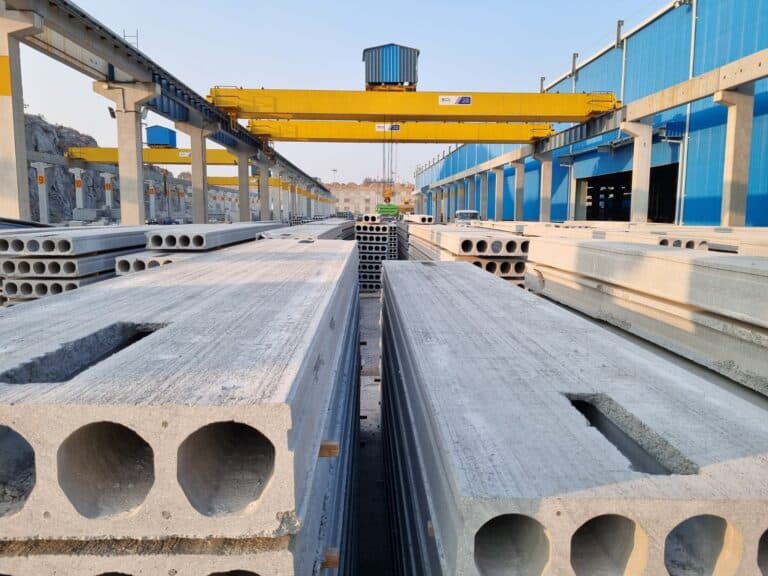 Elematic – a one-stop shop for design, equipment, and installation.
When it was clear that precast was the answer, My Home started looking for a large supplier of precast technology that could design, deliver, install, and service a precast plant bigger than anything ever seen in India.
"I have known Elematic since 1993, and I know the equipment is very advanced and by far in the world's top 3. We can trust that they can deliver spare parts and service in the future too, so I did not have second thoughts about the choice," Sai says.
My Home involved Elematic already during the project's planning phase about three years ago.
"It is one of the biggest achievements in Elematic history to be part of such a large project from the very beginning," says Chander Dutta, managing director of Elematic India. "I am proud and happy!"
A precast plant with a 460.000 square meters BUA capacity a year was custom-built to deliver all the precast elements needed for this project, and all the molds and machines were installed by Elematic's expert project team.
"Before we sell a plant or machinery, we always investigate the user's needs and project requirements," explains Dutta.
"We did the concept design study, and once we knew the sizes and number of elements required per day, we could completely tailor the plant for this project. The plant can provide all the needed precast products with automation and flexible production without wastage."
Mr. Sai, Senior President in charge of this mega project, is satisfied with the factory and aftersales services that Elematic provides. The process from shop drawings to production of precast elements has been streamlined, he says.
"We've had some visitors over from the UK, who were surprised by the high-quality precast concrete we make in India," Sai notes with a smile.
Designing for repeatability
The Elematic Structural Design team in India has been responsible for the structural design of the entire development.
Both Dutta and Sai say that the cooperation between their teams has been excellent. The design process has, however, not been free of hiccups.
At the beginning of the GRAVA project, every floor was designed differently, which meant challenges for the structural designers, as heights, widths, and loads had to be calculated and drawn separately for every floor, and every element had to be specifically designed.
Later with a new team of architects, all floors above the lobby floor are essentially designed the same way. This way, My Home reaps the full benefit of the factory-based building technology, and the process is now back on track – even ahead of schedule!
Under pressure to show the potential of precast
Big and bold does not equal easy, and being a forerunner can be nerve-racking, reveals Sai.
"There is pressure on us to show that precast is a good solution. I must admit that with a project this size, I'm scared every day!"
To ensure that nothing goes wrong, My Home uses only the best consultants, and all equipment, in the precast factory as well as on-site, is the best of the best, he says.
"This is a showpiece and a grand example of what we can do with precast in India," states Sai.
"When successfully finished, no one will be in doubt that precast is the future!"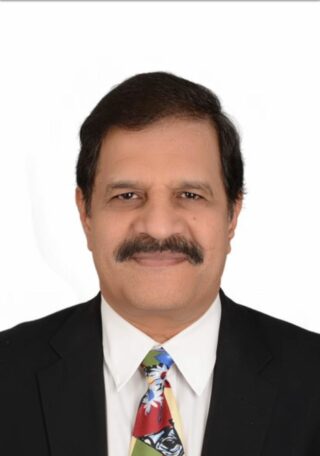 Ravi Sai, Senior president for projects at the firm behind the development, My Home Construction.
The My Home GRAVA project, Hyderabad, India
| | |
| --- | --- |
| Timeline: | |
| : | Plant installed and the project started in 2021 |
| : | First two towers (phase 1 of 4) planned to be completed by 2024 |
| : | The entire project should be completed and ready for use in 2050 |
| Buildings: | |
| : | A planned total BUA of 3.7 million square meters (40 million square feet) |
| : | Commercial buildings for IT offices |
| : | Eight 43-story, 180-meter towers |
| : | Structural design by Elematic in cooperation with Sweco Finland |
| Precast plant: | |
| : | Tailor-made and delivered by Elematic for the project |
| : | Annual BUA capacity: 460.000 square meters (5 million square feet) |
| : | Manufactures all types of elements needed for the project: prestressed hollow core slabs, prestressed precast beams, precast columns, precast shear walls & precast stairs |
| : | Can be used for other projects afterward |
| : | Aftersales service and maintenance (AMC) by Elematic. |
Read more
Precast in India

India's economy is among the fastest growing in the world, expected by the International Monetary Fund (IMF) to…
Want to know more? Please, contact us!