Back to Concrete Issues Front page
How to modernize an old factory in under a year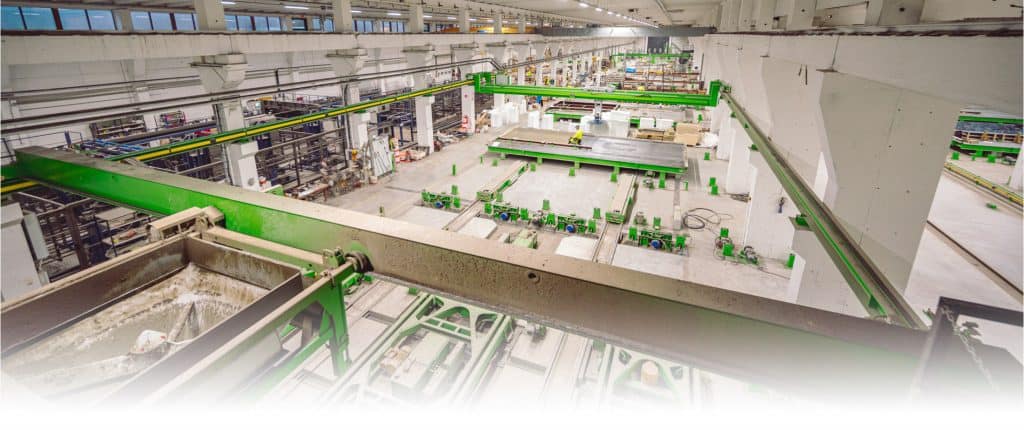 Santalan Betoni decided to make a bold investment by resurrecting an outdated factory building in Raasepori, Finland, to bring it up to standard for modern precast production. This turnkey project with Elematic started a new era of wall element production in the facility last year.
When Mikko Lahti, CEO of Santalan Betoni, looks around the old factory building and reviews the details of the factory's current capacity, production pace and new layout, he has good reason to be content. There are 26 casting tables inside the building, and the factory produces between 20 to 40 precast concrete elements every day, depending on the degree of difficulty and equipment needed. This brings the refurbished factory's capacity to over 200 000 m2 per year.
"The system is now flexible and agile, so we can make complex elements in addition to simple ones. The central wagon line we have here does not restrict flow around the tables, so they can be placed freely.  Manufacturing more difficult elements does not slow down the end of the line at all," Lahti says.
Two years ago, the scene was very different.
"This was a very old-fashioned factory and we were wondering what to do with the property, whether to sell it, to tear down half the plant, or to rethink production in a totally new way. Extensions have been added to the building many times in the past, so using the space was tricky, since there were many pillars and beams inside."
The old hall, which was about a hectare big, had about 6000–7000 m2 of warm space, and the rest of the area was dedicated to outside warehouse space.
Building a new system inside the old building was a great challenge. But Santalan Betoni got help from a structural engineering company and decided to bring the old factory to life again. To achieve this, the pillar spacing had to be changed and the beams lengthened.
"We visited a few factories in Europe and got some ideas for a new layout," Lahti says.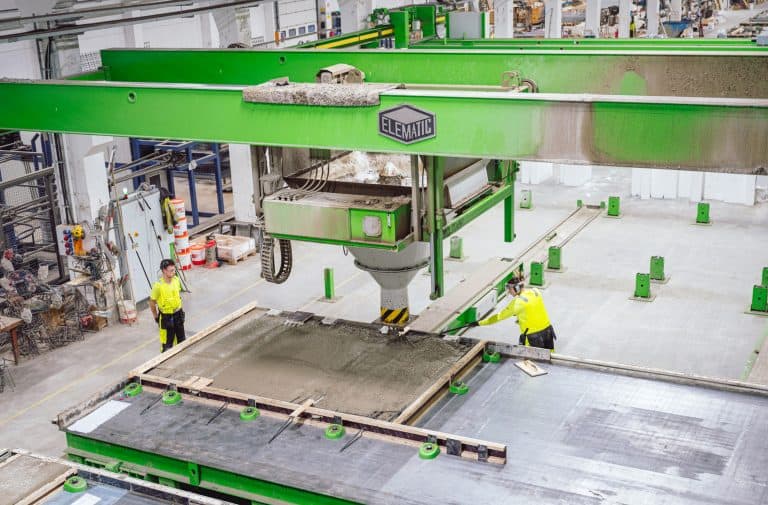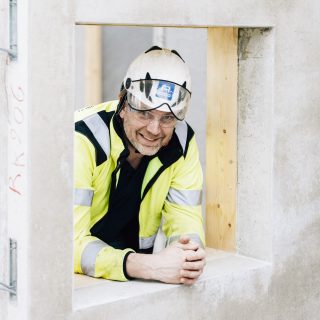 Mikko Lahti, CEO of Santalan Betoni
Fast and easy turnkey delivery
The company needed to find a supplier for a wall production line. They gave a few suppliers an idea of the new factory layout which they could base an offer on.
"In the end, we chose to work with Elematic. Not only communicating with them was easy, they had a reputation for trustworthiness, and they had good references. In addition, we could go and see their casting machines in action before signing the contract, which was important for us. Machine maintenance, technical support and price were also deciding factors," Lahti says.
The updated precast factory was equipped with a new central wagon line because it was the best choice for the space. The system enables free placement of the casting tables, and when time-consuming elements are being manufactured, tables can be moved away from the line, thus avoiding bottlenecks.
The turnkey delivery from Elematic included a Comcaster casting machine, vibrating stations, a floating machine for finishing, a brushing and cleaning station, tilting stations, curing stations, outpulling wagons, and a mesh welding machine.
"Elematic was flexible and inventive with the layout, shaping their system according to our requests. The sizes of the tables have been maximised. With so many pillars inside the building, we had to make the most of the space we had. In the tightest case, only 10 millimetres separate a table from a pillar. Every detail has been taken into account," Lahti observes.
The delivery also included planning and installation work. "Getting all this from one supplier was a great benefit. It made things easy for us," he says.
Projects to renew old plants like this always include challenges, but Lahti is happy about the straightforward way in which problems were solved by Elematic's project manager. Completing the turnkey project took only ten months.
"(Ten months) is a very short time considering that a fully equipped plant had to be installed in an existing space. This project was definitely not an easy one, but the collaboration with Elematic was smooth. Having to communicate with just the project manager, who organised everything for us was great. We did not need to find people to do different jobs for us. We feel like we got what we ordered. The machinery works well and everything was delivered on time," Lahti concludes.
"The co-operation with Santala worked very smoothly. Usually, during a project, there are issues that need to be solved quickly, so as not to risk the schedule. With the Santala team, it was easy to find the best possible solution fast."
Pekka Rantanen, Project Manager, Elematic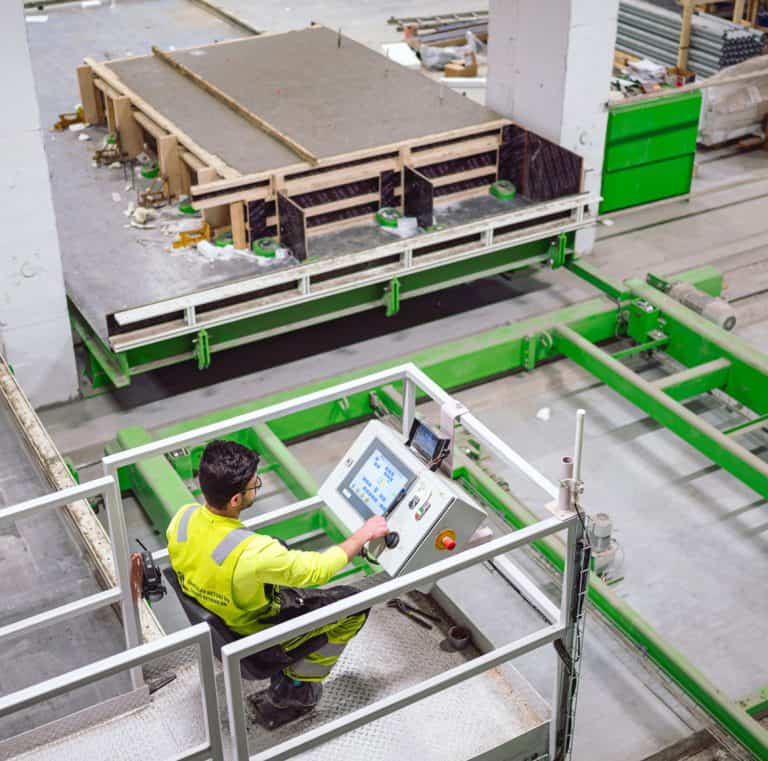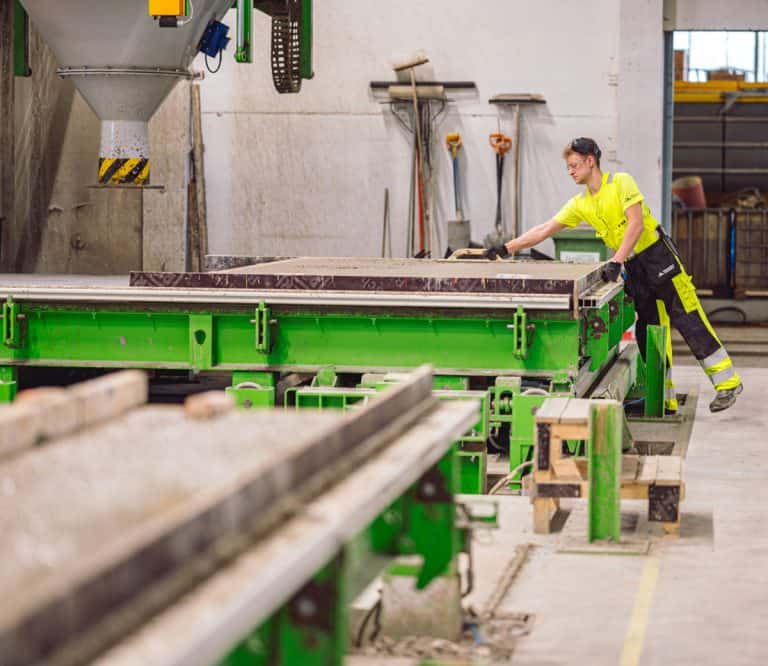 Santalan Betoni
Established in 1971.
Based in Hanko, Southern Finland. The new factory in Raasepori began production in 2019.
Staff: about 75 (40 workers in Raasepori factory; 25 in Hanko factory; 10 people in offices or in processing of stone aggregates in Leksvall, Tammisaari).
Main lines of business: manufacturing precast concrete elements and ready-mixed concrete, earth work, processing of stone aggregates.
Casting tables: 26 in the Raasepori factory and 9 in the Hanko factory.
Daily capacity: between 20-40 elements per day (mainly wall elements, solid slabs, sandwich walls, pillars and beams) in the Raasepori factory
Annual production capacity: over 200 000 m2 per year in Raasepori.
Ongoing projects: residence buildings, schools, warehouses, metro stations, and other civil engineering projects.
Related products