Back to Concrete Issues Front page
Efficient design overcomes construction challenges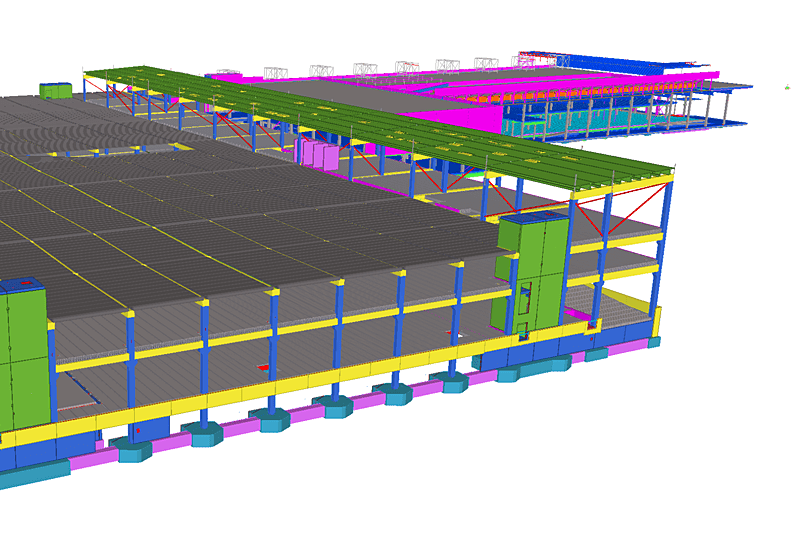 Design based on the right technology and that anticipates the challenges builders will encounter during construction is the foundation of a successful precast technology project, according to Vaibhav Singhal, Vice President, Design at Elematic.
Vaibhav Singhal heads an experienced team of Structural Engineers and BIM Modellers (ASMEPF) based in India, who provide structural design and BIM services globally. The team uses state-of-the-art design and detailing software, ensuring cost effective design solutions and lower turnaround times. As part of design process, the team uses Building information modelling (BIM) software to virtually construct the project. BIM model provides 100% accurate quantity calculation, ensures buildability with zero clashes at site, and helps accurately plan construction time and cost.
Singhal points out that a company starting to use precast construction technology should focus on three things: finding a competent partner in precast production technology, listening to feedback from their partner and ensuring the availability of precast elements in the project vicinity.
"Finding the right partner in production technology is essential because you then have access to your partner's knowledge (and experience) about how best to deploy precast technology – from design to production and even to sales. Listening to your partner's feedback help you avoid mistakes that cost time and money. Depending on the size of the project, you could also consider setting up a plant near the site or simply purchasing precast machinery to ensure the smooth flow of materials," he explains.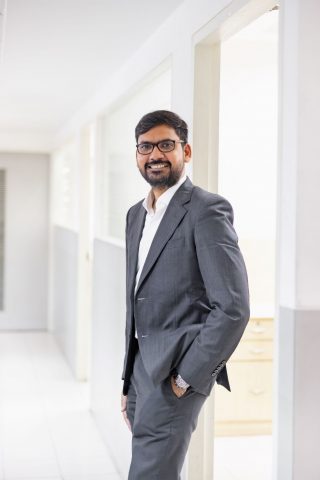 Everything flows from the design
According to Singhal, most of the problems construction companies face when implementing precast technology can be traced to when architects design the projects without taking into consideration the construction technology that will be used. "Whenever any project is conceptualised, the architect should keep in mind how the project is going to be executed, whether conventional or some other technology is going to be used. If this is done, construction of the project goes relatively smoothly."
"When clients come to us and the architectural plans are not designed for precast, it becomes very difficult to get the full benefits of precast technology in terms of time and money. But these challenges can be overcome by a structural consultant who is competent in precast. The consultant can already be involved in the project from the conceptual stage, when the architect is also developing a concept layout for the buildings," Singhal points out. When the structural consultant is involved in the entire concept development, he is able to provide valuable feedback on how to make the entire architectural layout more precast friendly. This can save time and money.
Elematic's design team in India provides total building engineering – structure, mechanical, electrical and plumbing – as well as BIM services. The team's services are not limited to the Indian market, as Singhal and his team are well-versed in international building codes.
One challenge that Singhal recalls his team solving is a recent one. The builders wanted to use precast in an industrial project because of its quality and the time it would save. There was a mandate from the developer side that the project needed to be finished sooner than what it would normally have taken. "Our client was considering three options: a mix of steel and precast structure or a purely steel one or they could go with a precast structure. As they didn't have any experience at all with precast, we went through the project with them in detail and discussed how precast can be efficiently utilised. We came up with a precast-friendly layout for them. Because we were able to address their concerns about a technology they were not familiar with, it gave them the confidence to choose precast, They saw that the other options they were considering could probably have saved them some time, but they would not have been able to save costs, because of higher cost of building material consumed."
In a project in China, a builder faced a similar situation: they were not familiar with precast but they had an in-house structural engineering team. "They had developed a precast design but calculated that the cost would be quite high so they called us and asked if a more cost-effective design could be developed. Our design was able to save them almost 30 percent of the quantity compared to the one their in-house team had developed. We simplified the design on the basis of relevant precast design codes, which resulted in less number of precast elements, and correspondingly to lesser number of joints and reduced amount of work needed to be done on site.
"When the structural consultant is involved in the entire concept development, he is able to provide valuable feedback on how to make the entire architectural layout more precast friendly. This can save time and money."
Vaibhav Singhal
Continued growth in precast construction
"In the construction industry, we are facing the same problems from every direction: there is manpower shortage and we are conscious of environmental depreciation," Singhal points out. Using precast construction technology can help mitigate these issues.
"The advantage with using precast is that it requires less manpower, less materials and less time. From this perspective, precast is environmentally-friendly. In the past couple of years, we have seen a rise in the use of precast technology not only here in India but in other parts of the world, as well. I think it will continue to grow because construction companies are seeing these advantages. Maybe five years down the line, precast construction will be the first choice for development projects."
Singhal says that in situ construction, which is still the construction method of choice in many parts of the world, is not enough to meet the soaring demands in the construction industry. It may not also be the most sustainable alternative in the long run. "Precast elements are produced in a controlled environment, leading to less pollution. We are able to recycle the water we use, which helps minimise our water consumption. Advancements in precast technology also mean we need to use less cement and steel, which means less materials are needed. We use less cement per square foot of construction now than we did before, leading to a smaller carbon footprint for the industry."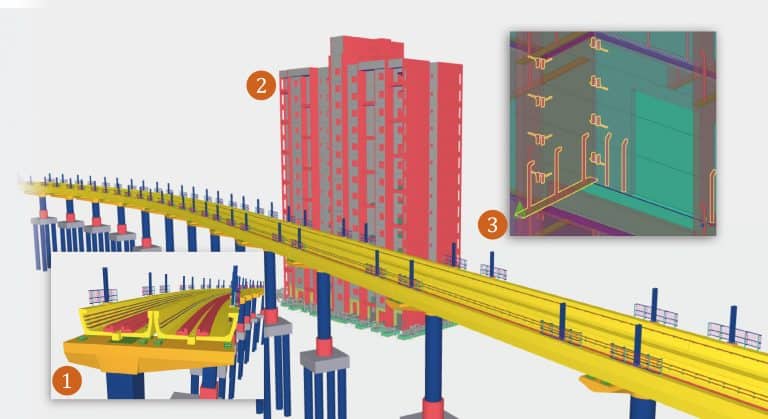 1 DMCR (Delhi Metro Rail Cooperation) project 2, 3 (MPMC) Maharashtra Police Mega City project
The advantages of BIM
One advantage of using the BIM application is that it breaks silos. "Projects are designed using independent consultants who come up with the design on their own. We don't always know how plugged in they are with the rest of the team or what level of quality we are getting. It can be a very cumbersome process. With BIM all of the designs are developed in 3D and everyone is able to see the interaction of each part with another. We can see how architecture works with the structure and how they will react with mechanical, electrical and plumbing services."
"BIM lets us see what would actually be constructed in 3D, allowing the team to resolve 100 percent of the clashes in advance, before actual construction work takes place. Normally, these incompatibilities would only be discovered during the construction phase, which would cost time and money. BIM resolves these kinds of problems at the start of the project."
"Another advantage of using BIM in precast construction is that you'll able to take the design and seamlessly integrate the information to the production system at the plant, for example Elematic Plant Control. Manual data transfer is not needed so the risk for human errors decreases, greatly improving the productivity of the project and increasing efficiency in terms of planning the entire production," Singhal says.
Elematic Design Services
Do you have questions? Contact us!