Back to Blog Front page
Why is it beneficial to order spares online?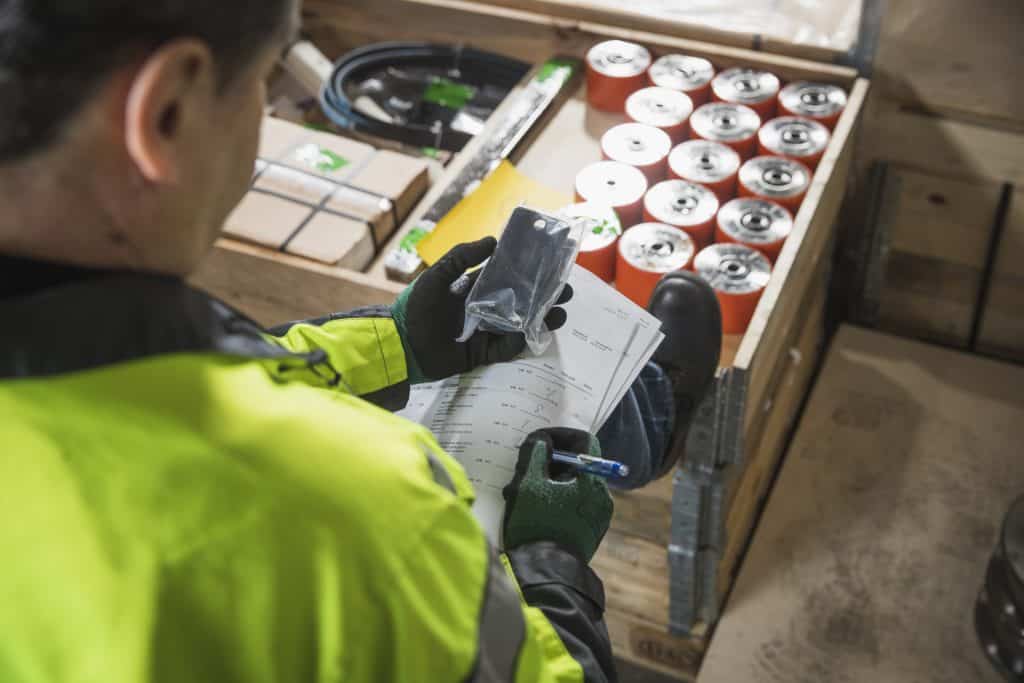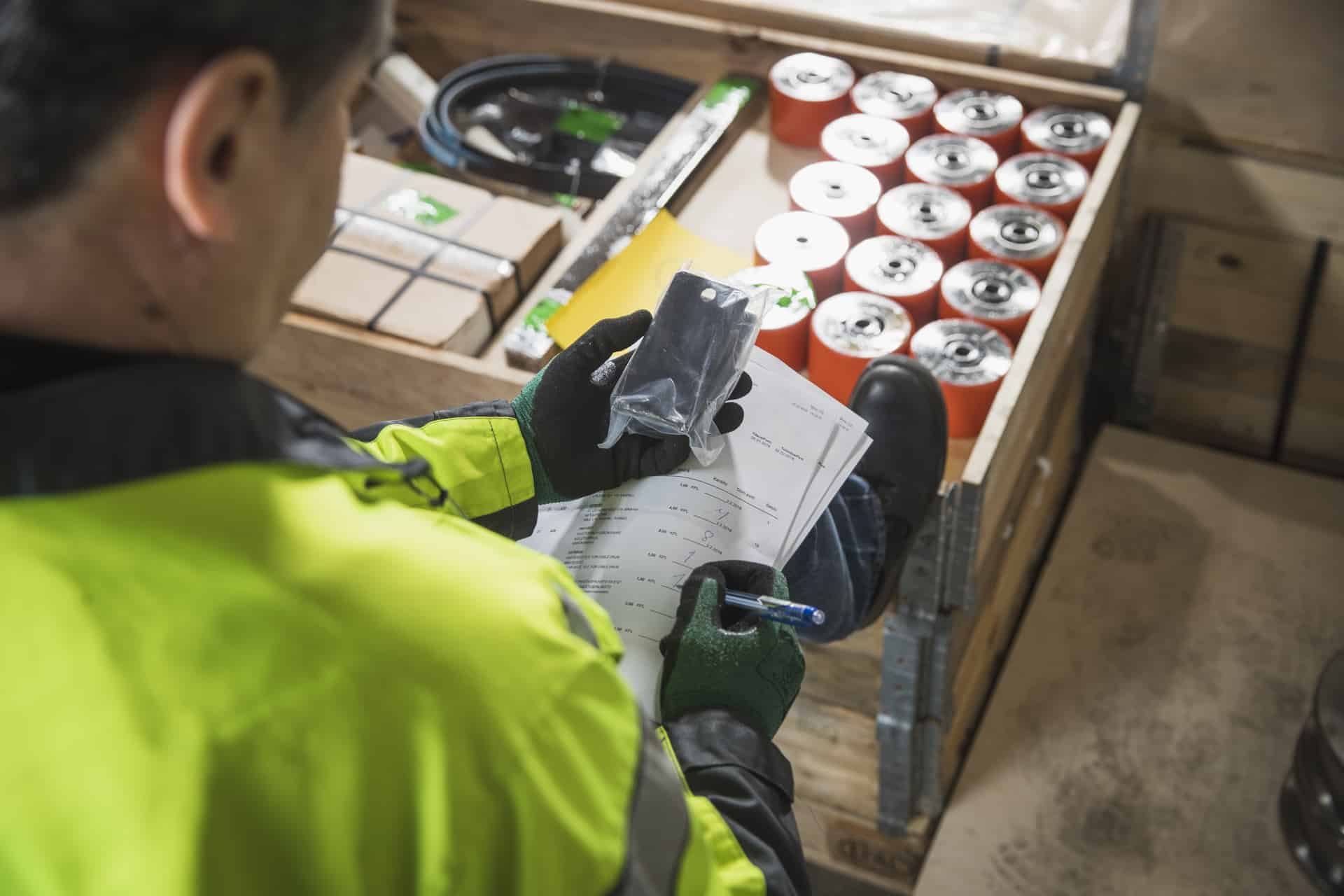 Have you ever tried ordering spare parts only to find out that the shop is closed? Have you spent too much time trying to figure out which spares are needed for the equipment at your precast plant? Would you like to make the recurring orders quicker and easier? If you start to use Elematic spare parts web shop – the E-Shop – these problems become history. In addition, you can have an easy access to operator's manuals when making orders and many people can use the service simultaneously.
E-Shop can be used whenever it suits you the best; hence the shop sets you free from office hours and time zones. At the shop, you can check the availability of spares and wears, place orders and view the machines in use at your factory. The shop is available in five languages: Finnish, English, French, German and Russian.
As an Elematic customer, E-Shop is automatically available to you. If you don't have a user name for the E-Shop yet, please contact your personal Service Center contact or email us at cs@elematic.com. We will help you to start using the shop virtually or while visiting your precast plant.
How to get the most out of the E-shop?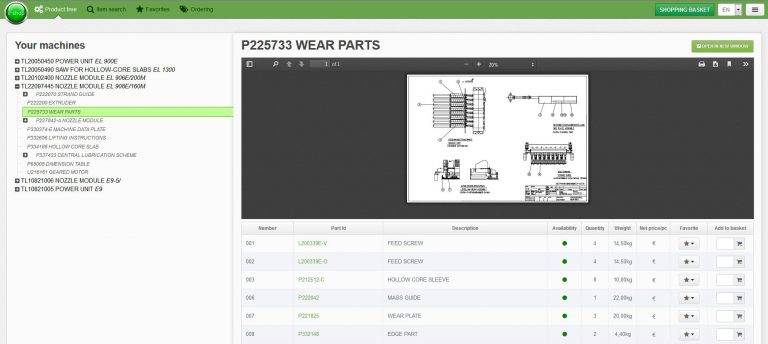 When logging into your E-shop account, the first window to open is a product tree. The tree offers an easy access to the machinery in use at your factory. You don't have to go through endless lists of irrelevant items, as the product tree only shows a list tailored for your factory. For new employees, who aren't familiar with all the equipment yet, it can be challenging to quickly find the part or manual needed at the time. At the shop you can access all owner's manuals including drawings, user guides and service manuals for your equipment. If you have ever worried about losing the original printed manuals, you don't need to anymore. From the product tree, you can view and print the pages you need as many times as you please.
Why placing orders is smooth with a favorites tab?
But, there is an even quicker way to find the most important parts. You can create a favorites tab with several lists for the parts regularly ordered, different feeding screws available for a certain extruder or particular maintenance work, to mention a few. Once you have created your personal favorites, ordering the parts you need is as quick as it can be. Your personal Service Center contact will help you in shaping your favorite lists if you need assistance or wish to add parts for older machines, which aren't automatically visible in the E-Shop.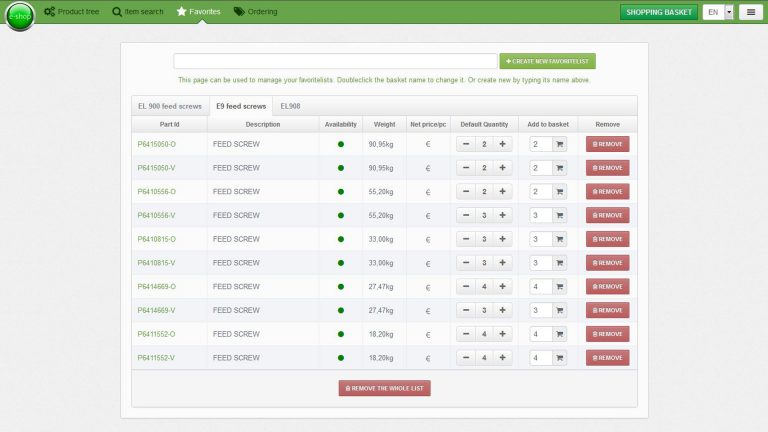 All of the parts are color-coded based on their availability from our storages, hence you can easily see how quickly the parts can be shipped and delivered to you, which makes your production planning more efficient.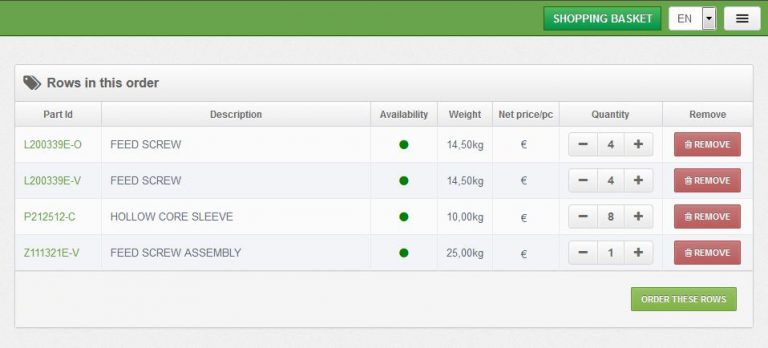 Who can access the features the shop has to offer?
Two user levels – standard client and purchaser – are available at the E-Shop. You can have any number of users on both user levels. The standard client can view the items at your factory and create shopping baskets by adding the desired number of items to the basket. Only the purchaser is entitled to place orders. After the order has been placed, an order confirmation will be sent to you via e-mail, latest on the next working day. The delivery terms and prices are stated in the order confirmation. When your order is shipped, you will receive a DHL Airway Bill link for tracking.
If you are looking for quick ways to handle spare part orders, the E-Shop is an optimal solution. Why? E-Shop was created for increasing the productivity of your daily work. All you need is an internet connection and a user name to access the shop – it doesn't cost you anything. Checking equipment and placing orders is smooth and there is no chance for errors. Of course, you can always contact us via email or by phone.
Read more about our spare and wear part services here.
Writer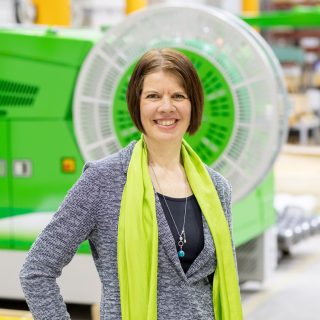 Leena Raukola
Customer Service Director
Elematic