Back to Blog Front page
When does your precast production benefit from a battery mold?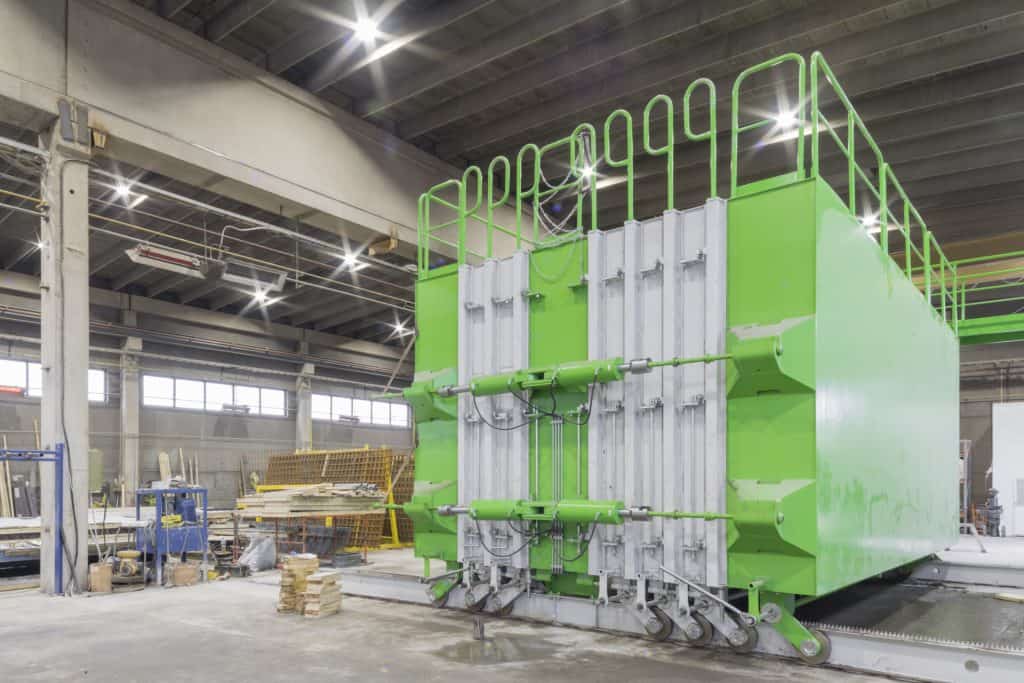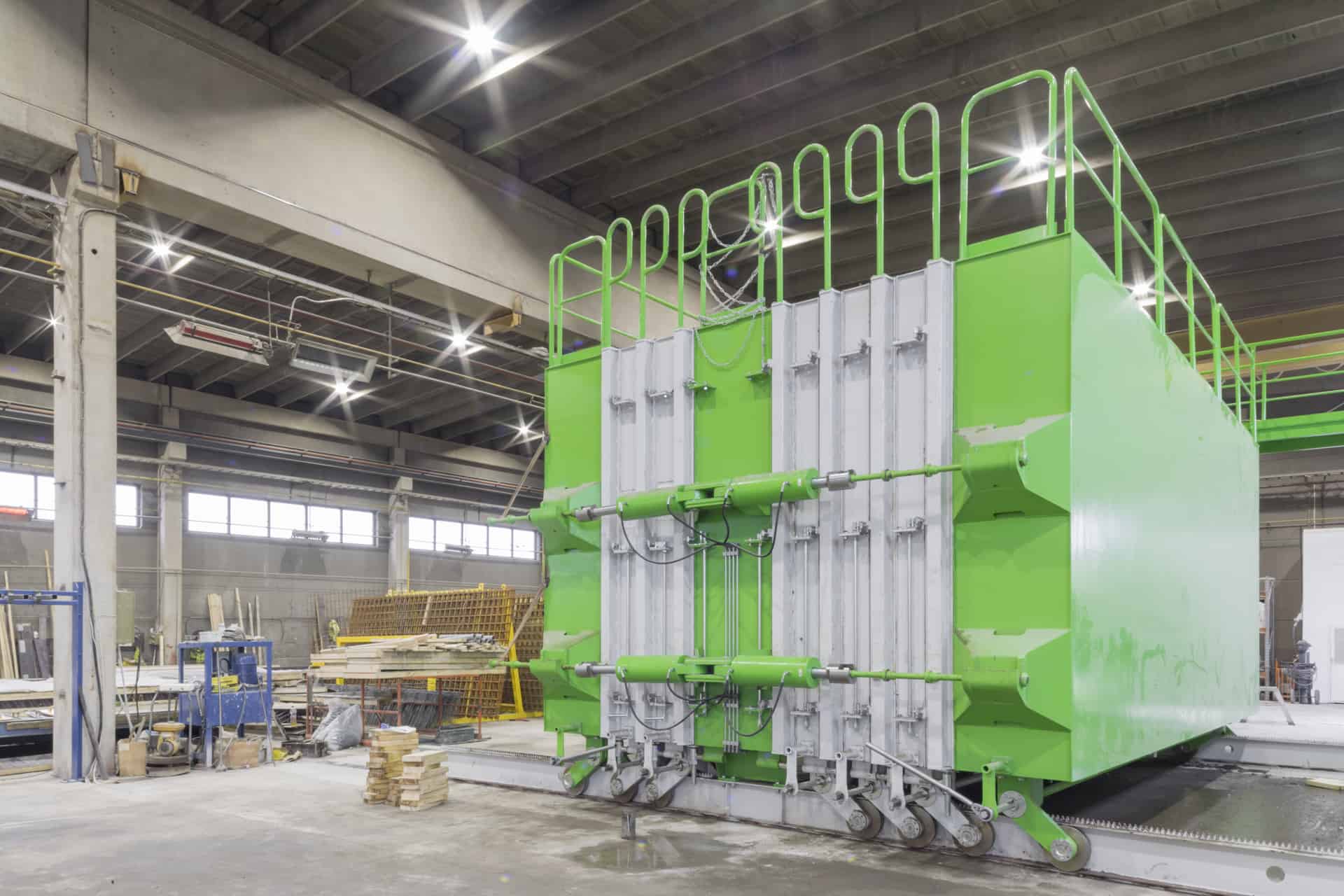 Would you like to start or increase your solid wall or floor slab production, but you don't have much space available at your precast plant? Do your customers demand smooth and ready-to-paint finish on both sides of the panels? Or do you just want to make your production more efficient? If yes, read what kind of benefits a battery mold could bring to your factory.
Battery molds are mainly designed for producing solid walls and floor slabs. Let me tell you why this production method is ideal for restricted production areas and when there's a need for high production capacity.
Production in compact format
Are you planning to increase your production, but have only small floor space available at your precast plant? If yes, the space can be utilized to the maximum with a battery mold – as the casting happens vertically. The most common wall panel size produced is 3m x 8m, and such a panel can be cast in every casting cell.
All the furnishing – e.g. door & window openings and electrical wall sockets – happens vertically, too.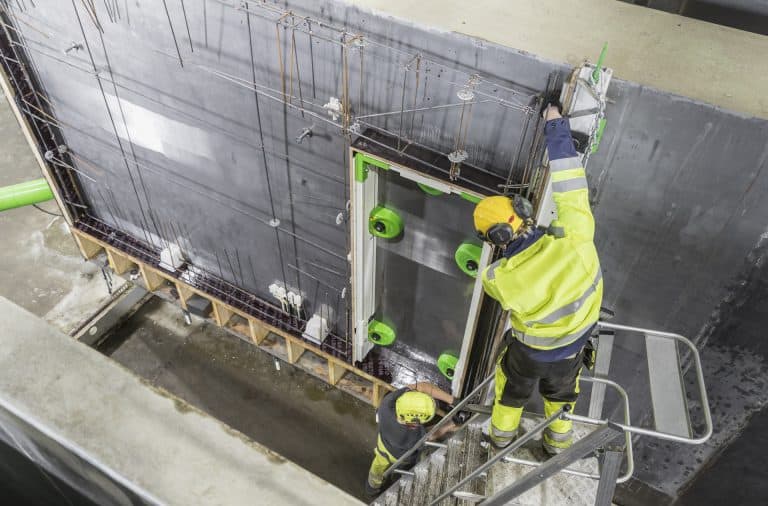 Furnishing of a battery mold.
The need for high production capacity
Our battery molds can easily be customized, if you suddenly need to increase your production capacity. This is possible by adding more casting cells to an existing mold or upgrading a mold into a cold shuttering version.
With cold shuttering version you can double the output and increase the casting sequence.
Normally, it takes 8 – 10 hours for a slab casted in a battery mold to cure, but the cold shuttering version is freed for a new casting round after a 4-hour pre-curing process. Why? Because the mold is equipped with cold shutter plates which basically divide the casting cell of a traditional battery mold into two separate cells. Thus, you can produce two products instead of one.
How does this happen? The furnishing of the 20 mm thick cold shutter plates happens outside of the mold. After casting and pre-curing, the slabs attached to the cold shutter plates are moved to special rack holders for final curing and de-molding. Immediately after the mold is empty and clean, you can start another casting round by placing new already furnished cold shutter plates to the casting cells. Hence, time is saved and more slabs are being produced.
Smooth and high quality slabs
If your customer needs as smooth wall panels as possible, the battery mold is the go-to production method. Why? In the battery mold there are steel plates on both sides of the casted panels. Hence, the panels are straight, smooth on both sides and cured evenly. The same smoothness quality cannot be reached in horizontal wall panel production, because the upper side needs to always be separately polished up after casting. Thus, producing wall panels with a battery mold guarantees not only panels with consistent quality, but also fast production. In addition, both sides of the panels are ready-to-paint, which speeds up the work at the construction site.
Thus, even in a small floor space, solid walls and floor slabs can be produced efficiently. The simpler the product is, the quicker it is produced in a battery mold. If you are wondering how this would fit to your precast plant, please contact us and we can discuss further.
Writer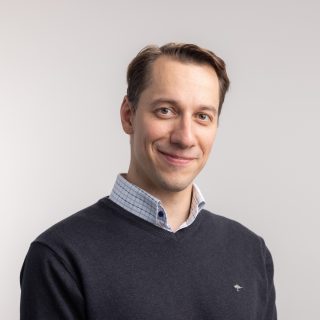 Toni Koitmaa
Product Director, Wall Technologies & Molds
Elematic