Back to Concrete Issues Front page
World's largest precast concrete plant: Bismayah bounds ahead


Bismayah New City is a visionary dream rapidly becoming reality in Iraq thanks to the drive of South Korean contractor Hanwha E&C and the world's biggest precast concrete plant, supplied by Elematic.
On the south east edge of Baghdad, and working through the challenges of hot desert summers and cold wet winters, a vast new community – Bismayah New City Project – is rapidly being built by the Government of Iraq.
Rows upon rows of towering apartment buildings are being completed along grand avenues and new streets of the first large town – one of 8 that will make up Bismayah. Each week, more 10-storey blocks are erected by tower cranes. Bismayah is a city reaching from the sand to the sky.
The speed and effectiveness of the construction achievement is made possible in large part by the high quality precast concrete produced, to excellent tolerances, at the world's largest precast concrete plant built next to the city.
As the apartment towers rise, nestling among them in dedicate zones are the first schools and nurseries. The social infrastructure is setting the scene for the next milestone for Bismayah when the first families arrive to live over the coming months.
Bismayah – or "Dream City" – is a massive, multi-year project to build 100,000 apartments in a new community of an estimated 600,000 people. The Dream City is being realized for the people of Iraq by South Korean construction group Hanwha Engineering & Construction (E&C).
To build Bismayah, and achieve such great progress in a relatively short time, Hanwha E&C has successfully brought its powerful project management and procurement resources to the colossal task. In addition, Hanwha is undertaking what is, possibly, the greatest instance of industrialised precast production and erection ever.
To achieve such remarkable success in quality and speed on this prestigious government initiative, Hanwha E&C called upon the precast engineering and manufacturing services, and international service capability, of Elematic.
Elematic was selected for, and entrusted with fulfilling, the major precast plant vision after Hanwha E&C undertook detailed studies of its equipment, efficiency, durability, service support and experience.
Vision for Bismayah New City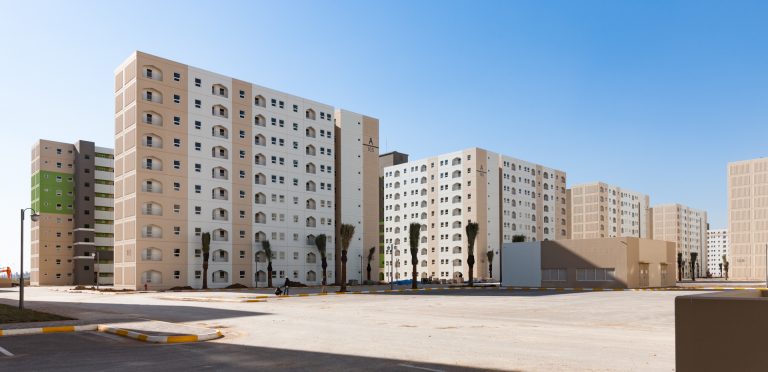 Bismayah is located 10km from the capital and is the pioneering new city for Iraq's future. It is being developed and delivered by the Government's National Investment Commission (NIC).
Dream City is laid out as a ring of towns surrounding an extensive, central business district. The towns will hold a total of 834 residential towers, and in each of them, buyers can choose from three sizes of apartments – 100m2, 120m2 and 140m2.
The apartment designs are either Modern or Traditional. Towers are designed to be either wholly of modern or traditional design, and they alternate for harmonized effect throughout the city plan.
In 2010, NIC began early planning for Bismayah, working with Hanwha E&C. Their cooperation led on to Hanwha E&C taking on responsibility for the planning and design of Dream City.
Building began with at the residential zones – entirely as apartment towers – and then site work began on the social infrastructure (including schools). For these tasks, Hanwha E&C has two initial turnkey contracts with NIC, signed in mid-2012 and early 2015; the contracts are valued at approximately US$8 Billion (with an escalator clause) and US$2.1 Billion, respectively.
Hanwha E&C's leadership has shown strong commitment to the project, investing much resource and manpower to establish, maintain and push ahead with Bismayah project despite the dangers and challenges in post-war Iraq. It recognises that the Dream City is a vital new step, and catalyst, in the country's vision for the future.
Preparation & Design
Hanwha Group is the 10th largest business group in Korea, holding 55 companies including Hanwha E&C, and serves a wide range of industries. The group has annual revenues of more than US$37 Billion.
Hanwha E&C has worked in the Middle East previously but the Bismayah project marks its first contract in Iraq. To construct Bismayah, Hanwha E&C has installed a large team of about 300 managers and engineers, on 30-month long assignments, generally, in the self-contained construction base camp and building site.
About 300 workers with Korean subcontractors were also brought to Iraq. A few equipment specialists came from Europe, particularly Elematic. Hundreds of Bangladeshi workers are also on the project with roles in production, building, operation and support.
Before working on the massive scale of the Bismayah project, Hanwha E&C had undertaken projects in Korea with a variety of buildings types, including construction of the country's largest recent urban development – Dream & Green Incheon EcoMetro, an entirely new town with dozens of apartment towers; it was a key point of interest for the Iraqi Government.
For the far larger challenge of Bismayah, Hanwha E&C worked with Korean architect HAE-AN to develop the master plan for the city and its towns, each of which has its own residential, social and commercial areas.

A means to deliver NIC's fast schedule to realize the project was also needed, particularly a building system allowing fast pace construction along with consistently high quality elements to ensure accurate, quickly built structures. The only reasonable option was precast, says Hanwha E&C.
In Korea, the local market does not use precast structures in a significant way. To undertake the ambitious task in Iraq would, therefore, demand Hanwha E&C's greatest use of the building system. To meet that goal, it sought expert support from global precast production equipment leader, Elematic.
Supported by Elematic's technology, Hanwha E&C has established and is running its first giant precast plant. In bringing its experience, resources and project management skills to bear at Bismayah, Hanwha E&C is also performing precast production and building erection at world class scale.
For the project, Elematic equipped three enormous precast plants – Hollow Core, Battery Mould (BM) and Sandwich, each with their associated batching and mixing plant and automated concrete transportation system. The plants produce all the necessary structural components for the apartment towers, such as main walls, pre-stressed hollow core slabs, stairs and parapets, and will produce key pieces for social infrastructure buildings.
Technical discussions around precast were also instrumental in Hanwha E&C hiring the Finnish team of consultant Sweco to undertake the structural analysis and design of the apartment blocks. Further design input came from Essen Engineering and CS Structural Design.
The 35.35m high buildings have been designed for to meet Iraqi codes, and to Eurocode standards for seismic conditions. The standardized designs support mass precast production.
In plan, the towers are U-shaped with 12 apartments on each level, giving 120 in total. Hanwha E&C says each tower requires hundreds of precast sections – 1050 wall elements, 1316 hollow core slabs, 196 parapet, 58 staircases. It adds that the associated quantities of materials are 3948m3 of concrete, 213 tonne or steel rebar, and 44.4 tonne of pre-stressed tendons.
Construction Drive
Rapid establishment of the supporting production facilities and site utilities was vital, and would ensure Hanwha E&C can fulfil the vision of creating the transformative new major city for the people of Iraq.
The gigantic construction base camp is a major investment by Hanwha E&C to establish a compound that is independent in terms of power and water supplies and also holds the world's biggest precast plant.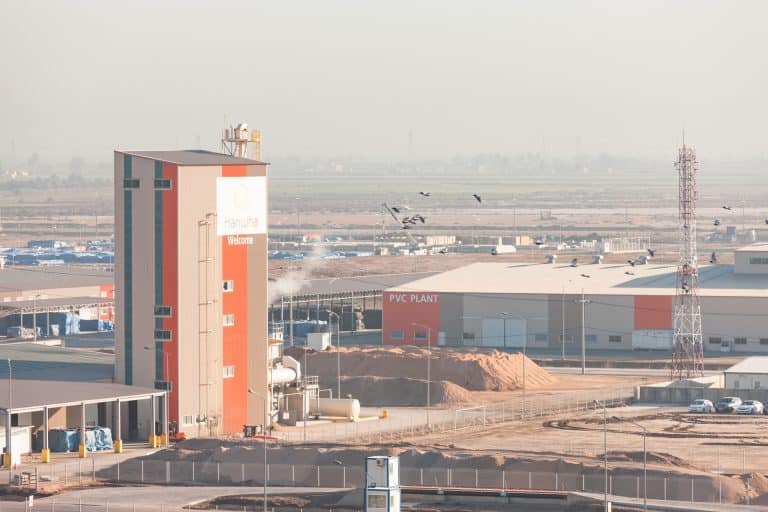 Official ground breaking was in mid-2012, and the precast plant design was developed and finalised by the end of the year. Installation of the precast equipment was underway from the first half of 2013, and the first batch testing of concrete for element casting was in the Sandwich Plant later that year.
Piling began in early 2014. The 450mm diameter hollow friction piles are cast at a dedicated plant in the construction base camp. The piling work is well in advance of building erection, but when the foundation slab has been cast and set for an apartment building, and the socle basement void walls installed, then the construction schedule typically has erection of the first precast elements commencing a week later.
Hanwha E&C says it erects and completes a storey in 9 days on average, and the overall structure of an apartment tower takes about 102 days. The standard design and cyclical erection sequences, supported by efficient site logistics and plenty of buffer stock, enables the pattern of regular erection timing to be achieved, the company says.
By late January 2016, Hanwha E&C already had cast almost 10% of the precast elements for the city's apartment towers; elements for almost 82 buildings had been cast, and erection was structurally complete on almost 70 towers. On site, 10–12 teams work on the apartment towers, one to each building.
The large stock yard holds the balance of elements cast – in January it was a dozen buildings (about 31,000 pieces). The amount depends on speed and progress on site.
Payments under the turnkey contracts come with either milestone achievements on civil works, or building handovers.
Iraq has been, and continues to be, a challenging environment as the conflicts continue and, more recently, the weakening oil price. Despite the challenges, significant progress has
been achieved at Bismayah and scheduled completion is presently 2019–20.
The Precast Plant – World's Biggest
To help Hanwha E&C achieve its goals at the Bismayah project, Elematic has designed and supplied the biggest precast production facility in the world.
Ismo Kallio, Elematic's product director, Walls, Batching & Mixing, says, 'We are capable of taking on the supply of all machinery and technology required – and deliver on schedule.
'We're able to do it ourselves, and this was a key aspect of us being chosen the supplier for Bismayah,' says Kallio. He adds, 'This brings responsibilities too, which comes back to having long and deep experience as a technology company able to offer technological excellence.'
Following long discussions, in 2012, Hanwha E&C awarded Elematic a large supply contract for precast plant design, equipment, installation and commissioning.
The biggest ever precast concrete plant comprises a hollow core plant, a battery mold plant, and a sandwich plant – each individually already at world class size. The three precast facilities are each served by their own, separate and dedicated, batching plant and automated concrete distribution.
Hollow-core plant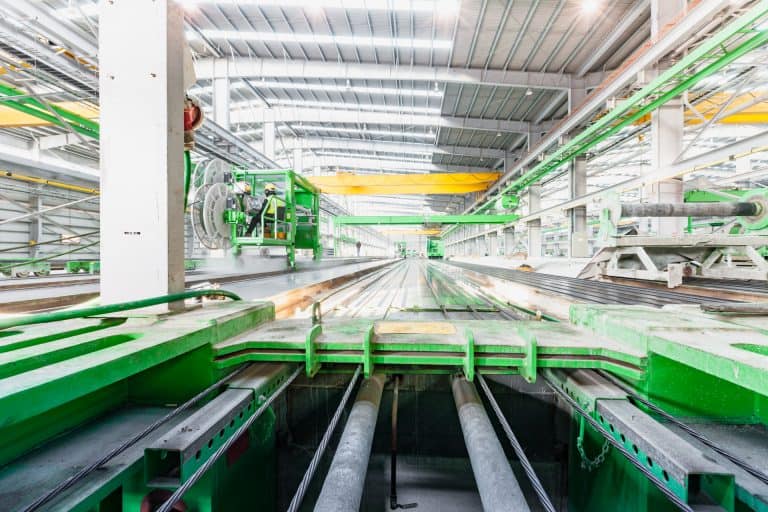 The hollow core plant has 4 halls each holding 8 casting beds to produce pre-stressed floor slabs for the Bismayah apartments.
With a total of 32 parallel casting beds, each 150m long, the hollow-core plant is very large in terms of both the number of halls and the number of beds in each – or, about four times as big as the typical size of a commonly large, international hollow-core facility.
The casting beds are 1.2m wide, giving an area of 180m2. Pre-stressed slab depths are 220 mm for apartments, and for schools and other social buildings the depths are bigger – 265 mm and 320 mm, respectively. Each hall has two extruders, which advance along beds at the speed of 1.5m per minute. Casting a bed takes about 2 hours.
After casting on the bed – heated as part of the industrialized high-output precast production process, the line can be left overnight. But strength gain (at least 0.75 of final strength) is sufficient after 8 to 10 hours to allow saw cutting through the stressed tendons, then permitting the sawn slab to take on the pre-stressed load. For the apartments, the beds are cut into slabs of approximately 8.6m length.
Battery mold plant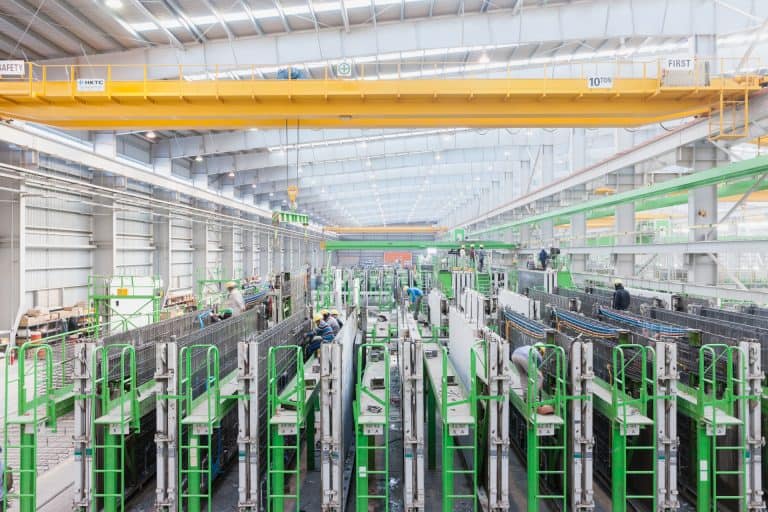 Battery molds are used to cast internal, load-bearing partition walls of various sizes and shapes for the Bismayah apartment towers. The system can cast large numbers of solid walls in relatively little floor space.
In the plant, the battery molds are heavyweight, compact steel racks of vertical casting cells. After furnishing, the casting cells are pressed together by powerful hydraulic rams, and concrete is cast into heated cell spaces, as part of the industrialized high-output precast production process. The hydraulic system applies up to 150 bar pressure, creating sufficient support to counter the weight of vertical wet concrete, holding the walls firmly in the cells during casting.
For even higher production rates, a cold shuttering system is used.
This employs steel plates inserted as additional shutters into the casting cells prior to concrete placement, and effectively double the number of walls a battery mold is able to cast.
At Bismayah, the battery mold plant has three halls, and they mostly hold large battery molds to produce solid internal walls of 150mm thickness for the apartments. The halls also hold smaller molds to cast staircases and the short socle walls used to form the basement voids zones in the apartment towers.
In total, the plant has 3 battery molds (12 casting cells each) plus 72 cold shutter plates for the vertical walls; 18 stair molds; and, 2 short batteries (20 cells casting cells each) for traditional operation without cold shutter plates.
The halls are served by dedicated batching plants. Each hall is supplied by an automatic concrete transportation shuttle system on an overhead rail, delivering to sector-gate casting machines for concrete placement in the battery molds.
Sandwich wall plant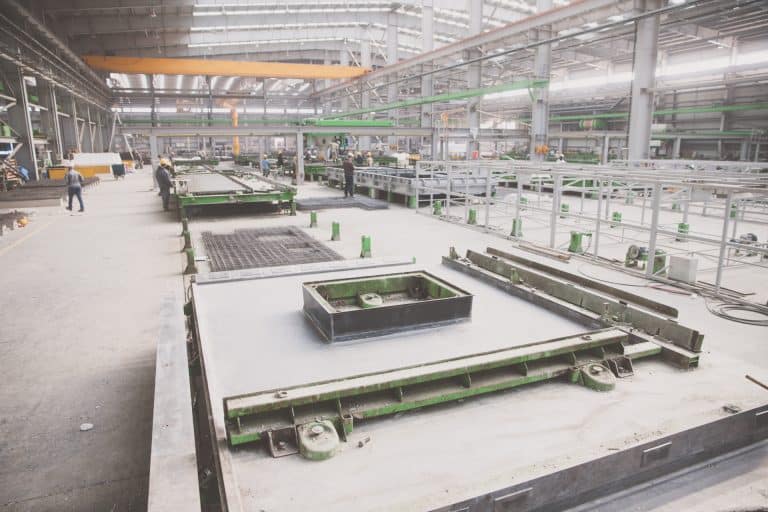 The sandwich plant has 4 halls, and a total of 4 circulating wall lines, dedicated to precast production of the insulated external walls for the apartment towers.
Elematic supplied a total of 300 circulating flat tables (3.5m x 10.6m) for the circulation lines, 75 to each hall.
The table sizes were optimized to hold the required precast panel size, and custom-made, says Kallio.
Typical size of the sandwich wall elements is approximately 3.2m x 7.5m, the composite construction being 250mm thick, says Sweco.
Walls for the schools are also cast on the circulating lines.
With much standardization on the project, there are only a few types of wall panels. Therefore, with repeated casting of these designs, Elematic provided steel side forms for durability in performance to cast edges and shapes.
At the end of the circulating line casting journey, each hall has a 10-level high curing chamber capable of stacking 58 tables plus In/Out cells. Part of the industrialized high-output PC process, the temperature range in the humid chambers is 35-45 degrees °C.
The precast plant – building, output
Following contract signing for the company's largest ever order, initial work involved further advancing the equipment design – which Elematic had commenced months early to help Hanwha E&C meet its tight start-up schedule. Design and planning also supported Hanwha E&C's logistical task of transporting the key equipment from Finland to Iraq.
Installation work for the precast plants began on site in 2013. The first parts commissioned were the batching plant and two circulation wall lines for the sandwich plant, in early 2014. Over the following months the full hollow core and battery mold plants, along with their batching plants, were completed. Then, the final two circulating lines were commissioned at the sandwich plant.
The world's biggest precast production facility plant was delivered to the customer's very tight schedule and has been operational for two years. All the precast elements for a single 120-apartment tower are produced over a period of about 10 days.
Hanwha E&C holds a large buffer of elements to ensure continuity of erection at the building site – typically about a month's needs, equating to enough elements for about 12 or more buildings at this stage of the project.
Precast concrete production has been, and remains, a key item on the critical path of Hanwha E&C's project schedule. With the precast facility having run continuously on a six-day working week (Sat–Thu) basis since the outset, Hanwha E&C reports the giant, complex precast concrete plant has performed well. The company is pleased with the results in reliability and precast product quality, and the success it is helping to achieve in Iraq.
High output to be even higher in the future
The Bismayah New City Project was launched by Iraq's central government. A large number of houses had been destroyed over the long period of war in Iraq.
"Almost all citizens in Iraq are potential customers for these houses," says Won Joo Lee, Plant Complex Director, BNCP Project, Hanwha E&C.
In the early stages of the project, Hanwha had to consider many factors: economy, constructability, maintenance, and safety. The schedule was tight, so precast concrete turned out to be the best method. Hanwha decided to build their own factory in the construction camp because they wanted to prevent any delays in the construction process. After reviewing several European equipment suppliers, the Korean company chose Elematic.
"Based on my experience of operating the factory, Elematic was the best possible choice," Won Joo Lee says.
Bu Young Song, team manager of plant production team 1, is in charge of production at the factory on the Bismayah site. The factory is using about 260 tons of cement per day, which makes 78,000 tons per year.
"I believe that our plants are leading the industry in terms of achieving a high production output with less workforce."
Song admits that the early stages of the immense project were challenging. It took three to four months of trial and error before the Koreans got on track. And when the IS crisis occurred in June 2014, the domestic situation in Iraq grew dangerous. Many suppliers stopped providing services to Hanwha E&C.
"However, Elematic did not spare any effort and kept providing us with technical support, making it possible for us to complete the installation and get our factory back on track. Even better, they would send their service staff or provide technical guidelines via email whenever we asked for help. They are still providing us with technical service in a timely manner. We really appreciate their service."
Now the factory is planning to increase its output. The Koreans have verified that the system can increase its output to up to four times the current level. That is more than any other system can produce.
"I have been visiting precast concrete factories around the world to see how our factory can produce more with less workforce than any other company. Our factory is really excellent in terms of the layout and system setup," Song says.
ORDER OUR NEWSLETTER OR CONTACT US!