Back to Concrete Issues Front page
UPC Dubai: shaping the precast landscape in the Middle East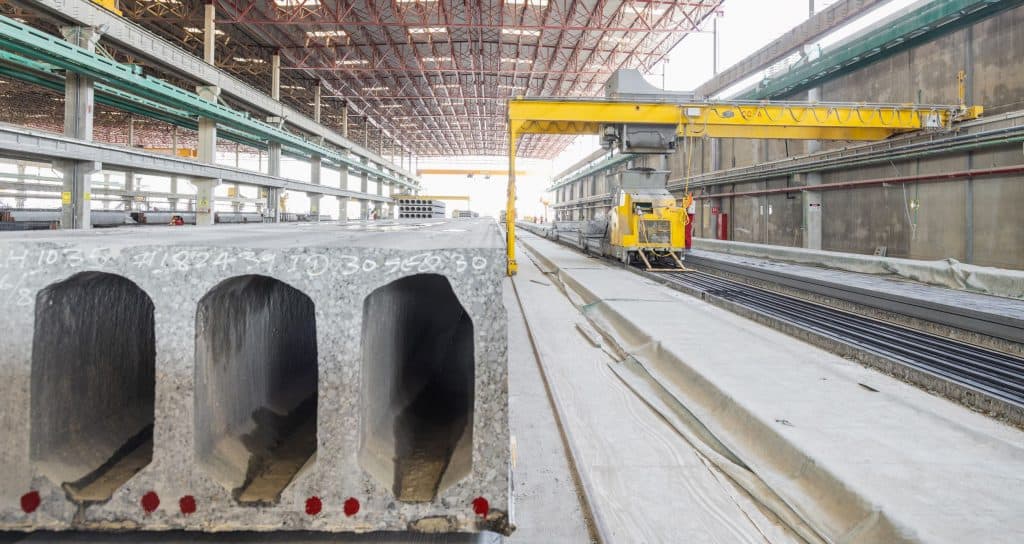 In the 25 years since it was first established, United Precast Concrete Dubai has taken part in almost all major construction projects in the region, helping in shaping the region's landscape.
South African civil engineer Rickert Kruger has been an Assistant Production Manager at United Precast Concrete (UPC) Dubai for the past three years. Kruger works at the company's Dubai Industrial City (DIC) plant, which is one of the largest in the region. Built on a 205 000 sq m property, the factory was originally designed by Elematic as a 100 percent hollow core factory. The plant, which runs three shifts, can produce up to 400 m3 of tilt products and 2000 m2 of hollow core per day.
Kruger is no stranger to challenges during production. "Last year, we had about seven days of strand slippages occur. Fortunately, we were able to get a fast response from Elematic: their team flew in within a week and helped us fix the situation. They looked not only into the products but also into the release agents, the calibration of the strand equipment. All the variables that could have gone wrong. This is the kind of hands-on technical problem solving that we've come to appreciate and expect from Elematic," he recalls.
Elematic supplies over 90 percent of the equipment in UPC Dubai's DIC plant. "We have over 2 km of tracking shuttle, 10 shuttles, 18 extruder units, 6 dispatcher units and 8 cutting machines. We faced some challenges when we decided to include tilt products in our offering because the stockyard was set up 90° perpendicular to the factory, but that issue was solved satisfactorily as well," Kruger explains.
"Our concrete supply is transported through shuttles into concrete dispatching machines to the 12 stockyard bays and 4 production bays we have. The Elematic system allows concrete to be transported to into any bay, we're able to move from one bay to another, which gives us a lot of versatility," he adds.
"The Elematic machines we are using are exceptionally durable; some have been in operation for over 25 years. They're also very user-friendly. We had an incident when a Production Engineer, who had no prior experience using the equipment, was able to operate the batch plant in an emergency when the operator wasn't present."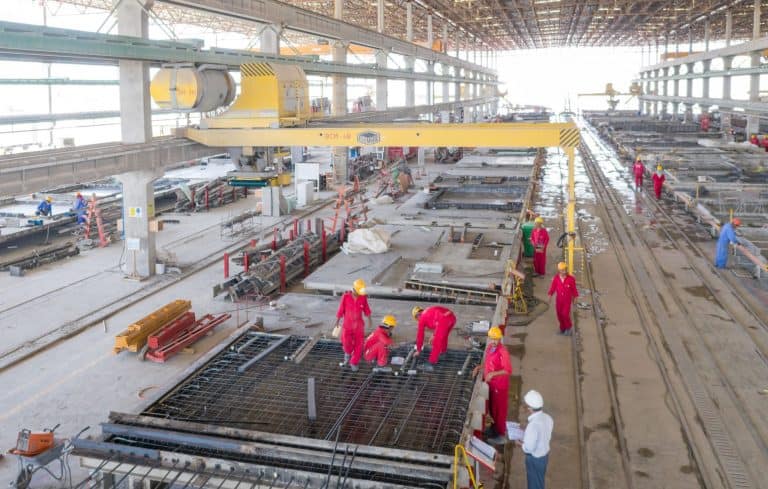 Precast use translates to savings
In Dubai, the most common construction technique is to cast in situ. Iranna Dongritot, Senior Projects Manager, points out that precast concrete offers a lot of benefits compared to this.
"Construction using precast is about 40 to 50 percent faster than casting in situ. It does cost about 5 to 6 percent more because of transportation and crane costs, but if you convert time in to cost, precast is cheaper. This time saving converts to overall savings in project value and will give early rental income to the owners," Dongritot says.
Dongritot also points to the maintenance costs that could be avoided by using precast. "A building cast in situ would need maintenance every three to four years, to repaint or to fix cracks, for example. Precast, on the other hand, is very low maintenance, needing even negligible maintenance and if you use colored concrete, you don't need to repaint the building during its lifetime."
Safety is another good reason to choose precast. "Using precast in construction means less safety hazards and headaches as less people are needed on site. And because everything is produced in a controlled quality environment, all the elements are always delivered according to specifications. Precast is also always of higher strength than in situ or block work," he points out.
Projects across the UAE
UPC Dubai has contributed to major construction projects in the UAE, supplying precast, spiral staircases and hollow core to the Burj al Arab hotel in Jumeirah, the fully precast Ikea Dubai Festival City and providing about 111 000 m2 hollow core slabs with columns and beam structures for the Dubai Festival Plaza mall.
"Our vision is to make a difference with precast by being the leading precaster in the region," says Matthew Palmer, who started with UPC Dubai 15 years ago as a project manager and is now the company's General Manager.
He attributes the company's successful contributions to projects such as the extension of some facilities of the Abu Dhabi National Oil Company (ADNOC) in Ruwais to UPC Dubai's on-time delivery, product quality and a project management team that offers a good interface with client.
"Companies looking to start their own precast production facility should ensure that the factory they are building has good capacity and offers possibilities for expansion. In our DIC plant, for example, the equipment we have allows us to manufacture hollow core to prestressed to tilt items. A good location is, of course, also important."
He recalls that when UPC started in Dubai 25 years ago, they had to start from scratch, by explaining to people what precast, especially hollow core technology, was. "Precast has come a long way in the UAE. It's become the preferred solution for building villas and other residential projects, but there is still is a lot of room to develop."
Palmer credits Elematic with helping the factory get up and running. "From our batching plants to concrete distribution to casting machines, the whole factory runs with Elematic. The durability and performance of Elematic machines are well-tested. The level of service is unparalleled and the quality of the machines has stood the test of time."
"One thing we're very happy with Elematic is their after sales service. This is especially helpful because in the Middle East, local authorities are always introducing new regulations, so we constantly have to update our equipment. Elematic gives us good feedback about what needs to be done to make this happen. They help us with any issues we might have, from problem solving to new projects. We always have access to the correct people when we need them," he concludes.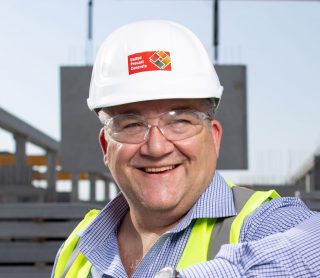 United Precast Concrete Dubai
UPC Dubai started its operations 25 years ago and is one of the pioneers of hollow core technology in the region.
United Precast Concrete DIC Factory
Year established: 2009
Average annual production: 130 000 m3 tilt elements; 750 000 m2 hollow core slabs
Factory production size: 24 000 m2
Stock year area: 96 000 m2
Total factory area: 205 000 m2