Back to Concrete Issues Front page
Shanghai Urban strengthening precast leadership with new technology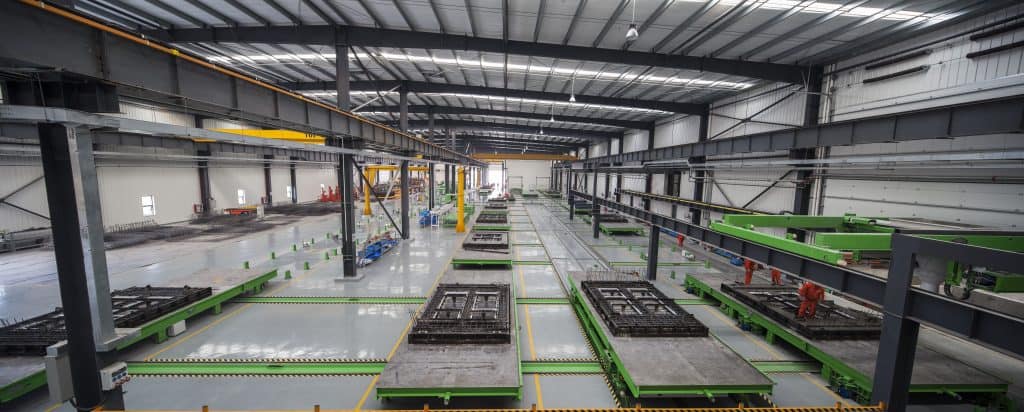 Chinese construction group STEC's strategic drive to win advantage in the increasingly competitive PC market in Shanghai has led it to invest in more sophisticated and flexible production capability in a move that is also a milestone breakthrough for Elematic in the Chinese construction sector.
The drive to secure even further technological leadership in the large and highly competitive Chinese building market, and growing emphasis from government to have precast concrete play a larger role in the sector, has led state-owned company Shanghai Urban Construction Material to add a new factory with more advanced and highly flexible PC production system to its existing group of factories.
Shanghai Urban Construction Material's strategic investment in the new factory in Shanghai also marks a major milestone for Elematic China in serving the market.
As the specialist PC subsidiary of STEC (Shanghai Tunnel Engineering Co), Shanghai Urban Construction Material has been gearing up production with the new factory's Circulating Wall Line (CWL), and already a growing number of building projects are being served across Shanghai. The rapidly growing city has a permanent resident population of 14 million, making it China's largest city as well as one of the world's biggest.
The PC company is producing wall elements in Hall 1 (6500 m2 area) of the factory, which was commissioned in the second quarter of 2015. The factory is located in Lingang on the southern edge of the booming construction region, near the coast at Hangzhou Bay.
Current building projects being served by the new PC factory include:
– Building material Tech Harbor commercial and residential scheme on Shijie Road in Yangpu District, in the central northeast of the city. The development includes four 12-storey buildings with a total floor area of 90,000m2, site PC erection work for which was started in August 2015 by contractor Shanghai Zhuzong, a subsidiary company of STEC group;
– A residential project by private developer Xuhui, in Jia Ding District, in the north of the city; and, in the west of the city, PC elements for three new metro stations (Dong Fang Lue Chou, Zhu Jia Jiao and Xu Jing Bei Cheng) on Line 17 of the continuously extending, world-class subway network.
Within the next year, Shanghai Urban Construction Material aims to expand its PC production capacity to include the adjacent, second hall (also 6500 m2) at the factory complex to take total production area to 13,000 m2. Based on further market studies and assessment of demand, the company plans soon to decide on the systems to erect in Hall 2. The additional investment by STEC's PC leader would be a notable expansion of the PC complex, the first industrialized PC factory of its kind that Elematic China has equipped in the country.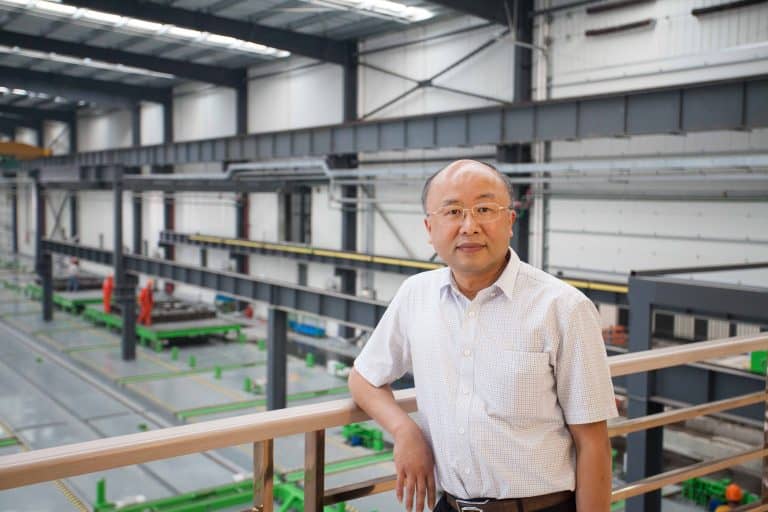 Shanghai Urban Construction Material has been a strong competitor in the PC market since 1992, says Yong Ming Zhu, vice general manager.
The company has been operating with three fixed table PC factories in Shanghai, and participation in 10 jointly operated facilities, but now with the new factory its production strength is led with a higher level of technological capability for the increasingly competitive and also more demanding era in construction.
Mr Zhu says the strengths of the group in PC are brand superiority, authentication through export certification to US and Japanese markets, being a first mover in the market where it holds 50% market share in Shanghai, and major strengths in quality and capability, and a R&D centre.
For the future, and driving ahead with its new investments in the PC factory, Mr Zhu says the company's strategic goals are to increase market share, improve the brand still further, and to develop new technology.
As Elematic China supports Shanghai Urban Construction Material in pursuit of its business objectives, and works with the customer even more closely on logistics, production management, enhancing the existing line and service, Mr Zhu says: 'Cooperation is good so far. Service and equipment quality are good also.'
Spearheading the PC future
The building sector in China is estimated to have a demand of 2 Billion m2 of new floor area per year, and the market in Shanghai is approximately 1%-1.2% of the national total, says Mr Zhu. The majority (approx 60%-70%) is for residential buildings while the need for commercial and public buildings are 20%-30% and 10%, respectively, he adds.
Precast concrete has played a role in the vibrant and increasingly competitive building sector in Shanghai city and region, and China nationally, over the last few decades. Shanghai Urban Construction Material has two established, fixed table factories in Shanghai with total production capacity of 700,000 m2/year, and has participation in 10 jointly operated facilities spread from the city to the provinces of Jiangsu and Zhejiang.
Government authorities have called for even more application of PC structural systems in the building sector to improve industrial capability, quality, environmental performance and to help with labor issues, says Mr Zhu. In Shanghai, the increased emphasis on the merits and adoption of more PC in the building market began around three years ago, and there is a strong development trend for the coming years, he adds.
Shanghai is leading the advancement of PC use in China. The official requirement on the use of PC in floors and walls has been increasing.
'We have seen a sudden increase this year,' says Mr Zhu, and he expects more growth over the next 1-2 years. 'When the PC capacity is growing, the usage of other materials is dropping. For example, we use PC panels instead of bricks.'
To continue to serve the highly demanding building sector, Shanghai Urban Construction Material is driving forward its leadership position by investing in more flexible and advanced PC production technology to further advance its strong competitive position and maintain superior service and brand through its capability and delivery to customers. The new factory is also used by the Shanghai government as a demonstration project to show the industrialized capabilities of the city.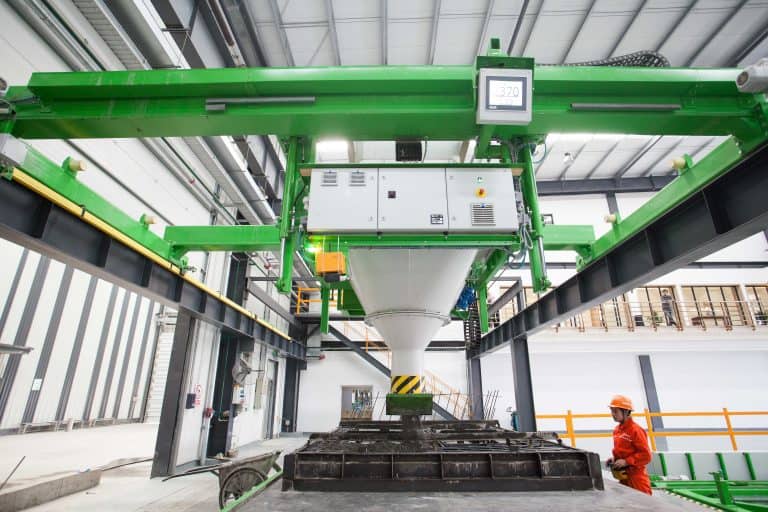 PC Cooperation and Plans
Soon after the new emphasis was given to PC by government authorities, the level of competition increased in the Shanghai market. Looking to advance its leadership position and build upon long experience, though, Shanghai Urban Construction Material planned to go beyond only creating extra production capacity by seeking to invest in more sophisticated PC technology.
Four years ago, discussions on advanced new production possibilities began with Elematic China. The talks progressed alongside market and factory location studies, leading to an agreement to install Elematic China's CWL system in Hall 1, allowing Shanghai Urban Construction Material to manufacture facades and solid walls as the main products in the first step of their cooperation.
So far, the Chinese market and building standards, in addition to cast in-situ, focus on floor slabs being constructed by a hybrid method – composite floor slabs, comprising half-slabs of PC then topped with cast concrete that also forms a monolithic structure with the gaps and joints..
Therefore, at this point, while the knowledge of and possibilities for the wider uses of more PC elements and PC building system concepts grow, the focus of Shanghai Urban Construction Material and Elematic China, through their cooperation, will be on the large market for PC walls.
Elematic China's general manager, Seppo Kauppinen, says the company is actively working on the further development of the construction codes, standards and new technologies for PC in the national and Shanghai building markets.
New PC Technology
In Shanghai Urban Construction Material's move from using traditional, long line fixed-table PC production systems to adopting a circulating wall line for the new factory, the customer has gained much more flexibility, says its Technology and Facilities Manager, Li An Chen. The circulation line utilizes Elematic's unique central transfer wagon technology that offers maximum flexibility in production. It is also the first of its kind in China.
The advantages include requiring less space, curing time – especially in winter, and workers focused on more specialized tasks along the circulating production line, adds Mr Chen.
In contrast, the fixed-line systems that dominate PC production in China call for production management of factories to specialise, or to choose a dominant type of product, for each site as well as needing more space, curing time and more multi-skilled workers – all of which are costs in an increasing competitive market, says Mr Chen.
Instead, the Chinese government wants greater productivity with PC, and more use, in the building sector, he adds.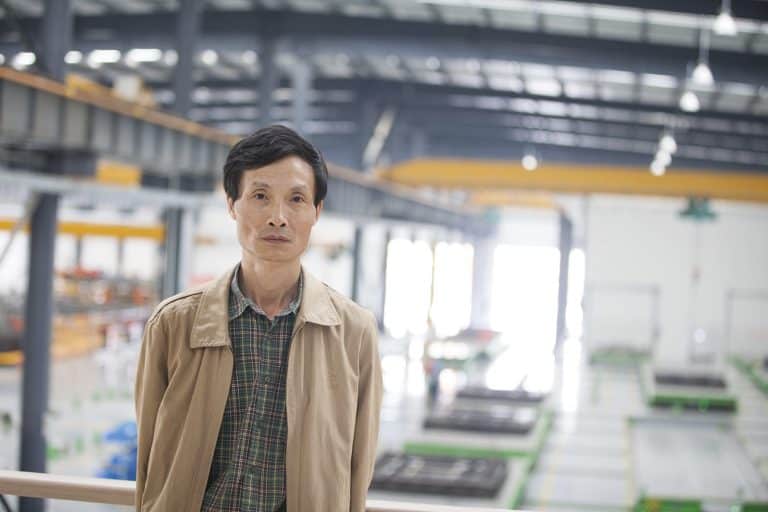 The circulating wall line has given us a lot more flexilibility, says Li An Chen, Technology and Facilities Manager at Shanghai Urban.
Factory manager Xiao Yong Yang says it is the first time the company has had 'such a high level of automation' in PC production. He adds: 'There is more automation now and fewer workers. It is a strong trend.'
Mr Yang continues: 'Elematic China's PC methods have helped to develop our knowledge from traditional manufacturing to automated methods, and to make the change.'
He adds that the equipment performance has been very good, and they are cooperating to further enhance features in Hall 1, which operates with about 40 workers, and to optimise training, support and maintenance costs.
Mr Chen adds that Elematic China's systems also allow easier storage of PC elements on site, helping overall logistics, production management and productivity. 'We are at the beginning, and are satisfied' with the investment so far, he readily confirms. 'It has been a good start.'
New Factory: Design and Build
Following their contract agreement in September 2014, Elematic immediately got design and project planning underway for the CWL system, says project manager for the task, Ari Syrjä.
The CWL system has an annual production rate of about 420,000 m2, based on 300 work days per year.
Syrja notes that the delivery schedule was 'extremely challenging,' but successfully achieved.
The manufacturing solution involved equipment being supplied from both Elematic's HQ in Finland and locally. From Finland came 13 containers, which included equipment such as the compacting station, two tilting stations, a plotter, brushing and oil units, rollers and friction wheels, and the Comcaster concrete delivery system. The first containers arrived in early 2015.
In China, most notably the equipment manufactured were 60 circulating tables of 'excellent quality'; and, the 7-level Curing Chamber, which Syrja explains is the vital corner anchor to accurately align, and ensure the success of, the entire CWL system within production Hall 1. The Curing Chamber can hold up to 40 PC elements.
Erection of the CWL package was performed under the control of an installation manager from Finland working alongside Elematic China's project engineer. For final preparations of the entire assembly and commissioning of the CWL system, an automation engineer and a start-up engineer from Finland worked alongside the project engineer who had a vital technical liaison role, too, with many of the customer's managers and engineers.
With the CWL being mostly an automated system, the principal manual work is for assembly and cleaning of the sideforms and placement of rebar, insulation and inserts on the tables – which typically hold two PC elements though can have up to four, says Mr Yang.
In the initial phase of the new factory's operations, a single day shift is used, but the customer expects to move up in the near future to 2 x 10 hours per day. Curing time should last about the length of a shift.
The mixing plant is located between the two production halls, and at 60m3/hour capacity is double the size needed to meet future demand, says Mr Yang.
Early output from the flexible CWL system in has been dominated by façade production (approx 70%), and multiple units are cast daily – regularly about 10 per single day shift, though up to 30 in a shift has been achieved already, says Mr Yang. The factory also produces composite floor slabs (10%), sandwich insulation walls and solid walls. The height of the PC elements are up to 2.9m, and lengths are to customers requirement though typically 3m-5m.
Mr Yang adds that orders have come in about six weeks ahead of production, allowing time for orderly production management plan to match the customer request, PC element design, and sideform design and fabrication. A key service is being provided by Tekla, which translates consultants' structural design data into 3D models, enabling the factory to have CAD drawings and call-off raw material requirements for production planning.
STEC group is looking at a number of possibilities to integrate overall ERP planning systems even more for yet greater productivity with the Building Information Modeling (BIM) environment.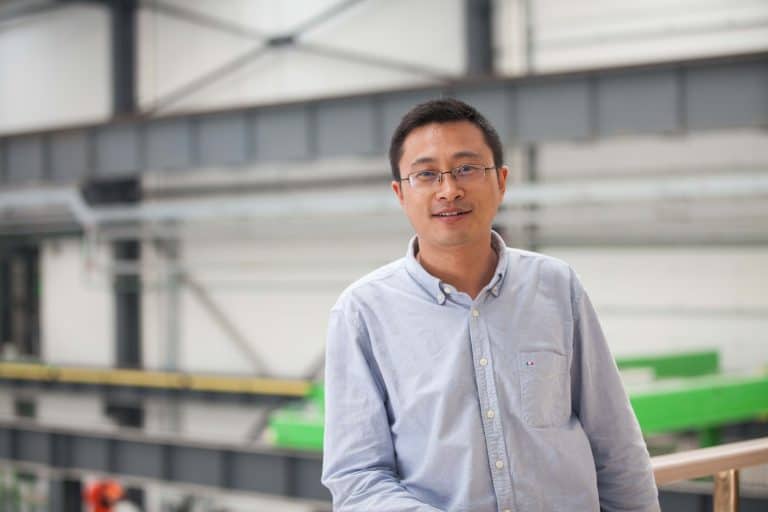 New Factory: Production, and Future
The new factory's reasonably steady output sees PC elements emerge from the Curing Chamber to be stored for two-four weeks, which is part of the logistics of ensuring full strength gain and then constant, timely, delivery to the building sites in a 100km radius across Shanghai by truck.
The Building Material Tech Harbor building project comprises four buildings, each 42m high which are being constructed as hybrid PC/Insitu cast concrete structures. Shanghai Urban Construction Material is manufacturing mostly facades but also solid walls and wall panels for the project, which is well advanced and due for completion around February 2016, says Mr Yang.
Mr Yang says the largest façade PC elements for the job are 2.7m x 2.6m with window inserts. The production cycle is up to 45 days, including yard storage following the initial curing period of six-eight hours to achieve 15MPa lifting strength for the largest, 6 tonne façades.
The key challenge in the cycle is the steel sideform and their cleaning, says Mr Yang, and notes that the factory has opted to keep them fixed to tables during a production contract. He is, though, looking at options for more flexibility, including Elematic's FaMe magnetic positioning for the sideforms for faster assembly and demolding.
For the residential project being developed by Xuhui, the factory is producing solid wall panels, facades, composite floor slabs, beams and sandwich panel walls.
Most recently, following a contract award in November, Shanghai Urban Construction Material is producing PC facades of up to 2m x 2.5m for three metro stations under construction at the end of Line 17.
While the initial, 6000 m2 storage yard is not large on the leased property, it is sufficient for initial needs and the site has a second, much larger area – 30,000 m2 – also available for use as orders rise even more and Hall 2 is commissioned. By then, production in the second hall will focus on composite floor elements and solid walls while Hall 1 is to be dedicated to façade production, says Mr Yang.
As orders increase, too, Shanghai Urban Construction Material is looking to work closely with Elematic China to speed production even more, increase its capability of flexibly produce ever more complex PC elements, including an expanded range of surface finishes, says Mr Zhu.
For Shanghai Urban Construction Material, having a locally-based international PC manufacturer has been 'very important,' says Mr Zhu about Elematic China. 'It means in future we will have a quick response from the service team in China.'