Just push
The FaMe Push-Button Magnet is designed for fixing side forms onto steel beds and tables. The Push-Button Magnet is an essential part of the FaMe System, which consists of the push-button magnet, a releasing tool, and a storage system. The unique, patented jaw-type connection mechanism is suitable for all mold systems, as well as any steel table and bed surface.
The lightness, simplicity, and safety make the Push-Button Magnet a very useful tool.
"It's easy to say that the product development and design process for the Magnet has been very successful. It is light to use and lift, weighing two kilos less than the previous model," explains Lassi Järvinen.
"The closed structure of the Magnet makes it easy to maintain and very safe to use. There is virtually no risk of hand injuries."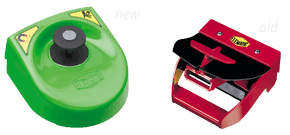 New vs. old