Back to Concrete Issues Front page
The new heart of Helsinki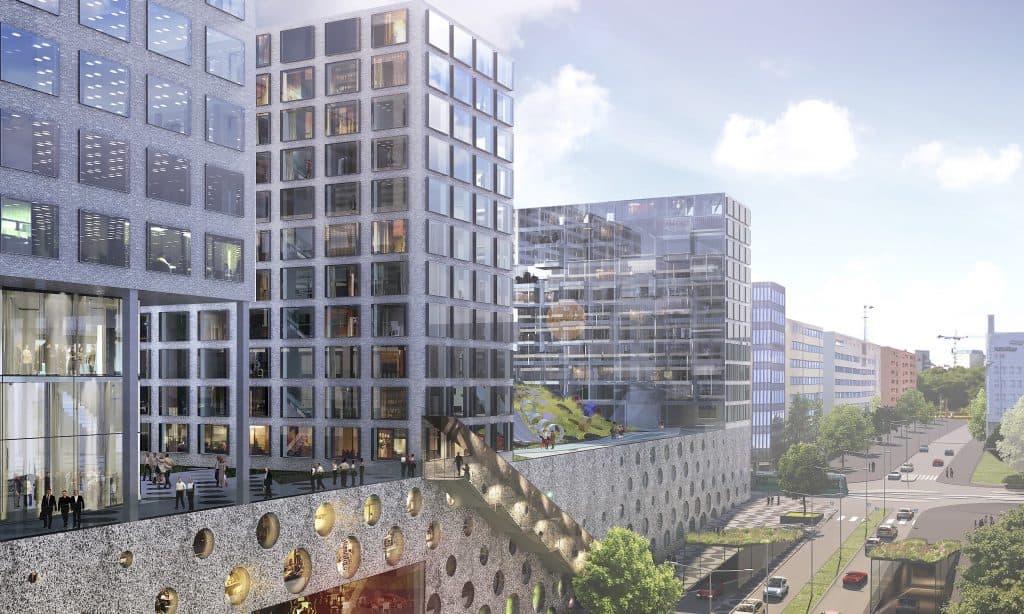 Tripla, one of the biggest construction projects of all time in Finland, is changing the landscape of the capital. Modern hollow-core technology plays an important role.
Tripla, being constructed by Finland's largest construction company YIT, is named after the three blocks it will encompass. The total area of the massive complex will be an impressive 183 000 floor square meters.
Expected to be opened in October 2019, the lower part of the complex includes a shopping centre, a parking garage, and a public transportation hub. Tripla will feature 3400 parking spots for bicycles and nearly 350 charging stations for electric cars.
When all stages of the project are finished in 2021, Tripla will boast almost 400 apartments, a world-class hotel with 430 rooms and flexible workery-style offices. The offices have room for approximately 5000 people with a total floor area of 50 000m2.
Project Manager Ilkka Mikkola from Ramboll Finland is leading the structural engineering group in the project.
"We have precast structures in the 12-storey buildings and cast in situ structures with precast shafts in the shopping centre and parking garage. The high buildings have a stabilizing core with steel frames and hollow-core slabs," he explains.
In the high buildings, vertical loads on the hollow-core slabs are transferred to the steel frame beams, which are then transferred to columns, the main cores and walls. Horizontal loads are transferred to the main cores of the buildings. The hotel block alone has about 2515 hollow-core slabs and 822 wall elements.
All areas are being designed simultaneously: the architecture, the structural engineering and the HVAC. Four factories are supplying precast elements. The project is being built in the middle of busy traffic and there's no room for storage. Scheduling with precasting and logistics is really important.
"There are several parties involved and the project has a tight schedule. Communication needs to be efficient and fast," Mikkola says.
The Dutch Office for Metropolitan Architecture (O.M.A.) designed the concept for the design contest PasilaONE, which was arranged by City of Helsinki in 2013 – 2014. The Finnish architects and principal designers were Soini & Horto and Brunow & Maunula.
Tripla
Shopping center, public transport hub, event area, housing & hotel, Central Pasila, Helsinki, Finland
Constructor: YIT
Prime contractor: YIT Rakennus
Total area: Three blocks, 183 000 floor square meters
Architect: Soini & Horto
Structural Design: Ramboll Finland
Number of precast elements: About 5820 hollow-core slabs and 1632 wall elements