Back to Concrete Issues Front page
RedX Industries expands hollow-core production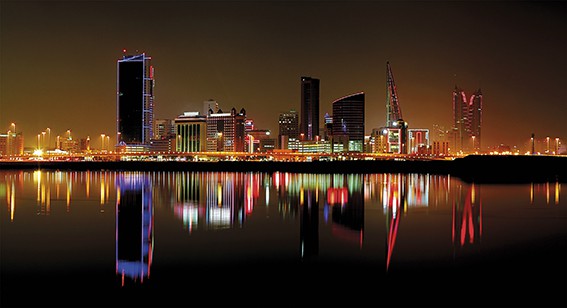 In Bahrain, RedX Industries is expanding with more Elematic hollow core production lines to a plan that takes its output even higher to meet strong demand in the building market.
In the Kingdom of Bahrain, precast concrete manufacturer RedX Industries is dramatically stepping up its production of hollow core products for the national building market.
RedX's increase in output follows the recent installation and commissioning of new lines with Elematic equipment, expanding as planned upon the base of four original lines that have been serving the business well.
The Elematic team on site, in Hafeera, have installed three hollow core beds, each 150m long like the RedX's four existing lines. In addition, the equipment order from Finland included an E9 Extruder, S5-400 saw and two nozzle modules (150mm and 265mm, respectively).
RedX ordered the package of equipment and beds in March to expand its production capability. Installation was able to commence soon after, in August, as the additional three beds had always been planned and provided for, on site; the necessary building foundations and structure were constructed at the same time as the original contract for four beds and equipment from Elematic.
With seven beds in place, and supported with Elematic's Dubai-based regional service centre, RedX is now stepping up in maximum capacity from 6000 m2/week to 10,000 m2/week. RedX's operations manager, Martyn Pawson, says typical output will be approximately 8500 m2/week.
'Elematic are good to work with,' he says. 'We are happy with both the service and support.'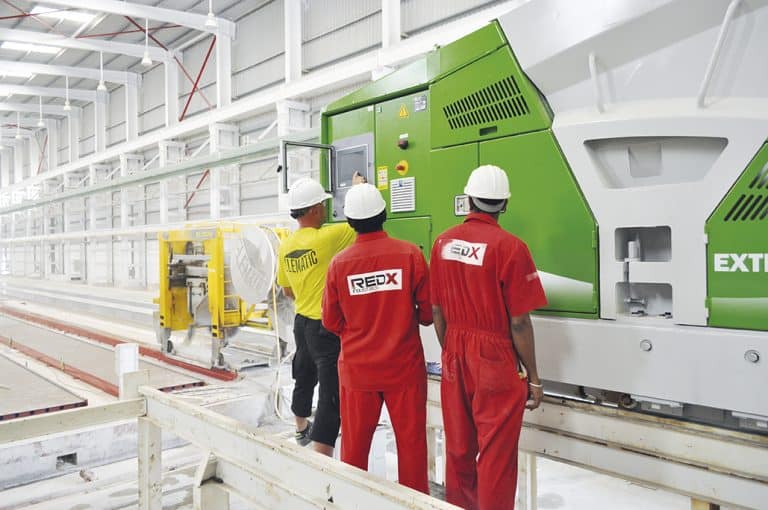 Market and Initial Production
Much of the busy building market in Bahrain that RedX Industries serves is for housing, including high-rise residential towers – including two 20 No-storey blocks in Juffar, and a 30-storey block on Amwaji Island. Most of the projects are government-driven and tend to be social housing, comments Martyn Pawson. He adds that RedX also supplied HC slabs to a large shopping mall project in Riffa.
RedX has one precast concrete factory which specialises in the production of hollow core slabs, stair elements and ancillary products, such as kerbs, barriers and boundary walls, says Martyn Pawson.
He adds that with a variety of projects underway in the market, lead times for orders can vary from only a few days for small jobs up to six months ahead for large projects. Slabs sizes are 150 mm, 200 mm and 265 mm – with 150 mm the most common. In future, the company may look at deeper slabs.
Martyn Pawson has been with RedX for five years as Operations Manager, having previously worked in a similar capacity in Qatar, and with Hepworth, Bison and Bell & Webster. Having prior experience with Elematic equipment, he was no stranger to the company and its proven systems when, after he had been with RedX for a year, the initial package was delivered from Finland to Bahrain to establish the first four hollow core beds.
RedX has two state-of-the-art, fully equipped laboratories – in Hafeera and Hidd, respectively. The company notes that with its laboratories it is committed to research and testing building materials, using the best practices to provide customers with quality products and achieve the highest standards of credibility.
The laboratories are 'devoted to quality assurance, in order to promote and stress distinction and excellence,' says the company, adding that they have made enormous efforts in improving performance.'
'We operate in a very mature market,' says Martyn Pawson, noting that the labs are vital for routine testing.
RedX Industries commitment to quality control and assurance is shown through holding ISO 9001 Quality Management Standards certification, as well as those for ISO 14001 Environmental Management Standards and ISO 18001 Health & Safety Management Standards.
'We provide products to either ASTM standards or British Standards,' states Martyn Pawson. He adds, in obtaining the value for money need to compete well in the mature building market in Bahrain, 'Elematic equipment is recognised as the best available in the precast industry.'
Expansion Plan
RedX Industries has firmly established itself in the Bahrain building market though Stage One of its hollow core production, and is now expanding to increase its customer base and drive sales of HC slabs and other construction products.
For Stage Two, its contract for the extra three beds and equipment was agreed with Elematic's area sales director, Curt Lindroth, in March 2015. The additional order is the key step to fulfil RedX's original plan to have a seven-HC bed factory.
'We had already from the start taken into consideration a future extension to RedX's first four beds,' states Curt Lindroth.
Discussions to move into Stage Two moved ahead in 2014, which is also when Lindroth took on sales and services responsibility for Bahrain. Lindroth has worked in the region since 2011 and his territory also includes UAE, Saudi Arabia, Oman, Qatar, Kuwait, Jordan and Lebanon – and also South Africa
RedX decided, also in 2014, to have a service agreement for the equipment, says Pekka Hiltunen, Elematic's customer service manager, based in the Dubai office.
'After the initial warranty period we entered into the service contract,' says Martyn Pawson. 'It covers all equipment.'
Pekka Hiltunen notes that the framework agreement provides for two visits per year by a service engineer (each visit one week long) to cover a factory audit, production process review, perform preventative maintenance and also provide training.
'The service agreement ensures best possible delivery time and prices of spare parts,' describes Pekka Hiltunen. He adds that it 'gives priority status in problem solving and remote support.'
Curt Lindroth adds that the service agreement also allows for discounts on spare parts, e-shop access for spare part orders and an associated credit account.
Installation and Commissioning
'The expansion was anticipated at the outset,' notes Martyn Pawson of the three additional hollow core beds. 'Hence, the building, foundation and services were installed so all that is required for the expansion is the installation works.'
Upon signing the contract with RedX, Elematic named Ari Syrjä as project manager for fulfilment. Elematic was responsible for transport, bringing all equipment – held in six containers – by road to the port in Finland and then by ship to Bahrain.
There are four existing beds in production with an extruder servicing them, describes Ari. Syrjä. He adds, 'The new beds are located next to the existing ones.'
In addition to the 3 x E9-1200b beds which have a combined length of 450m, and the S5-400 saw plus two blades, the equipment package supplied by Elematic also included:
– three pairs of stressing abutments;
– cable drum;
– water hose drum;
– flexible cable 135A (160m long)
– water hose (160m);
– the E9-1200e power unit and cable drum;
– flexible cable E9-1200e (160m); and,
– a nozzle module E9-8/150
 'The spec was always known,' states Martyn Pawson, 'it was the timing that was the only variable.'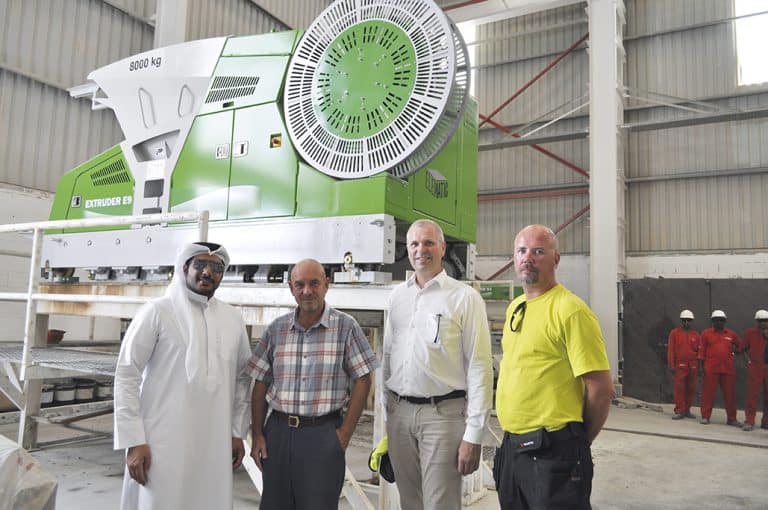 Taking a tour of RedX's factory (pictured from the left): Sheikh Ali Khalifa, Managing Director, RedX Industries; Martyn Pawson, Operations Manager, RedX Industries; Curt Lindroth, Area Director, Elematic; Kari Vainio, Installation Supervisor, Elematic.
As the project is a side-by-side expansion – adding more of the same beds and equipment to a pre-prepared space – the installation phase has been relatively straightforward, describes Ari Syrjä.
'The existing plant can be operated simultaneously when installation of the new beds goes on,' he continues. Even with the high daytime temperatures the installation and adjacent production the installation was able to proceed, and did not require night time work, Mr- Syrjä adds.
Installation started in late August for the new beds to be ready by late September for commissioning. Full production with the new beds is to be underway in October.
'We work six days a week on a 12-hour day,' Martyn Pawson sheds light on the shifts.. With all beds 150m long 'you can make any size of product on a bed,' he notes.
With everything made to order, not to much storage is required. Martyn Pawson adds, 'Delivery is usually within seven days of casting.'
With seven hollow core beds from Elematic, RedX Industiries is now at its planned maximum capacity to further expand its offering to the nation building sector in Bahrain, says Martyn Pawson.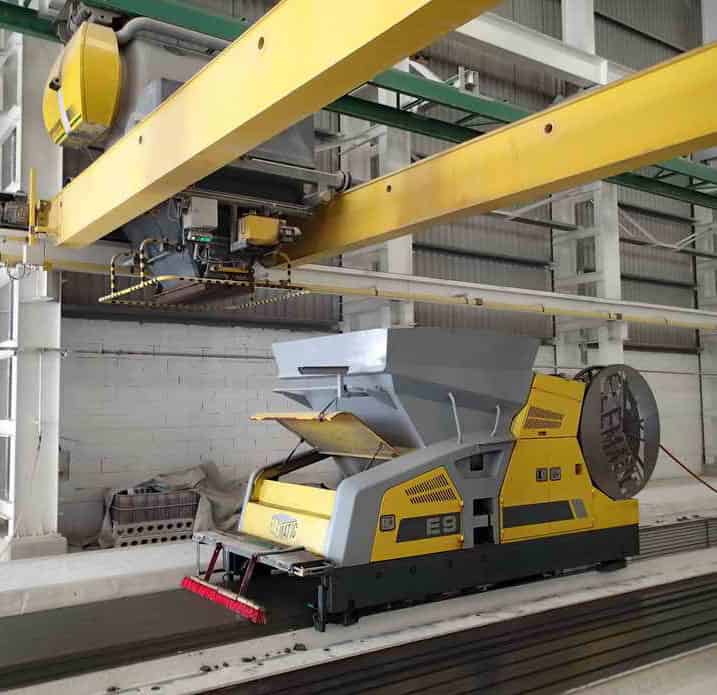 Co-operation between RedX Industries and Elematic began in 2010, and the package for the first four beds also included: – semi gantry concrete distributor, shuttle and concrete distribution system; – four pairs of abutments (a pair for each bed); – pre-stressing equipment; – E9 Extruder; – 150 mm nozzle modules; – 200 mm nozzle modules; and, – EL1100 saw. The beds have heating and maturity control systems, especially for the winter months when temperatures drop from the highs and humidity of summer – when ice is added to the concrete mix to keep it cool.