Back to Concrete Issues Front page
Precast Concrete Optimism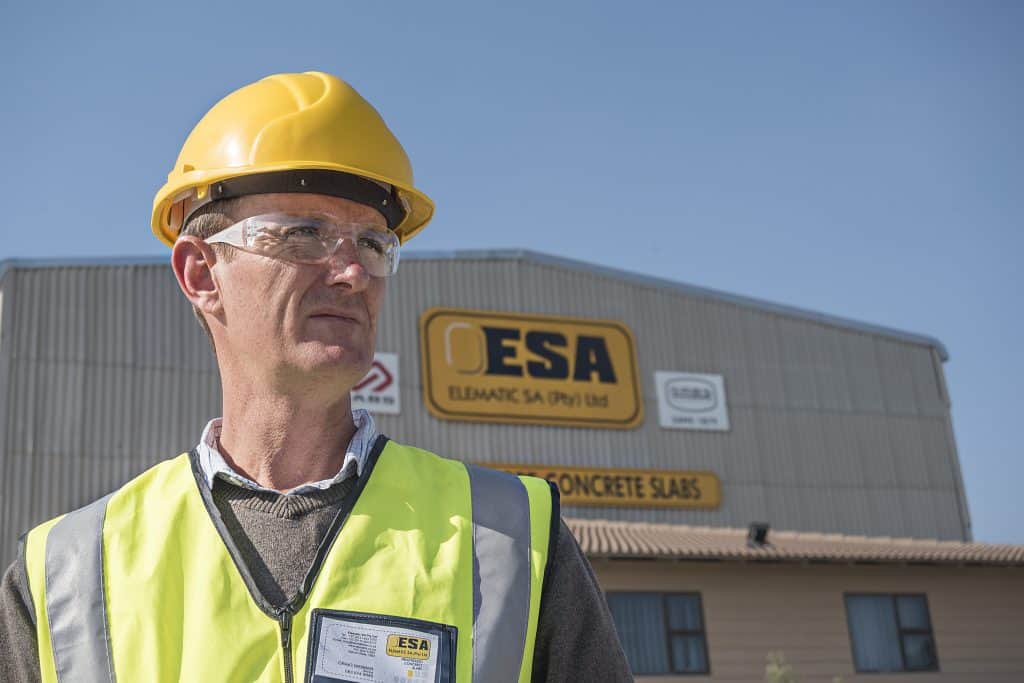 Precast concrete hollow core slabs are an under-utilised solution in the cost efficient and quick construction of social housing.
Despite the South African construction industry going through economic peaks and troughs, three things have remained static, the need to reduce the lower-income housing backlog; the demand for development of new privately owned residential and commercial property and the need to upgrade infrastructure.
The South African Government, in their 2017/2018 budget, allocated R195.8 billion for human settlement and municipal infrastructure projects, with R3.2 billion allocated to the provision of lower-income housing projects.
A Gauteng-based company involved in the supply of precast concrete panels for the housing and commercial developments sector, Elematic SA (ESA), believes that precast concrete panels are an under-utilised solution in the construction of housing, particularly affordable housing, where cost and delivery is a critical factor, and which would go a long way to reducing the backlog, currently estimated at approximately two million units.
ESA is one of South Africa's leading manufacturers of precast concrete hollow-core slabs which have been used in the construction of schools, housing, stations, commercial properties and stadiums.
Craig Webber, Director of ESA said "Precast concrete hollow-core panels are one of the most cost effective and durable components on offer, and could be utilised more by architects and engineers when designing new properties and office parks. There is a mindset within the construction industry that bricks are best, and this is not necessarily so, particularly if the efforts to reduce the housing back-log are to be taken seriously. Precast hollow-core concrete slabs can definitely assist with this backlog, as they are more easily and quickly installed at site due to their factory-based manufacture. The installation at site is quick to complete compared to on-site manufacture. It may be a niche product, but the applications for hollow-core panels are extensive".
ESA has invested in high-tech machinery from Elematic in Finland to produce precast concrete panels at their two factories based in Benoni West, Gauteng. The factories are operational 24 hours a day, five days a week, with 80% of the output currently destined for residential housing and 20% for commercial developments.
The Process
The precast concrete hollow-core slabs are manufactured using the Elematic Extruder EL 900E coupled with the Elematic semi-automated shuttle and an efficient diamond tip saw. The production process begins when the 120 meter long by 1.2 meter wide casting bed is cleaned using an EL400 Dispatcher with a rotating brush and recycled water. Once this process is completed a release oil is applied. The wire strands are tensioned to the required engineering design, thereafter the Dispatcher is removed and an EL900 Extruder is placed upon the casting bed and the wire strands are hooked into the strand guides.
Sand, stone and cement are fed into a 1.5 m3 Betomix Batching Plant and mixed with water, ready for production. The shuttle discharges the concrete into a hopper on the bucket gantry, where once empty, it returns to the batching plant for the next load of concrete.
The Extruder simply moves along the rails on the casting bed with Markers following behind measuring the required lengths of slabs and making any openings or other work required as required from the production drawings.
Afterwards the concrete slab is covered with a thick tarpaulin and the heating system under the casting bed is switched on and is left to cure.
After 8-12 hours, the tarpaulin is removed and tensioning on the wire strands released.
Again, Markers check the panel sizes and the EL1100 Saw is placed on the rails of the casting bed which then cuts the slab to size with the 900mm diamond tipped blade.
"It is a very seamless system from start to finish. Once cut, we lift the slabs onto transportation wagons where a final quality inspection is carried out. Once that is complete the panels are moved to our stockyard awaiting delivery to their final destination' said Webber.
"We had established that there was a niche in the market for precast concrete hollow core slabs and we launched ESA in 2005. We wanted to be known as the company that offers a top quality product backed by excellent service that can be relied upon. To achieve this, we needed to invest in good machinery. After much research into the precast concrete hollow core slab industry, it was the Elematic machinery solutions that impressed us the most. We believed they offered the reliability and quality we sought, and offered the training and servicing that we required to initiate a streamlined and continuous precast concrete panel production operation" said Webber.
The benefits of the precast concrete hollow-core slabs include:
Smooth and even bottomed surfaces means false ceilings can be omitted
Good and sound insulation properties
Due to the longitudinal cores the weight of the floor is reduced
Voids in the hollow-core can be used for technical installations i.e. ventilation conduits, plumbing and electrical pipes
Short construction time thereby eliminating the need for scaffolding
Can be designed to meet different fire class requirements
Can be used with supporting structures such as bearing walls, skeletal concrete structures or steel frames
Reduced weight of slabs gives savings in foundation and structures
Longer spans require less support and offer more freedom in floor plan design
More interesting balcony or interesting façades can be achieved using slabs in various combinations
What ESA Offers
The demand for a high quality and reliable product is a key element to the success of ESA's operation, where lead in times are short and deadlines extremely tight to meet the growing demand for precast concrete slabs.
The company's production facilities are ISO 9001 certified and their products are SABS approved. Another key factor to the success of ESA is that they offer one the most advanced precast concrete products in the South African industry due to their investment in machinery that increases their output and adherence to strict quality controls.
"ESA carries out in-house quality tests in addition to complying with international quality standards. We have our own laboratories to undertake vigorous testing and calibration checks, and we undertake the 28-day acute bed tests. In order to ensure our machines, which are sensitive, perform optimally, we conduct operational cleaning regularly, that way ensuring their expected longevity is reached" said Webber.
Tailored Production Solution
The Finnish company Elematic, has over 50 years of experience in the supply of precast concrete production solutions, and offer precast production lines in three different technology levels – SEMI, PRO and EDGE. Area Sales Director for Elematic, Curt Lindroth said
"Experience and feedback from our customers across the globe has enabled us to understand, and therefore subsequently resolve, the challenges that a precast production lifecycle can bring on".
"In Europe much of the precast concrete panels are standardised and can be manufactured off-plan. In South Africa this is not always the case, with onsite measuring still a key activity in order to have the panels perfectly sized and cut for installation. We are aware that in factory panel production plants, such as ESA, that our machinery and solutions have to be adjusted to meet local requirements. This can be achieved very easily without any reduction in the quality of the production process or product" said Lindroth.
Webber agreed, "In the beginning when we started using Elematic's ELiPLAN enterprise resource planning system that is specifically tailored for the precast concrete sector, we realised that the system had been developed with European market requirements in mind. In South Africa our building standards may vary from project to project therefore we are unable to manufacture off-plan, so with assistance from Elematic, we had to adjust the system to accommodate this need. If we were able to manufacture off-plan in South Africa we could truly realise the exceptional potential of precast concrete slabs in this country".
"The incorporation of the Elematic production machinery required a few minor adjustments, into our processes. Again Elematic came to South Africa to assist us with this and provided all the training for our staff on their systems. We now have the capacity to manufacture 2,000 squares per day in our 16 lanes, as a result of our investment into the Elematic solution".
"What is important when we invest in machinery, particularly in this economic climate, is that we receive a professional and high standard of service, support and training in order to ensure that the new systems and machines operate optimally, we have, and continue to receive that high standard from Elematic" said Webber.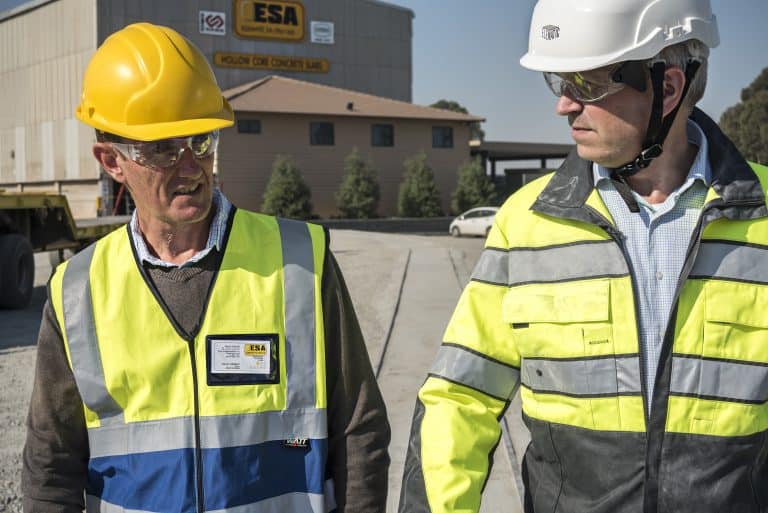 The Benefits of Precast Concrete Panels
"We estimate that up to 30% cost savings can be achieved by using precast concrete slabs purely because of our seamless production process" said Webber. "Because the panels are manufactured at our factories and then delivered to site in their completed form, it eliminates the fluctuations in concrete panel consistency that can occur when concrete panels are manufactured at site. Inclement weather is not a factor in the precast panel manufacturing process as it is all produced under-roof. The fact that precast concrete has a faster production and curing time makes it a desired and affordable option" commented Webber.
Other benefits include:
Durability
Quality optimised as quality is checked during manufacturing process
Environmentally friendly due to naturally sourced raw materials such as stones, gravel, sand, cement
Precast concrete safely resists blasts, earthquakes and similar natural disasters
Precast concrete does not require chemicals to protect against rot and vermin infestations
Due to precast panels and walls being precast in a factory environment items such as quality control in regard to mix, placement and curing are more easily monitored and corrected than they can be at site
Less skilled labour can be utilised in the production phase, thereby offering employment opportunities for localise labour force
Once delivered to site, the precast concrete panels can be installed immediately eliminating at site curing and delays
Factory manufacture offers accelerated curing reducing time from manufacture to installation
Projects
ESA has supplied precast concrete products to projects such as Gautrain's Rosebank parkade, Orlando Stadium, UNISA Registration Centres, Clearwater Office Park, Kings School and numerous residential developments across Gauteng.
"We are particularly proud of the precast concrete panels that we supplied to the Gautrain Rosebank parkade project, as well as the 60,000 square metres of panels to shopping malls at Bruma Lake and Crown Mines near Johannesburg. We recently supplied 30,500 square metres of concrete slabs for Madeira Isles, a 500 unit development in Pretoria of which we estimate that we were able to reduce the construction time by six months through the utilisation of precast concrete panels" said Webber.
The Way Forward
Lindroth, who recently visited South Africa, commented "The quality of buildings will improve as construction is following a certain standard that ensures greater longevity for the buildings. Additionally, socio-economic benefits will result as more trained and educated labour fills the construction market, coupled with a better skilled and educated workforce in the field of construction".
"Architects and engineers will come realise that the flexibility of precast concrete products will offer a greater range of designs as well as offer a quicker return on investment on building projects" said Lindroth.
"Aside from the opportunities we see in South Africa, we believe countries such as Kenya and Angola are already exploring precast concrete manufacturing as a way to address their housing and building requirements. So, we are keeping our eyes open to regional opportunities for ESA. We have the capability to increase our manufacturing output. I believe precast concrete panels offer so many benefits, including substantial financial savings for government funded or subsidised projects. The precast methodology can also be applied to walling. It is the way forward. Africa will always need concrete, and ESA is well positioned to meet the demand for precast hollow-core slabs for residential housing commercial property" concluded Webber.
NOTE: Finland-based Elematic Oyj and Johannesburg-based Elematic South Africa Pty. Ltd. (ESA) are not parts of the same company. ESA is a customer to Elematic Oyj.