Back to Concrete Issues Front page
Technologies advance, careers and work methods change
New technologies are best utilized for the benefit of customers when experience and the latest knowledge meet. Sales Engineer Jussi Pullinen and welder Kyösti Kipponen started in the analog era in the 1980s. Eero Enoranta, on the other hand, started directly with programming and robotics five years ago. The aim is still to make the world's best precast machinery and plants.
Sales Engineer Jussi Pullinen has a long career at Elematic. He started as a machine designer in 1989 after graduating as a mechanical engineer. The transition to a digital world was just beginning, so Jussi started his career with a drawing board at the former LPE Engineering. Elematic has been known as a product name since 1966, but it only became the company's name later in 2003. In the late 1990s, Jussi was the first to draw using a computer terminal, as he had already familiarized himself with CAD during his studies.
"Computers and CAD programs became widespread in just over a year, and soon they were also used for design. We were strong in hollow-core slab technology at that time too. The role of automation in the machines was still small, with counters being used to measure working hours or energy consumption. I saw when the new EL900-E extruder was launched at Bauma in 1995. It was the absolute number one in hollow-core slab production at the time, and its design also attracted positive attention," Jussi explains.
From hollow-core slabs to carousel lines and batching plants
In 1995, he began a five-year stint designing paper machines. There were corporate acquisitions in that sector too, and Jussi decided to return to precast machinery. By the turn of the 2000s, Elematic's product range had expanded. Growth was mainly based on carousel lines and batching plants, but most of the revenue came from hollow-core slabs. ACO lines were also added to the range. 3D modeling was widespread, which illustrated not only design but also, for example, maintenance manual instructions.
"In 2000 I returned as project manager and the company's name was then PCE Engineering. I acted as a link between customers and design. Before Teams, work involved a lot of traveling. I was involved in projects, for example, bringing carousel lines to the Nordic countries and Finland, and hollow-core slab lines to Denmark, Spain and Italy," Jussi says.
When his family grew, traveling no longer felt meaningful, so Jussi switched to being a Sales Engineer in 2004. The company's name had already changed to Elematic the previous year. His job involved, and still involves, calculating offers, supporting sales, and planning factory layouts, both in greenfield sites and as parts of old factories. The amount of automation has greatly increased in Elematic's machines and lines during Jussi's career, eliminating many heavy, human-powered tasks.
"Nowadays, automated machines also collect data and compile reports, which can be used to optimize production control. I am happy to contribute my long experience and expertise in precast technology to the development of automation and the mentoring of younger colleagues," Jussi states.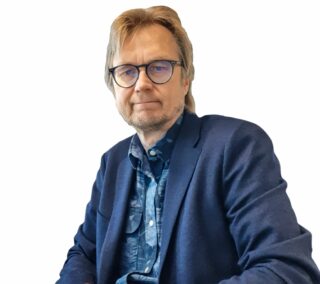 Jussi Pullinen, Sales Engineer
Coding the wall
Eero Enoranta, an Automation Engineer, belongs to the younger generation in the field of precast technology. He has been working in the product development department for nearly five years and has programmed, among other things, the automation of the side and dismantling robots.
The side robot enhances and refines the production of wall elements. The robot retrieves the sides from their storage and positions them precisely according to the dimensions. If necessary, it can also dismantle the sides and move them to washing. The Shutter Robot E9 can be used in the production of many wall structures, such as double walls, filigran slabs, solid walls, and sandwich panels.
"I have also been involved in the testing and commissioning of the side robot. It's nice to see the robot do exactly what it's programmed to do," says Eero.
Exploring and mastering new technologies is the most exciting aspect of Eero's job.
"Coding and automation are my specialties. When the operation of devices or user interfaces requires insight into precast production or customer preferences, the knowledge of experienced colleagues is invaluable," Eero states.
Wall lines belong to Elematic's most important development targets.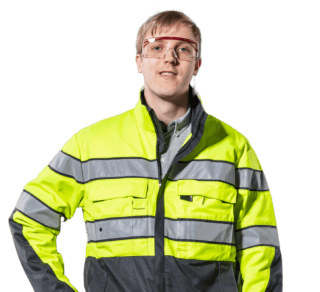 Eero Enoranta, Automation Engineer
New plans keep work interesting
Veteran welder Kosti Kipponen brings designers' visions to life by welding concrete products, such as table and radiator molds, saws, and casting machines. He started his career with Rimer, a company that manufactures concrete molds, even earlier than Jussi, in 1982, and in 2015 the company moved to Elematic. It goes without saying that over this time, the veteran has developed a huge amount of know-how. When he gets the drawings in his hands, he dives right into work.
"I want to do my job well and provide customers with high-quality, well-welded products. My goal is to continue working at the same pace until the age of 68, and even longer. If the employer allows it, even until the very end. I'm proud of my long career and my health – hopefully it will last a long time," Kosti states.
Today, components arrive in a ready-to-use state, for example, edge-folded, perforated, and cut by laser or burning. According to Kosti, it has greatly eased work when there is more space for building the finished product.
"Welding has remained interesting. Credit for this goes to the designers. They keep developing the products forward. Over the years, machines have become increasingly advanced, incorporating additional features, and the process of welding has become more stringent in terms of precision requirements," Kosti says.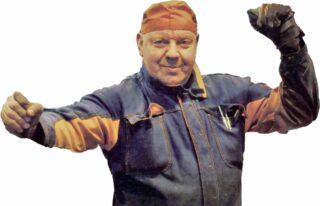 Kosti Kipponen, Veteran Welder
Do you have questions? Please contact us!