Back to Concrete Issues Front page
Plant Control with smart solutions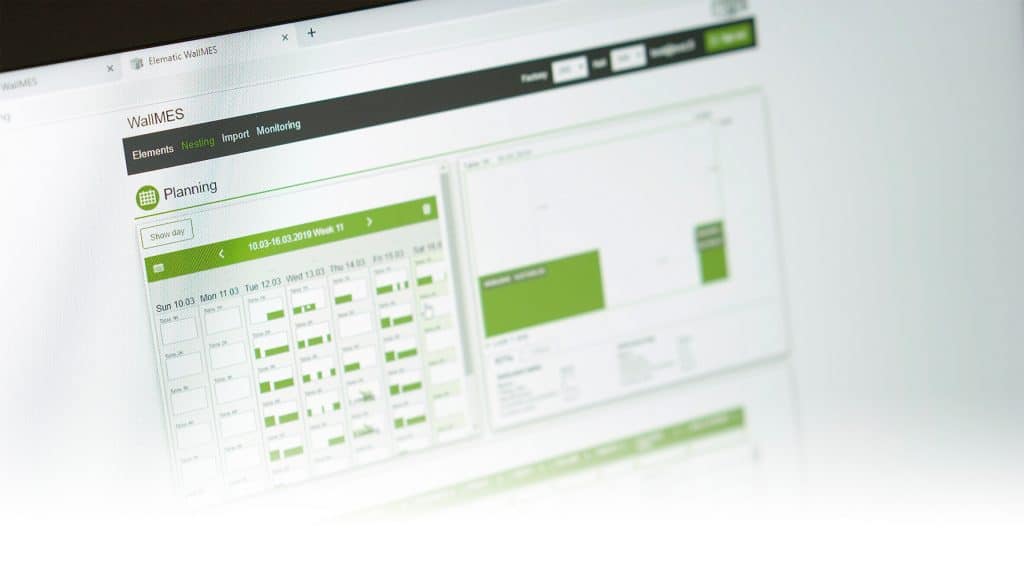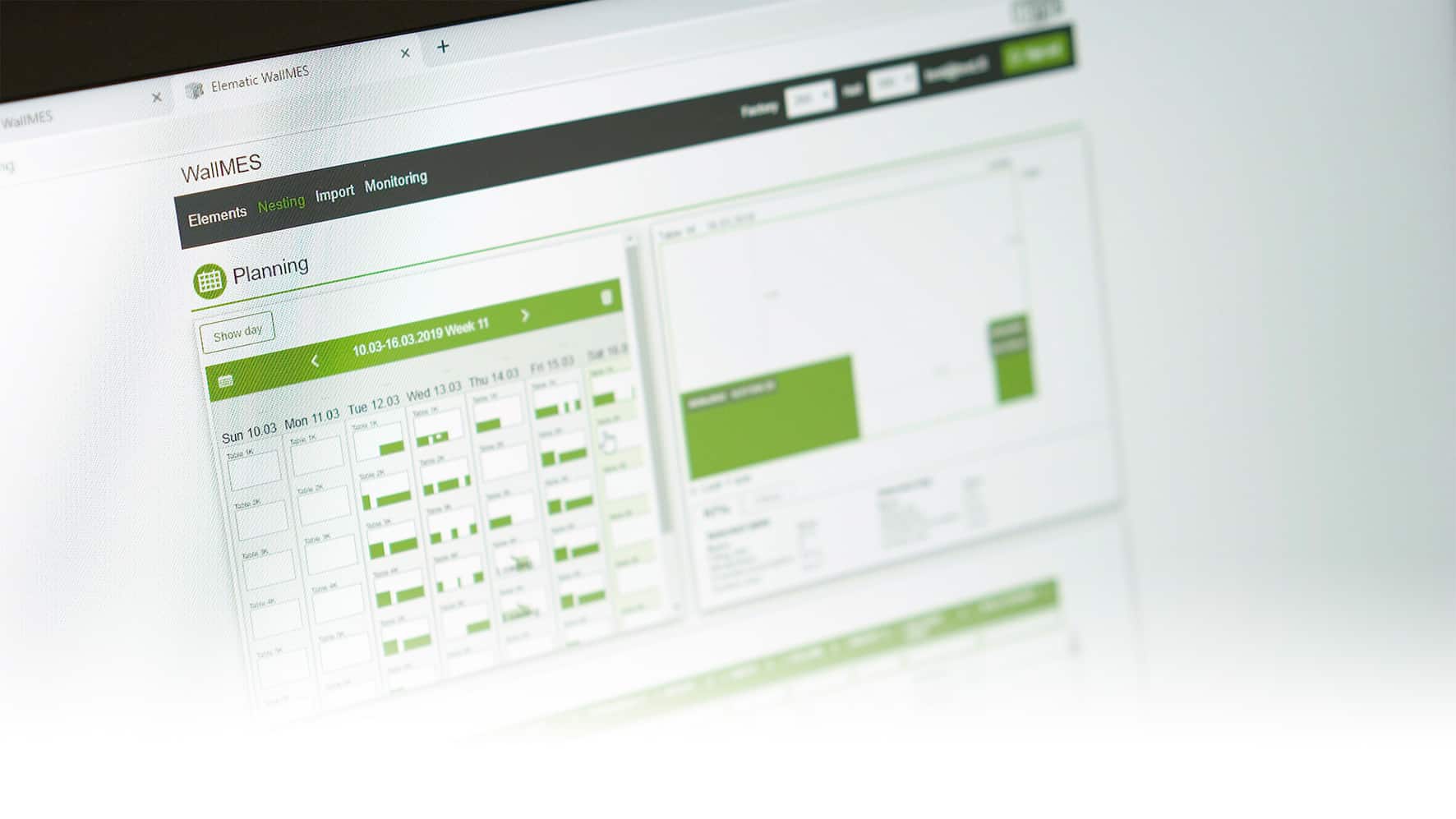 Elematic is known for its intelligent tools for production planning, execution and monitoring. This product family is now called Plant Control. With the new WallMES system, Plant Control includes everything that is needed in order to run a modern precast factory.

FloorMES is a widely-used manufacturing execution system (MES) for floor production. This year Elematic is launching WallMES, a similar system for wall production. This is a significant step in precast manufacturing.
"WallMES is a completely new kind of solution for wall production. It has a wide variety of applications, all the way from circulating lines to single molds, and we have developed it for a long time in cooperation with factories," says Jarkko Salmensivu, Product Director, Software and Automation at Elematic.
Several precast factories produce both floor and wall elements. By using MES, production planning is quick and efficient. The workflow is optimised to meet the needs of the specific facility.
Along with planning, monitoring is also easier and more detailed than ever before. The costs can be calculated and compared element by element, and the work can be organised based on actual data. On top of all this, the quality control process is completely digitalised.
"Instead of filling out a paper form for every element manufactured, the quality control information is securely stored in a database. It is much easier to make analysis or print out documents from a database than searching through paper files," Salmensivu says.
This is a perfect example of the benefits of digitalisation. If you need to see the top five quality defects in a given period, instead of going through old papers for days, it only takes a few seconds to find the answer.
Part of the family
Both MES systems and the ELiPLAN resource planning solution are now a part of a digital product family simply called Plant Control. This highlights Elematic's emphasis on offering modern, modular and customisable systems for plants.
"Plant Control offers all the automation that factories need. The already familiar systems such as ELiPLAN and FloorMES are included. We have updated the user interface and focused on usability," Salmensivu says.
Regardless of the environment, whether a production line, logistics or operations planning, Plant Control works seamlessly. When changes are made, all involved parties are informed. Plant Control is designed to work with modern tools such as Building Information Models (BIM).
According to Salmensivu, the new web-based user interface is a technology that works in Plant Control very well. The system can also be integrated to different fields that need work organisation. Since the work hours can be monitored, the system can help with wages. Monitoring the work progress makes the system useful tool in billing.
"It is very modular. When we customize a solution for a factory's needs, they get solutions for the key areas in the production which brings immediate savings."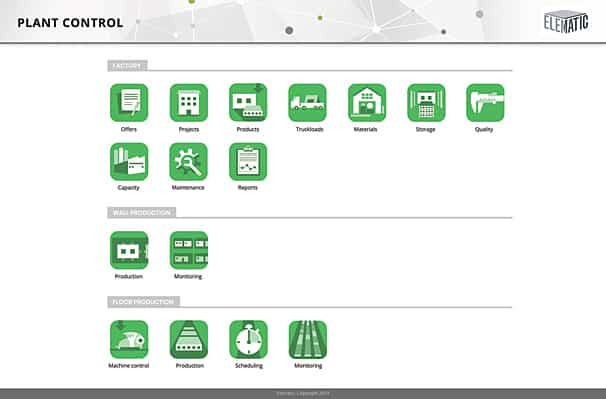 Great user experience
Elematic cooperated with Etteplan MORE to enhance the user experience of Plant Control. Hanna Remula, UX Designer at Etteplan MORE, points out that the software is designed to actually improve the work process. "We didn't want to guess what the users want. We communicated with Elematic and precast factories and did our best to come up with a product that suits the end users' specific needs."
The visualisation of data makes it easy to see what's currently happening. "The user should get a good view of the situation at one glance. In an industrial environment it is useful to get vital information about the operations as quickly as possible," Remula says.
Visual UX Designer Riina Kahala from Etteplan MORE notes that the main principle in visual design is creating a coherent system that is easy to understand and use. "The graphics support the coherence with a logical colour scheme and visual style. Elematic brand visuals are also present."
Kahala's graphic design is a big part of Elematic stand at Bauma. The simple, stylish and informative icons she designed for Plant Control can be seen on the walls of the Elematic stand. "The cooperation has been very rewarding. The workshops we've had, the comprehensive background materials and the excitement of the team have aided the design work a lot."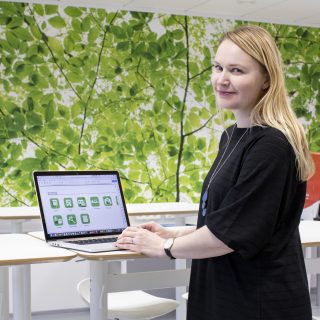 Agile development
Even though the first applications are now in the market, the development work with Etteplan MORE does not stop here. Close co-operation with Etteplan MORE's development team ensures the quality of the end product.
Applying the Scrum work model has made development fluent. The idea behind Scrum is to break the work into timeboxed small actions, track progress on a regular basis and communicate with the client and the development team constantly. Along the process, making changes is easy and light. "Agile software development enables us to derive different applications from the general concept we have created together," Remula says.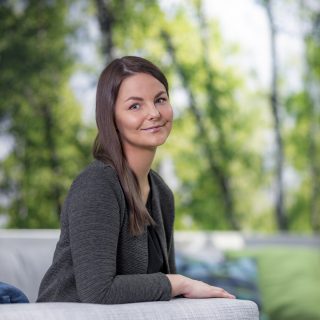 Do you have questions? Please, contact us.