Back to Concrete Issues Front page
Molding equipment paves the way for future professionals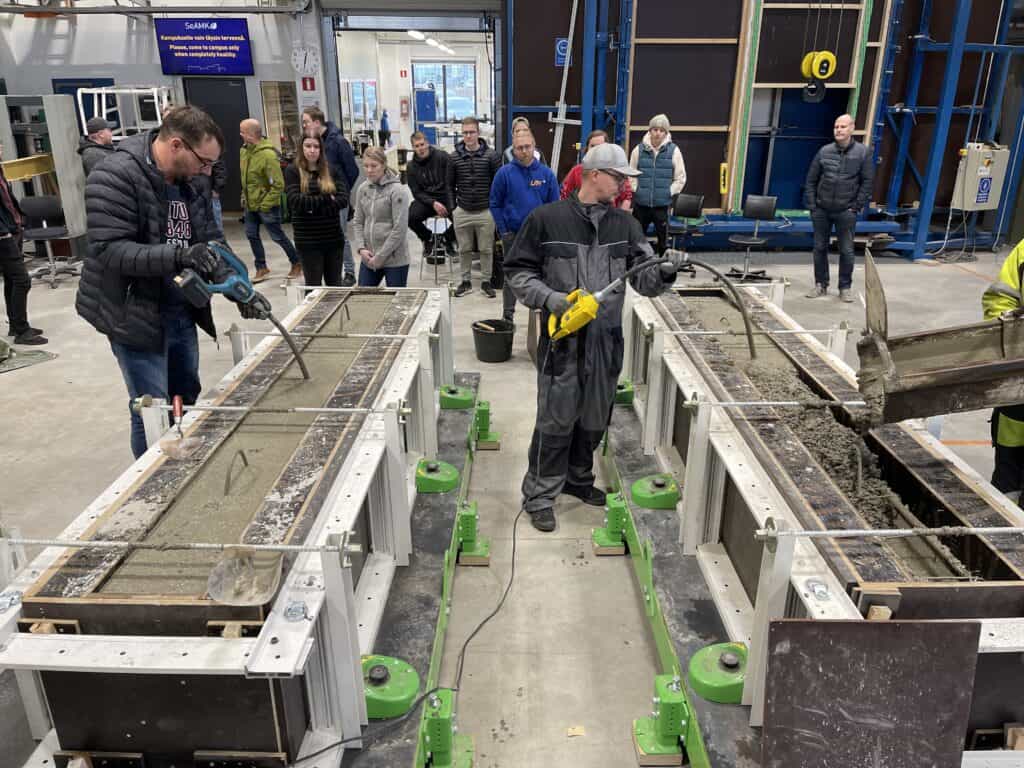 Civil engineering students learn about concrete structures using Elematic molds at Seinäjoki University of Applied Sciences in Finland.
Every year, dozens of civil engineering students are introduced to the production of precast concrete structures using Elematic molds at Seinäjoki University of Applied Sciences (SeAMK). Laboratory engineer Jorma Tuomisto teaches practical laboratory work to engineering and construction management students.
"We don't want to train mere theorists. If the students have at least once had the chance to carry out a practical casting, it is easier for them to apply the lessons learned in design or supervision," says Tuomisto.
For example, those specialising in design can see how the steel in the calculations fit into the mold, while those specialising in production can focus on the needs to be taken into account in control work.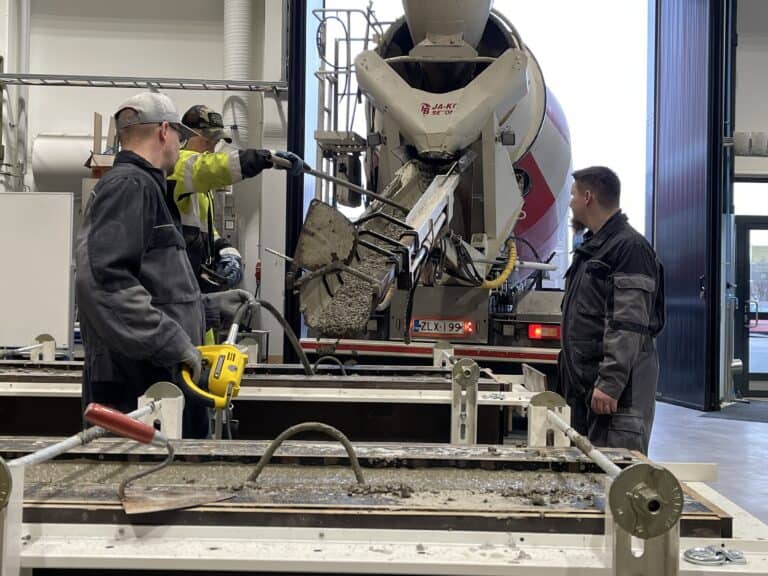 One element serves design, manufacturing, and testing
The molding equipment, which is a few years old, consists of two short molds and mold reinforcement plates. According to Tuomisto, the molds fit for training needs are designed to allow the construction of different molds and, if necessary, the span can be increased by combining the molds.
Tommi Talja is studying civil engineering on the multiform learning program. During concrete structures course, the students were casting a double ledger beam, and Talja showed them a model of how to properly vibrate. Talja, who has worked as a carpenter for 20 years, smilingly remarks that the first person people blame when a casting fails is the one who does the vibrating.
"The study schedule is tight. It's good to get some practical training, and at the same time a change of pace. Elematic shuttering system is a great tool for studying. If you had a pile of boards, the lessons would be over in no time," says Talja.
After design and production, the concrete is allowed to cure for four weeks, after which the final lessons are learned.
"After design and manufacture, the casting is tested on a large structural load ring. This way, the students can see what the structure can withstand and what safety factors are needed," says Tuomisto, who has also worked as a product development engineer in the precast industry.