Back to Concrete Issues Front page
Lujabetoni invests in future-proof precast factory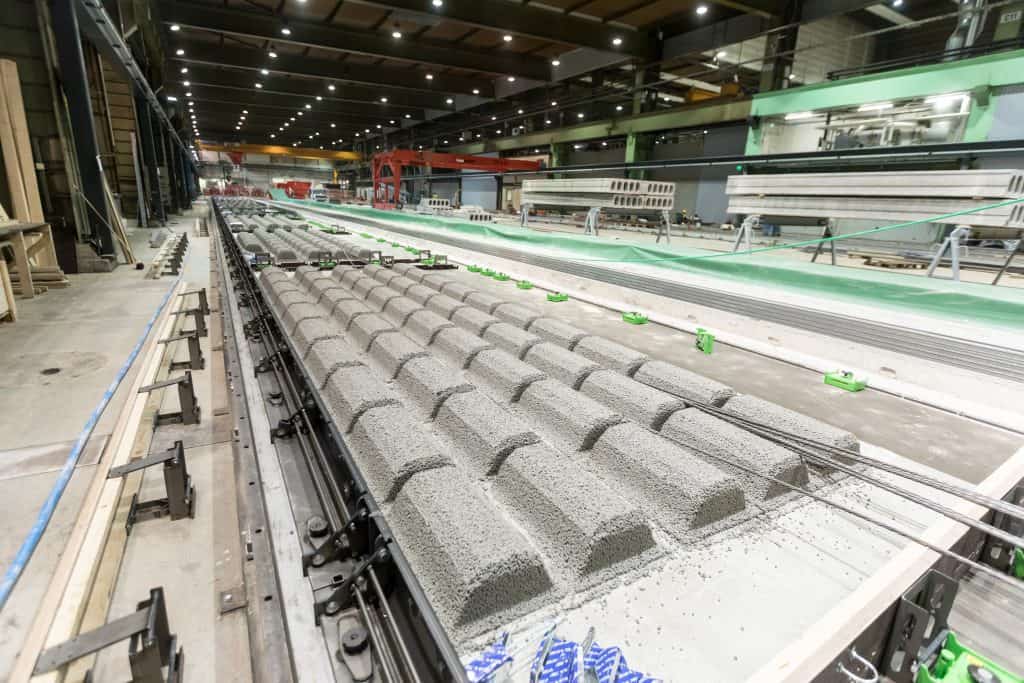 Finnish concrete product maker Lujabetoni has taken its business to the next level with a large and versatile precast factory capable of meeting changing customer and market needs now and in the future.
Business has been good for leading Finnish concrete product maker Lujabetoni in recent years.
A boom in residential construction has driven growth for the third-generation family business, which provides a wide range of precast concrete elements, ready-mixed concrete and various infrastructure products. Part of Luja Group with 600 million euros in turnover, the company employs 700 professionals and has an annual turnover of more than 170 million euros.
The upswing in construction in the Nordic country has been concentrated in the biggest cities – Helsinki, Tampere, Turku and Oulu – and especially in high-rise residential buildings. To meet the huge demand for concrete products, Lujabetoni has introduced a new Superslab design to the Finnish market and built the country's largest precast factory in the city of Järvenpää. Equipped with four 132-metre production lines provided by Elematic and occupying an area of 30,000 square metres, the new factory is Lujabetoni's biggest investment to date and reflects the company's innovative and confident growth plans for the future.
"We expect sustained long-term growth as Finland continues to urbanise further. Growing cities will need more apartments, infrastructure and services for people," says Mikko Isotalo, CEO, Lujabetoni.
What makes Lujabetoni's Järvenpää factory stand out from the rest is its unprecedented versatility. The 20-million-euro plant is capable of producing Superslabs, hollow-core slabs, compact walls, wall panels as well as beams, columns and other special elements used in building construction. Large infra products like concrete elements for bridges can be produced too, thanks to the factory's prestressing and lifting capabilities.
Importantly, the production lines can be changed from making Superslabs to hollow-core slab lines overnight and to beam and column lines in just a couple of days. This helps to deal with the cyclical nature of the industry.
"We have been in the precast business in Finland for decades and have seen that specialising in one product in large volumes is not necessarily a good thing in the long run. It's more important to be able to make different products using the same facilities. If demand for one product wanes, you can smoothly switch to producing another one," Isotalo explains the idea behind the factory.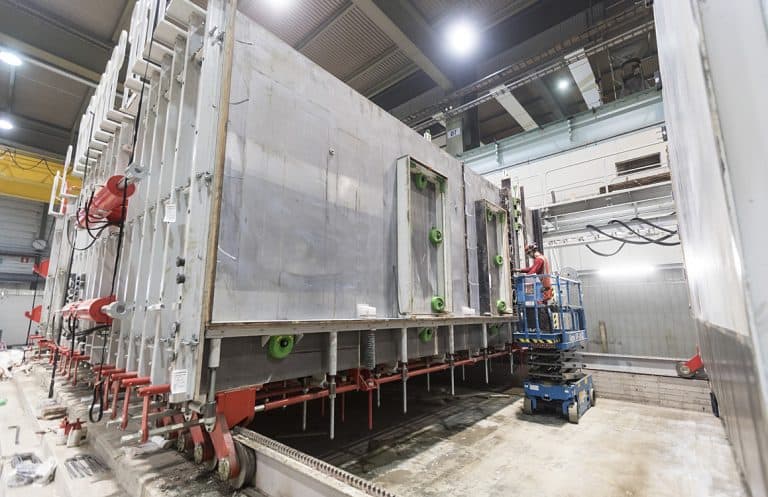 Mikko Isotalo
CEO
Lujabetoni
Lujabetoni's Järvenpää factory
The largest precast factory in Finland produces Superslabs, hollow-core slabs, compact walls, wall panels, beams, columns and other special elements. The production lines were delivered by Elematic in 2018.
Four 132-metre Superslab production lines that can be converted into eight hollow-core slab lines
20-leaf battery mold and table molds for wall panel production
High-capacity RMC plant
Max. production capacity covers 10,000 high-rise apartments annually
Production hall area: 30,000m2
Office space area: 5,000m2
No. of employees: 100+
Investment amount: 20 million euros
Designing a new kind of production line
The Järvenpää factory follows Lujabetoni's decision to bring the SL-Deck product concept developed by Denmark's Abeo to Finland under the local brand name Superlaatta (Superslab). Lujabetoni has developed the product into a new 3-metre-wide version and innovated the integration of building services solutions, such as bathroom installations and floor heating pipes, seamlessly to the slab, thereby helping to lower construction costs.
"The challenge for the construction industry is to shift work from construction sites to factories and to standardise products while remaining flexible towards customers. The future of precast lies in genuinely integrating value-adding solutions to the elements," Isotalo says.
Lujabetoni chose Elematic to help design and provide the production technology for Superslabs. Given the ambitious goal to develop a production line capable of producing hollow-core slabs, beams and columns too, the project required extensive expertise.
"Elematic is a leading precast technology provider and long-time partner of Lujabetoni. They were very positive about our vision, took on the challenge enthusiastically and fully committed themselves to the project. A lot of work was required, and we could not have pulled through without a capable partner," Isotalo tells.
Work on the project started in 2016 and in the following year Elematic provided the 96-metre pilot version of the 3,8-metre-wide Multislab production line to Lujabetoni's factory in Siilinjärvi, together with special equipment for cleaning and oiling the molds. The technology was then improved further based on actual use experience.
"Developing the production technology was a challenge because the molds have heating pipes and are quite complex in order to achieve flexibility for different uses. The most demanding task was developing the side molds for Superslabs, which were finalised after four of five protypes. Elematic was an efficient partner and we could find solutions together," Isotalo says.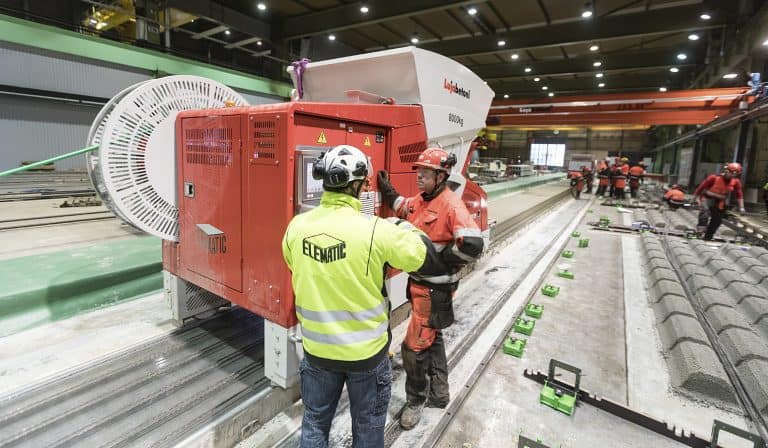 Luja Superslab
Lujabetoni's Superslab is a new innovative intermediate floor solution that can be flexibly used for diverse construction purposes. Based on the SL-Deck developed by Abeo, it combines the strength of prestressed concrete with the low weight of light-aggregate concrete. The extra-wide, long and light slab is fast and easy to install. Bathroom installations and floor heating pipes can be integrated to the slab at the factory.
Maximum width 3000mm
Length up to 12m
Standard height 270mm for residential floors
Weight 450kg/m2
Fire resistance 240min
Success despite tight schedule
Once the technology was tested and proven to work at the Siilinjärvi plant, Lujabetoni ordered four complete production lines from Elematic for its new factory in Järvenpää, for which it had acquired facilities in February 2018. The company had been looking for a factory site near the growing construction markets of Helsinki and decided to buy an old paper machinery plant in Järvenpää for this purpose.
"The schedule was very tight. We started planning the factory immediately after the deal was done and began ordering equipment in the beginning of summer. The installations started in the autumn and the factory started production in less than a year," Isotalo tells.
The longer Superslab production lines built in Järvenpää were strengthened further to allow the production of heavy beams and columns. Elematic also provided the factory with battery and table molds, a complete set of hollow core machinery and auxiliaries.
Lujabetoni's new factory serves customers in southern Finland with a maximum production capacity to cover the construction of around 10,000 high-rise apartments each year. For comparison, a total of 35,000 high-rise apartments began construction in the whole of Finland in 2017.
With its Superslab product and one-of-a-kind factory ready, Lujabetoni is well-positioned for future growth.