Back to Concrete Issues Front page
How can a precast concrete factory prepare for the digital future?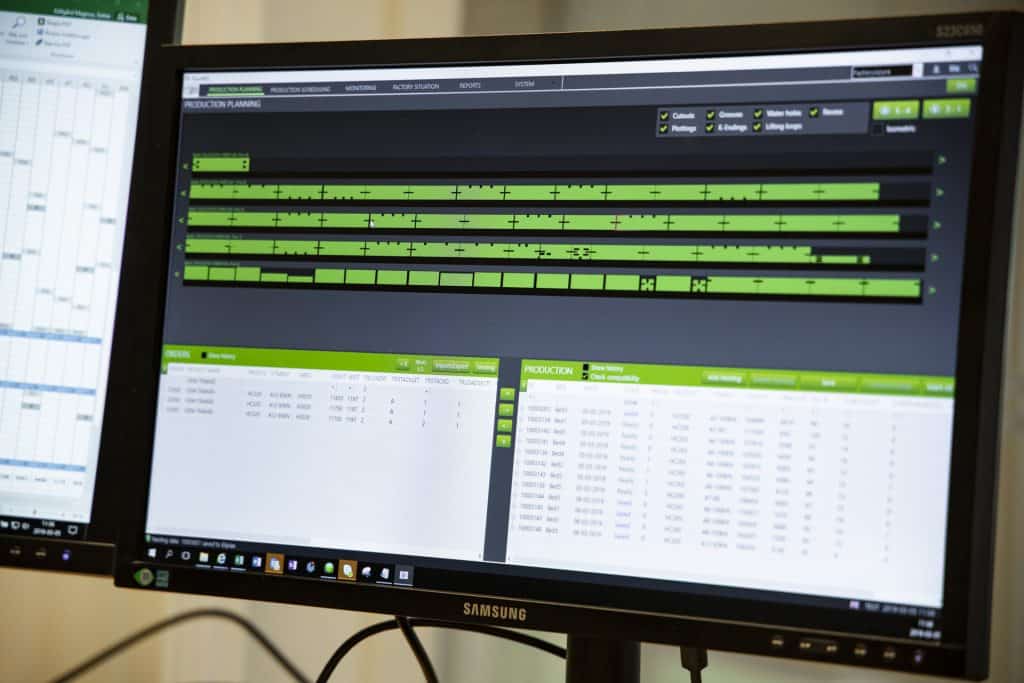 The precast concrete industry has seen a surge in digitalisation during the past three years. Investments are made and the benefits of digitalisation have become increasingly interesting. What does the digitalisation roadmap of your factory look like?
Digitalisation and automation will be decisive issues for precast concrete factories in the competitive future market. If you are planning to digitalise your factory, remember that purchasing automatic machinery is only the tip of the iceberg. Before you can fully benefit from your new automatic machines, you should first make sure that your data-related processes are in order. When your IT system supports digitalisation, you can utilise it in every phase of the production process.
"Accurate data is the heart of everything. When you have your production data under control, you can digitalise all things related to a product in your factory. Information will no longer be scattered around in different folders or sent from one person to another via email, but it will stay in the database and it is always up-to-date", says Jarkko Salmensivu, Director, Software Business Unit, Elematic.
In a digital system, all working phases are moderated in the database instead of Excel files, for instance. In addition to saving time and money, digitalising all factory processes reduces quality defects and working hours per square metre. Automatic machines do not have bad days at work, and they do not make wrong conclusions like humans do.
Digitalising the machinery and the processes of a factory may sound like a giant investment, which is why some factories are tempted to postpone it. But adopting a new – more accurate – working culture will be worth the effort.
"Think ten years ahead. Digitalisation will happen, whether you jump on the train or stay on the station. Will your factory make an effort to prepare for the digital future? Or will you continue working in the old ways, while others step to a new level of productivity by embracing the benefits of digitalisation?" Jarkko Salmensivu asks.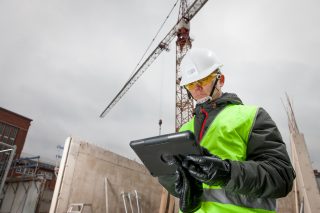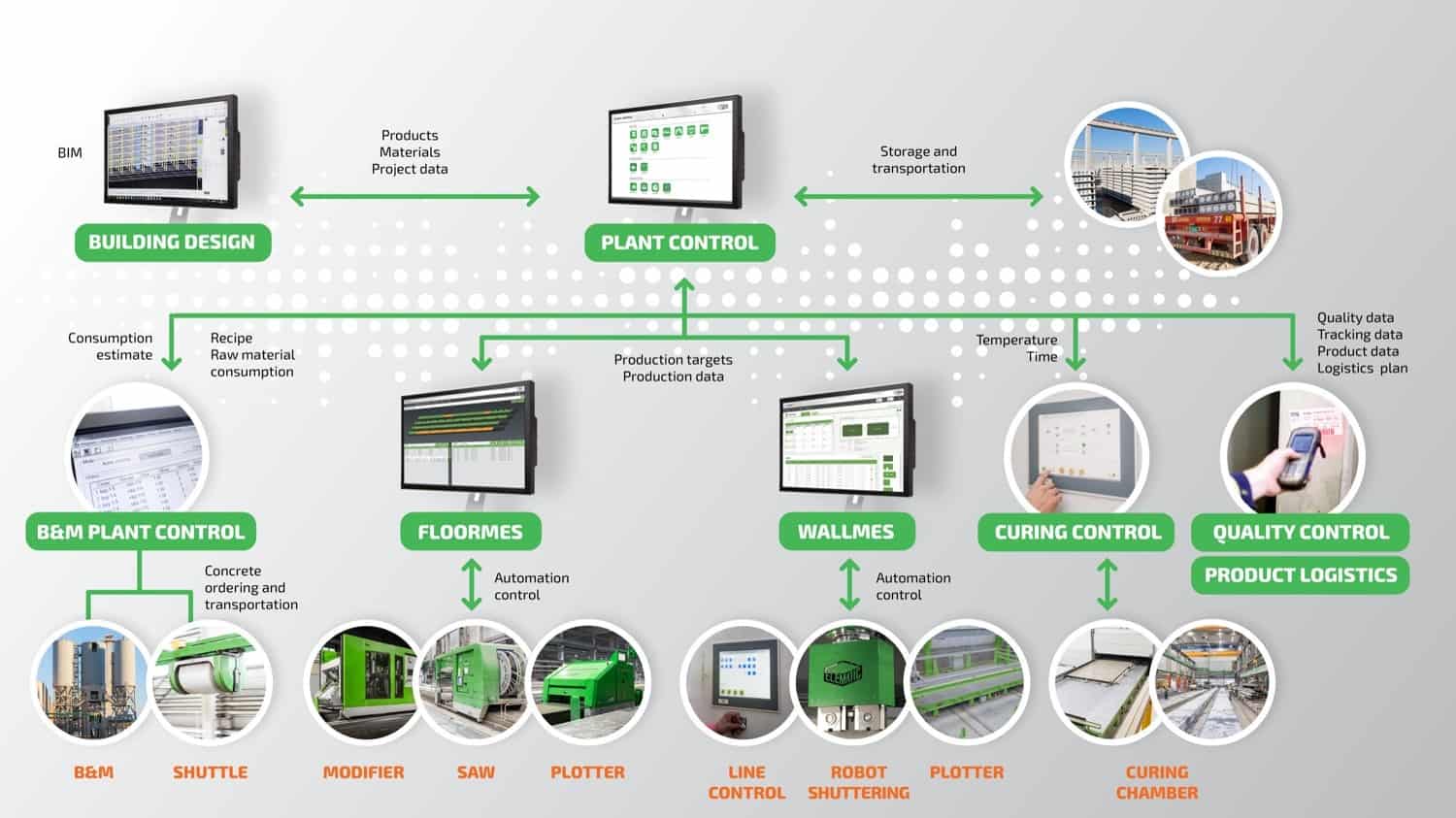 Digitalise these 3 processes
So how do you make sure that your processes are in order and your IT system supports digitalisation? Jarkko Salmensivu gives tips.
1) PRODUCT DESIGN: Choose software that supports automated production
Product design is often digitalised. But usually the digital system aims at engineers using paper drawings of a building, i.e. the design software does not support digital production of the precast concrete elements. For humans, interpreting a technical drawing of a precast concrete element is easy. We intuitively know which lines in a drawing are dimension lines and which ones mark the sides of the element. But an automatic machine does not know this since it cannot interpret images as we can. Hence, when engineers are designing precast concrete elements, they should use software that not only enables them to make technical drawings but also supports automatic manufacturing of the elements.
As you use the right kind of software, you will be able to digitalise many processes related to the production based on digital product information. Making material purchase orders can be done by pushing a few buttons, and calculating prices becomes swift. Planning transportation is normally an effort, but now the designing software will tell you what location of construction sites your precast concrete elements need to be transported to – and in what order.
2) PRODUCTION PLANNING: Make smart plans
Production plans in factories used to be accurate enough when the plans entailed the types and quantities of elements manufactured on a certain day. In a digital environment, automation demands that the plans are far more accurate: "these elements are manufactured today, in this production site, on this bed, in this location of the bed". Accuracy by millimetres is essential information for the machine since it will blindly follow instructions and operate according to plan.
The benefits of exact digital production planning are clear. Firstly, it saves time. In a relatively small factory and a manual environment, a production planner could use one day per week to plan the production, which is a fifth of his working hours. But if this process is digitalised, he will be able to do it in one or two hours. The other benefit comes from production optimization. Smart production planning is the key to efficient production. Digitalisation lets a factory optimise its production so that the products are manufactured at the right time, and not too many products end up waiting in stock. In manufacturing precast concrete elements, efficiency is based on repetition, so an effective plan includes repetition as much as possible. In a digital environment, a material purchaser will see any changes made by the production planner in real time.
3) PRODUCTION PROCESS: From ambiguous working methods to precise processes
Data optimisation for the working process is very important. Factories often have their own working cultures and e.g. ways of marking elements, but automatic machines do not necessarily work accordingly by default. When the data is optimised according to work processes, quality defects can be avoided.
Accuracy is the key in the working process. As a factory worker sets a slab on a mold, he may think "hmm, I will set this slab ten centimetres aside, since it fits here just fine". In manual production, this way of thinking would be ok. People in the following working phase would make the needed markings in the right spots on the slab. But if an automatic machine will do the following marking and plotting automatically, everything will end up 10 centimetres aside. Automatic machines do not understand flexible rules. They work according to exact commands.
Digitalising a factory is easier together
Digitalising the processes of a factory do not have to happen at once. There are different types and sizes of factories, and consultation and customization are available for all needs.
"With our years of experience in operating with hundreds of factories, we are glad to help in consulting anyone who wishes to digitalise and automate their production. When you get consultation from outside, digitalising a factory in the right way and the right schedule is not as hard as it may first seem," Jarkko Salmensivu says.
"If you do not digitalise your processes, you cannot automate them either. Accurate data is the heart of everything."
Jarkko Salmensivu, Director, Software Business Unit, Elematic
Elematic Software Unit helps factories to digitalise their production processes
• Elematic's new software unit started in 2019. The company has channelled resources into software development to create effective, working and easily-implemented software for factories. The aim is to help factories to stay on top of the construction evolution.
• Elematic Software Unit is based next to the second largest university of Finland (TUNI, Tampere). The unit features experienced precast industry professionals as well as newcomers to the field who have the latest knowhow in information technology. This combination ensures the market's leading solutions.
• The focus is in serving precasters in IT related matters. The unit helps in questions of digitalisation by offering consultation and well-proven products and solutions. The unit supports the factory's development path by planning the best solutions for digitalisation and following through the process.
Order our newsletter or contact us!