Building methods matter
The carbon footprint of the construction product can be calculated only when the footprint of the production process is known. The process entails emission effects of the energy and raw materials used, and the footprint of manufactured precast elements.  
There's a growing international demand for LEED certification as a framework to help buildings and spaces meet high sustainability standards. According to the US Green Building Council's annual  list of top 10 countries for LEED certification, 5 are from developing countries, with China on top for the second year, followed by India (2nd), Brazil (4th), Mexico (7th), and Philippines making its first appearance in the Top 10 list, representing the growing interests for sustainable buildings in Southeast Asia. One factor in meeting the standards is sustainable building methods. 
In the Elematic carbon footprint calculation conducted with Sweco, the results show the difference between cast-in-situ and precast building in 14-storey apartment building in China as an example.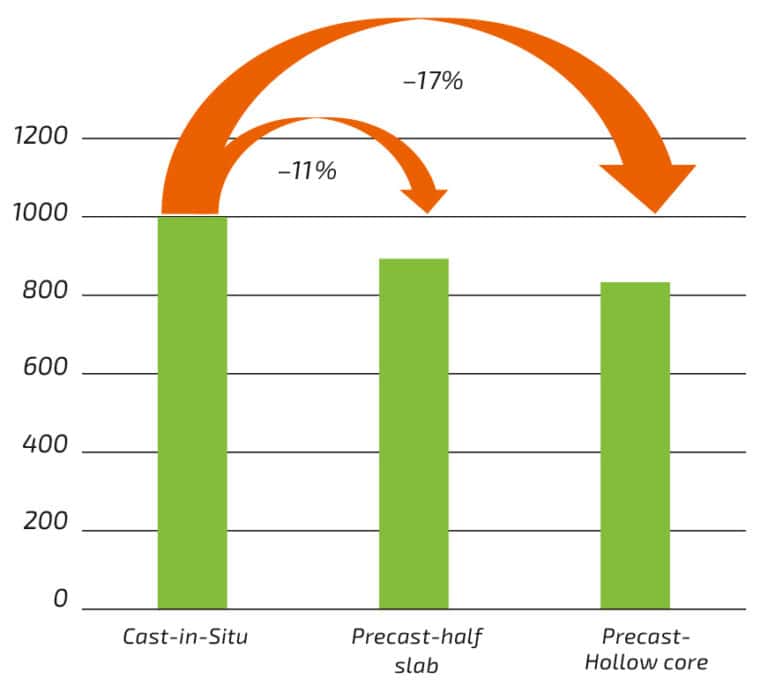 The carbon footprint of the 14-storey apartment building is largest in model when all floors and walls are Cast-in Situ. Smallest carbon footprint is produced when walls are precast and floor slabs are made with hollow core slabs. All calculations made the assumption of the same concrete and rebar: Concrete is calculated with C30/37 (4400/5400 PSI), 10% recycled binders in cement (300 kg/m3/ 18.72 lbs/ft3). Rebar used in calculation is A615, with a density of 7850.0 kg/m3

When looking at the difference in carbon footprint between the three different options, the biggest factor making the footprint smaller is the amount of concrete in the building frame. Exterior walls, internal walls (both load-bearing and non-load-bearing), subfloors, stairs and balcony structures were taken into account in the calculation as prefabricated products.