Back to Concrete Issues Front page
From idea to execution: Proven project services behind successful delivery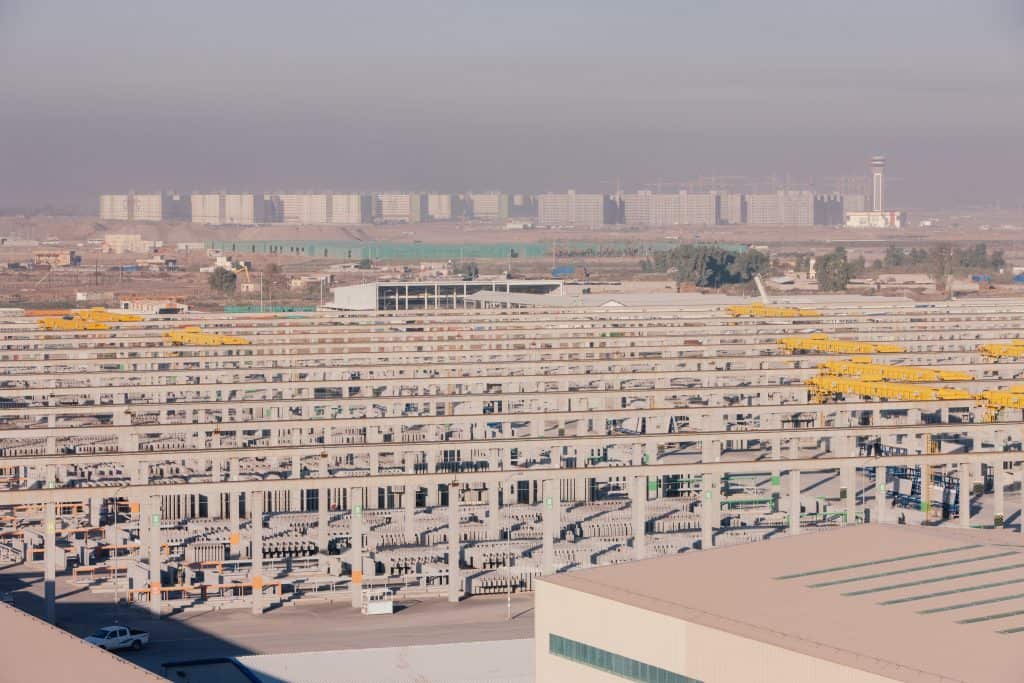 Demands for well-functioning project management have increased over the past few years. This is where the pressure to shorten delivery times and the ability to deliver a tight project cycle meet years of know-how. Elematic's streamlined project services attend to the varying precasting needs on every continent – from the preliminary phase to start-up and commissioning.
Field-tested project services play an essential part in a successful, on-time delivery. After an agreement with a customer, the sales department hands the project over to the project department. This is when the appointed project manager takes over.
"It is an essential part of the service for the customer to have a single point of contact for all project-related questions. No question is too small or silly, and a reply within one working day is guaranteed. We can proceed most effectively if the customer also has designated a point of contact," says Maija Toivonen, Project Manager at Elematic since 2007.
A good project manager – and project services in general – always anticipate what lies ahead.
"When you know what has to be done today to make the right things happen two months from now, the project is on a good path."
The project manager can be in contact with the customer on a daily basis and pay visits to the site in the most important phases of the project. The number of visits depends on the scope of the delivery.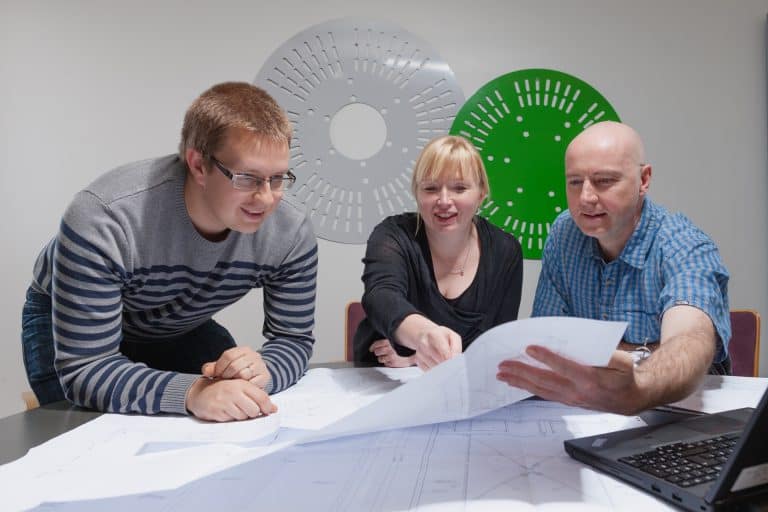 Lasse Harjula, Maija Toivonen and Paul Hayhurst going through plans.
From initial drawings to erection supervision
When initial drawings have been prepared in accordance with site-specific measurements and characteristics, the planning of foundations and factory halls can start.
"We do a site walk and collect information: where to get electricity and warm water, for example. Depending on the data, we suggest the best possible layout," Toivonen says.
Shortly after that, the equipment list and layout, foundation and interface drawings are made. Now the equipment engineering can begin. The equipment is always tailored to site-specific needs.
"Our fast 3D engineering tools tackle the challenges that are brought by constantly tightening project schedules," says Seppo Säynäväjärvi, Project Department Manager at Elematic.
The project manager makes sure that the engineering has the latest layout information and equipment modification data available. When manufacturing and pre-assembly of the equipment starts, efficient prefabrication can speed up the manufacturing process. Project services ensure that the project stays on schedule.
The exact delivery date is usually set early but logistics professionals can make the final loading plan after all equipment is manufactured. Some of the larger equipment must be dismantled for loading after test runs. Deliveries often include special transport due to large-sized molds.
Installation details depend on the level of agreement. Elematic offers erection supervision to coordinate the correct number of mechanics, electricians, welders, and other workers needed for efficient erection. The project manager directs the erection supervisors responsible for mechanics, electrics, automation, and training. These phases, together with early machinery training for future staff, add up to successful start-up and commissioning.
How long does it take?
"All this takes just four to nine months, depending on the scope of delivery and shipping time. In addition to the overall time schedule, the manufacturing process and installation on-site require extra attention," Säynäväjärvi says.
It doesn't end there. The project manager is also the responsible point of contact during the warranty period and makes sure that the machinery keeps working. Additional services include wear part packages and service agreements.
No such thing as a standard delivery
With 30 years of experience at Elematic, Seppo Säynäväjärvi leads an in-house team of over 30 professionals, including project manager Maija Toivonen. The team consists of project managers, as well as all of the personnel required for project execution, from mechanical engineering and electric automation to logistics.
According to Säynäväjärvi, the strengths of the team lie in global project management experience as well as innovation and engineering skills. "Recently, we have received questions regarding civil engineering from our customers. We aim to strengthen our team in that sector too," Säynäväjärvi says.
According to Toivonen, a delivery by Elematic always brings some added value.
"We are not delivering a standard product. Therefore, we make sure that we know the site and the best way to make use of it."
Elematic always pays attention to the actual end product.
"By supplying the right equipment and services we want to make sure that the production flows as planned," Säynäväjärvi says.
Making the most out of the new production line
Is the production as efficient as it could be? Supervision to optimize precast production is a very popular service. Elematic's offering includes services such as machinery and maintenance training, preventive maintenance planning, and consultation on raw materials and recipes. A successful project is not just a matter of equipment delivery.
"Sometimes it is a question of the right concrete recipe, sometimes it is about precast element joints. We help in construction engineering too. We always take case-specific needs into account to make our customers satisfied," Toivonen says.