Back to Concrete Issues Front page
Cool sandwich wall gets along in hot conditions. Decreasing the heating and cooling energy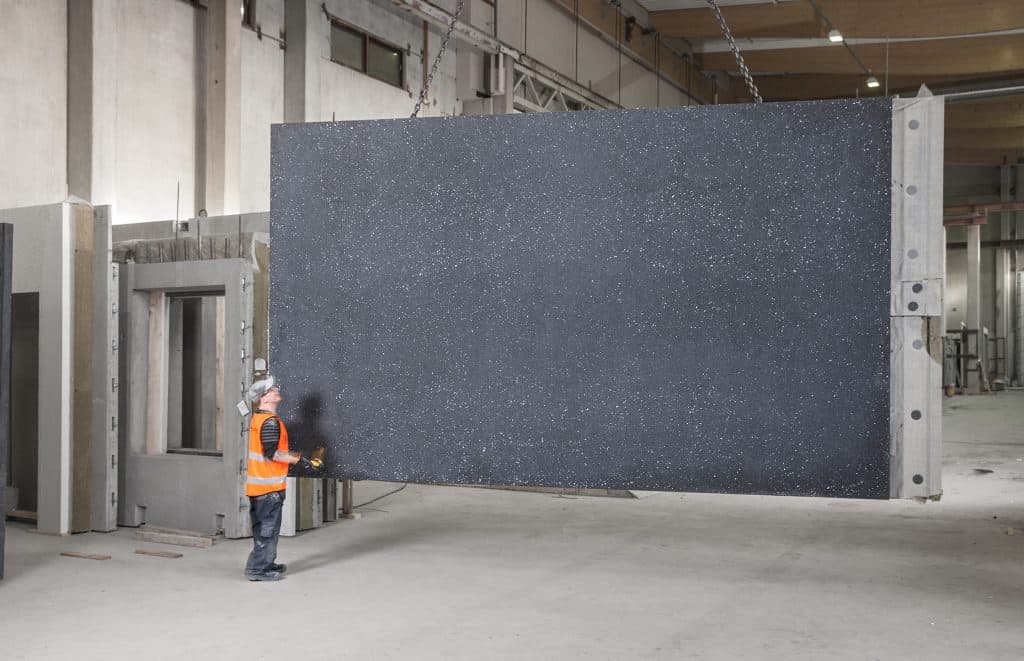 Controlled thermal insulation counts among the main benefits of insulated precast concrete wall panels known as sandwich walls.
Thermally insulated façades are increasingly a requirement rather than a recommendation in many parts of the world today. This also applies to countries with a hot climate, as it means that expensive air-conditioning is needed to a lesser degree. The efficiency of heating is almost 100%, whereas the efficiency of cooling is only about 30%, which is why cooling consumes substantially more energy than heating.
"Cooling can be more than twice as expensive as heating, depending on the technique in use. The importance of energy efficiency is thus about to increase in countries with hot climates," says Ismo Kallio, Product Director, Walls at Elematic.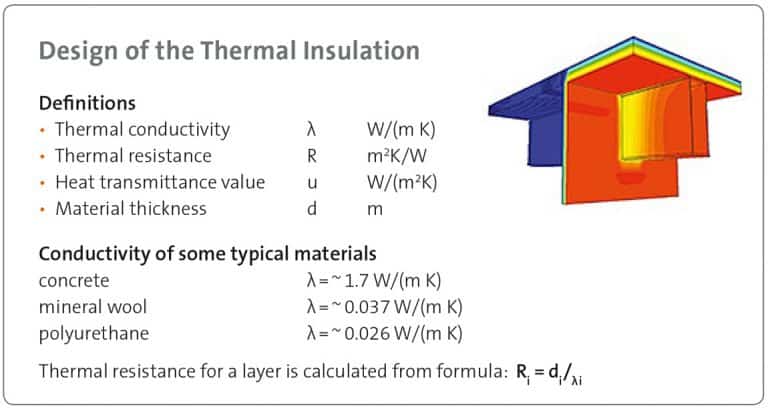 Lowering the building's operational costs
In Dubai, where the Green Building Code set the requirements for thermal insulation of buildings in 2014, energy efficiency is subject to increasing scrutiny. Cooling is a major issue in the United Arab Emirates, where more than 50% of all energy is used to cool buildings.
"Regulations are already influencing construction methods in the area," says Curt Lindroth, Area Sales Director at Elematic Dubai. Elematic is in the process of equipping two wall panel factories in the UAE this year.
Thermal insulation is defined by the U-value – an overall heat transfer coefficient that describes how well a building element conducts heat. The government of Dubai requires a maximum U-value of 0.57 W/m2K, meaning big savings in cooling system investments in comparison with traditional building methods without insulation. Dubai Precast has calculated that the required thermal insulation will result in a payback period of six years in the UAE thanks to the building's lower operational costs.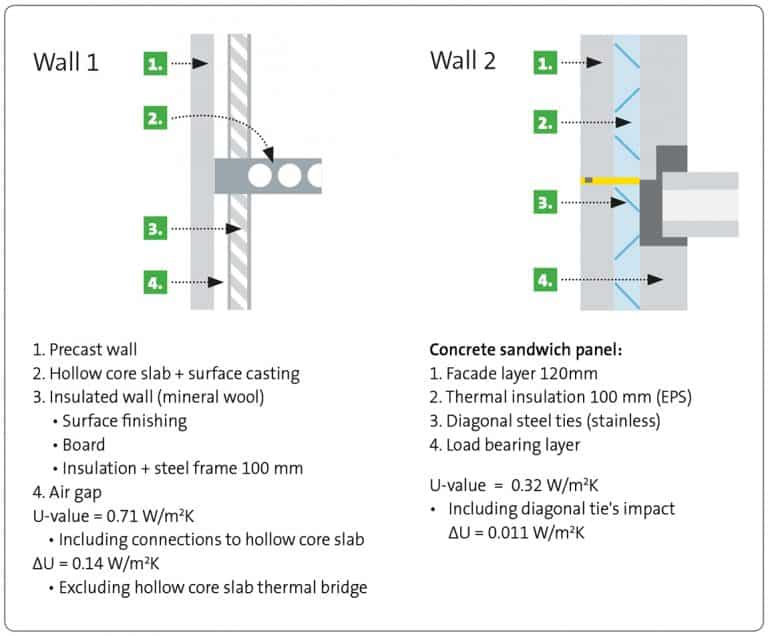 Decreasing the risks of moisture damages
A good, healthy indoor climate is the target for designing and delivering buildings. Moisture damage is one of the main causes of poor indoor air quality.
Jyri Nieminen, Chief Sustainability Officer at Sweco Structures Ltd., has studied hospital design in Kerala, India, to examine the profitability of thermal insulation and full precast construction in hot and humid climates. The study shows that the design of buildings with high requirements on indoor climate quality, such as hospitals, can benefit from the methodology to assess the impact of building structures on indoor climate.
Mold growth depends on the mold sensitivity of the growth substrate. Cement-based products are classified as moderately resistant, reaching substantially higher tolerance against mold in comparison with wood-based materials and gypsum board.
Two alternative external wall solutions with the same amount of insulation were considered for the hospital building in Kerala (see below Wall 1 & 2). Both wall types had the same thermal insulation thickness but the precast wall has a higher U-value due to thermal bridging in the structure. Thermal bridging affects the cooling demand. Using the cooling demand as the criterion, the sandwich wall with connections has the optimum thermal properties for use as an exterior wall.
The mold growth indices for the exterior wall alternatives also differ.
Throughout the year, moisture flows in the wall structures from outdoors to indoors due to the low cooling set point. Even though the building is over-pressurized, the moisture flow causes high humidity in hollow-core slabs and substantial risk of mold growth on the exterior surface of gypsum board. The risk of a poor indoor climate is high.
Sandwich walls also carry a mold risk, but to a smaller extent.
"Sandwich wall panels can deliver a complete building envelope with good airtightness and resistance against mold growth for hot and humid climates. It is advisable to use insulation materials with high water vapor diffusion resistance. Then also the low oxygen content at the concrete surfaces against the thermal insulation reduces the risk for of moisture damage," Nieminen says.
Jyri Nieminen works at Sweco Finland Ltd., specialized in the built environment and industry. Sweco operates in the fields of structural, industrial, environmental and municipal engineering, as well as building service systems and architecture.
Sandwich wall
Sandwich wall panels are precast concrete wall panels with two layers of concrete and a layer of rigid insulation between them.
The two layers of concrete, often referred to as a load-bearing layer and a facade layer, are connected together by a connecting system. Several techniques are used as connectors. Connecting systems in use today include bent steel-shaped systems, plastic pin systems, and carbon-fiber truss systems.
Sandwich wall panel technology can be used for the entire building envelope, including the exterior facade, vapor barrier, insulation and interior load-bearing layer. As sandwich wall panels and all other precast units can be installed in one quick process, unlike in cast-in-situ building, the time required to complete the building envelope can be significantly decreased by using sandwich panels.