Back to Concrete Issues Front page
Chemical color treatments with an artistic touch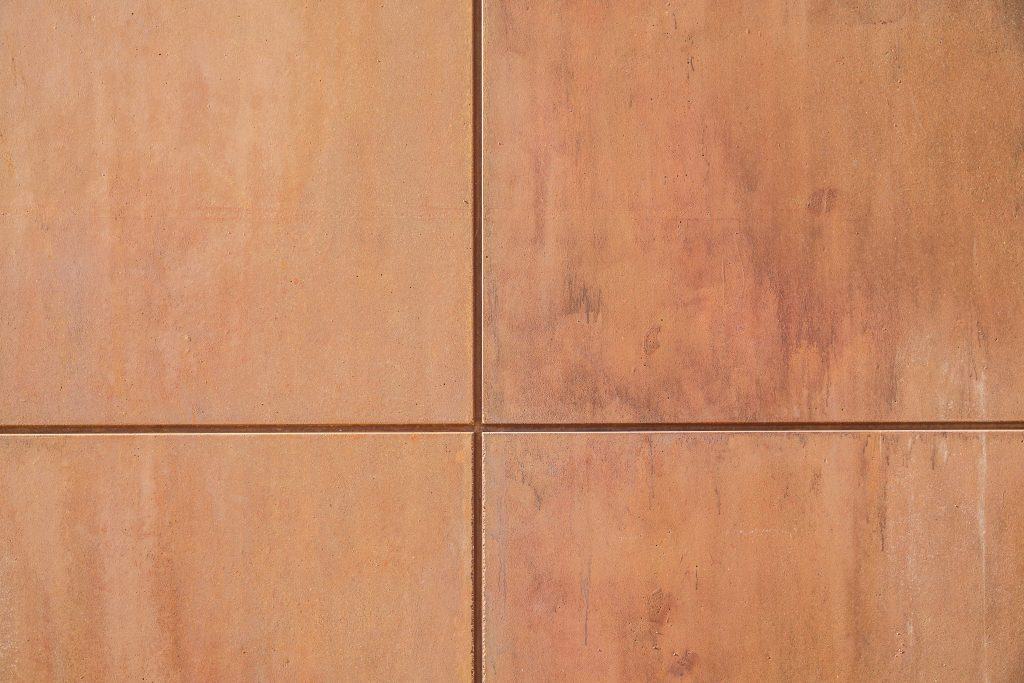 Betonipallas is a Finnish company known for its concrete patina coloring method. The company emphasizes the aesthetic side of concrete element façades. The umbra patina coloring method developed by company owner and sculptor Pertti Kukkonen gives sandwich slabs a sophisticated look.
"The umbra method is based on a chemical reaction. The coloring is done manually because achieving a good-looking and lively surface demands artistic talent. Were the coloring not done by a professional, the wall might look too machine-made or even unattractive", says Kukkonen.
The coloring is done by absorbing reagents onto the concrete elements on-site. Before the chemical agents can be spread on the surface, the cement paste must be removed. The reagents are sprayed onto the concrete surface three times.
"Two or three workers can complete a façade of 500 square meters in just a week or two," says Kukkonen.
The price of the treatment is about 40–50 euros per square meter.
Easy maintenance
Sometimes concrete element slabs are uneven in color. The umbra method fades out these eventual color differences. Unlike painting, this chemical surface treatment doesn't hide the mineral characteristics of the wall, resulting in a beautiful, lively façade.
Patina colored façades are easy to maintain. Since the coloring is deliberately irregular, it hides minor dirt stains well.
"Umbra façades age beautifully like Falu red houses on Swedish farms, and the product life-cycle is long. Umbra coloring doesn't require a perfect concrete surface," says Kukkonen.
Deeper black
The umbra patina coloring method has been applied to dozens of buildings all over Finland, but black patina coloring is a new product for Betonipallas.
"Black concrete walls sometimes look a little gray, but the patina coloring method creates a deep yet lively black surface," says Kukkonen.
Their first reference for black concrete is Löyly, a modern-looking public sauna in Helsinki, the capital city of Finland. The building is a rectangular black box that is covered with a free form wooden "cloak". Black concrete is one of the main materials used in the interiors, along with light Scandinavian birch wood, blackened steel, and wool.
"Architects are very interested in black concrete. We've tried to create it by using black pigment, as was done with Löyly, but the method produces elements that are closer to dark grey than black. Another way to make black concrete is the patina coloring method, which is not a new invention. In Europe – Germany in particular – these types of projects are done with glazing paint."
Betonipallas has developed their coloring method together with Kirjoväri, a company that specializes in paints, gildings, and restoration work.
"We can get a beautiful black finish that has lots of shades by matching the color temperature of the mix to the color of the concrete. To achieve the right look, it is essential to find the right color ratio. In the spreading phase, optimum moisture of the surface is also very important," Kukkonen says.