Back to Concrete Issues Front page
Precast brick facades create coherent appearance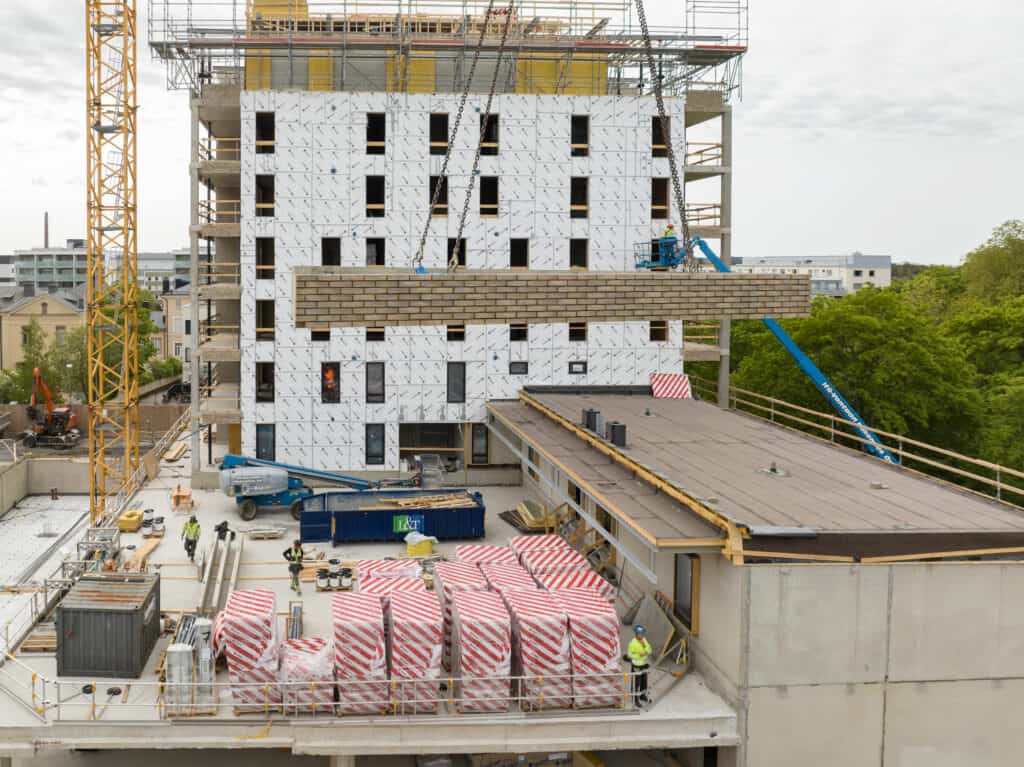 Samppalinna, located in the center of the city of Turku, is an important part of the history of Finland's oldest city. Today it is a sought-after residential area, the value of which is enhanced by the great river and city views from Samppalinna Hill. New buildings honor the history with brick facades while the modern method of prefabrication is used.
In the design of the new residential area of ​​Samppalinna, efforts have been made to match the new buildings to the brick architecture of the old buildings in the area. Brick facades are therefore a distinctive part of the look of the new area.  
"The brick facade is a durable and maintenance-free material. The use of brick has become more common in the last ten years in the construction of apartment buildings, and in this case the brick facades were chosen particularly to maintain the coherent appearance in the central city area," tells Tapio Pauna from constructor TKU-Rakennus.  
A total of 4 500 m2 of concrete precast elements will be used in the first residential building at the site, Samppalinna Gustav. Most of them are brick-clad elements, bricked on site.  
74 brick railings in the balconies
Bricks can also be seen on the balconies. A total of 74 brick railings, stretching over an area of ​​approximately 360 m2, have already been installed in the balconies of Samppalinna Gustav.  
Both brick railings and elements are supplied by precast manufacturer VaBe.    
"What is special about thin and long brick railings is the curling, which is typical for a brick-clad element. This can be minimised by using a so-called expansion joint or by installing the railings as quickly as possible after manufacturing. In this case, we used the latter method," says Tomi Mäkimarttunen, Project Manager of VaBe.   
"A movement joint means that the element is cut across the movement joint as planned. In this way, one long element practically contains two short elements, and the effects of curling are thus reduced. When the element is attached to the balcony, it no longer curves, even if the concrete has not yet reached its ultimate strength." 
Samppalinna residential area
Consist of five apartment buildings, two-story townhouse apartments, and two preserved old buildings. 

 

The construction of the first apartment building, Samppalinna Gustav, started in the autumn of 2022.

The area is designed by architect Pekka Mäki, architectural company Sigge in Turku, Finland. 

 
How to give precast concrete a brick wall appearance?