Back to Concrete Issues Front page
A concrete display of cooperation, skill and goodwill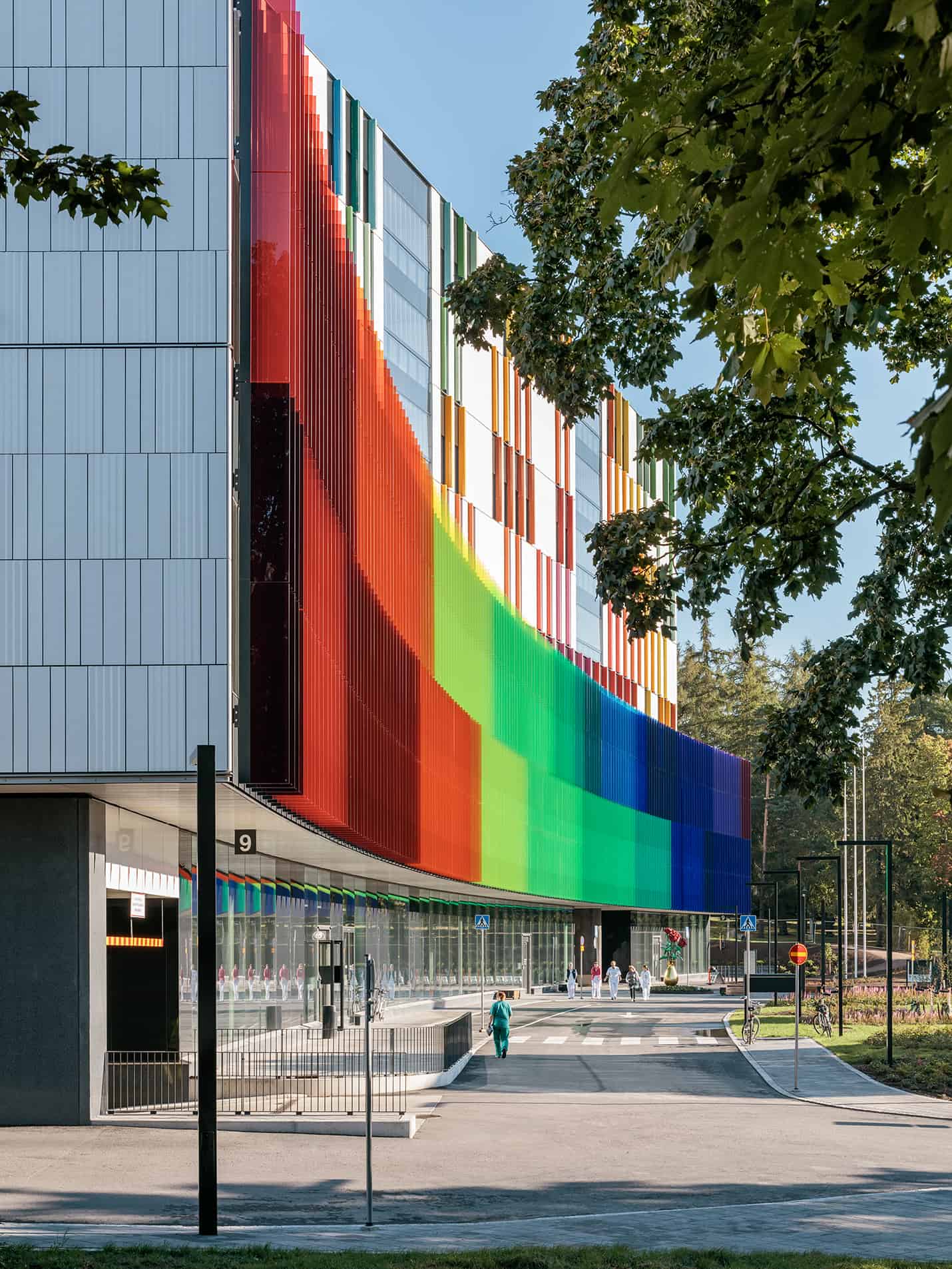 Hospitals are among the most demanding buildings to construct. The regulations and requirements are numerous and the quality cannot be compromised. The New Children's Hospital in Helsinki, Finland, is a beautiful example of success.
The colourful facade catches your attention immediately. Like a rainbow, it promises a better future. The New Children's Hospital is simply a stunning piece of architecture. Not only is it beautiful, it could very well be the best children's hospital in the world.
The story of the building is an exceptional one. The previous Children's Hospital in Helsinki was built in 1946 and has long been in a need of substantial upgrades. However, the Hospital District of Helsinki and Uusimaa (HUS), of which it is a part, was not able to earmark funds for building a new one in its investment program.
In 2013, a national support foundation was set up to raise money for a new building. Over one million Finnish residents participated in funding the hospital, raising a sum of almost 40 million euros. The complete costs of the project were around 170 million euros.
Construction work began in 2014 and the hospital was opened in September 2018. The children and their families as well as HUS and its personnel have been happy with the result.
"This project was an excellent example of cooperation," says Esa Ikäheimonen, Project Director at Ramboll Finland, structural engineer for the project.
"All parties were involved at an early stage and committed to goals that everyone shared. It was clear that this project was important to everyone."
Originally, the core of the building was designed to be built using cast-in-situ method and the facade with polyurethane insulated sandwich elements. Along the way, plans changed in favour of precast concrete. Choosing precast beams, columns and solid slabs in the structures of floors 4-8 proved to be a wise move.
"We wanted to see if using more precast would help the project stay on schedule within budget. Both options were put out for bids."
"The drying time of the structures would have been considerably longer using cast-in-situ," says Satu Parikka, Sales Director at Parma.
Parma was chosen to deliver 3 200 precast elements, the equivalent of about 18 000 square meters. The project included sandwich elements, hollow-core, prestressed and solid slabs.
"Everyone knew which elements were currently being casted, which were waiting for transport, which were shipped and which have been installed"
Satu Parikka
Parma Concolis
Parma, founded in 1993, is the biggest precast concrete manufacturer in Finland.
The roots of the company go back to the beginning of the 20th century.
Nowadays Parma is a part of Consolis, the leading precast concrete solutions provider in Europe.
About 750 employees in Finland.
Annual revenue approx. 170 million euros.
Parma and Consolis are long-time clients of Elematic.
The company has 9 production facilities in Finland.
Forssa, Nummela, Nastola and Hyrylä factories delivered the elements for the New Children's Hospital.
Forssa made the sandwich elements, Hyrylä and Nastola the solid slabs, and Nummela the prestressed slabs.
Best possible moisture control
With the sandwich elements in the facade, the building envelope was sealed early. Windows were pre-installed to the elements at the factory. This minimised the time and space needed on the construction site.
"In Helsinki, there is very limited work space outside the facade. Installing windows to upper floors on site is dangerous too, compared to doing it in a factory," Parikka says.
The architect was closely involved, to make sure the right type of windows was used in the right places. The workflow was carefully planned.
"Windows were installed according to a detailed schedule. Our facilities are not designed for that kind of work, so we had to figure out when to fabricate what, where to store the elements and how to do the actual installation."
A comprehensive Building Information Model (BIM) was used throughout the project. Parma has a specialised Project Centre to enhance the use of 3D modeling.
Architect Sakari Forsman from SARC Architects says that it is virtually impossible to work without virtual modelling in a project as massive as this.
"The sheer amount of heating, ventilation and air conditioning systems in a modern hospital is overwhelming. If you switch all the core structures off from the BIM model, it still looks exactly the same because of all the HVAC systems."
The New Children's Hospital is a fine example of using BIM to its full potential. All parties had access to the model and were able to see the current state of the project.
At Parma, a large portion of the precast data was retrieved directly from the model without separate drawings.
"We also updated the model with information from the facilities. Everyone knew which elements were currently being casted, which were waiting for transport, which were shipped and which have been installed," Parikka says.
The concrete drying time on site was crucial from start to finish. Matti Julin, Site Manager for SRV, the constructor of the project, says that in his 32-year career as site manager, he has never seen more detailed moisture control.
"This is how it should be done everywhere. We monitored the moisture levels at sample depths of 40mm and 70mm and we had hundreds of sensors in every floor. The samples were examined by a third party, who gave us the permission to apply the vinyl flooring only if the samples were dry enough. If they were not, we waited. We could see the moisture levels and temperatures on our cell phones. All in all, I dare say that it was done more carefully than anywhere else."
The vinyl flooring required a relative humidity of 83 percent while the average level was at 85 percent. While the difference does not seem drastic, it increased the drying time by almost two months.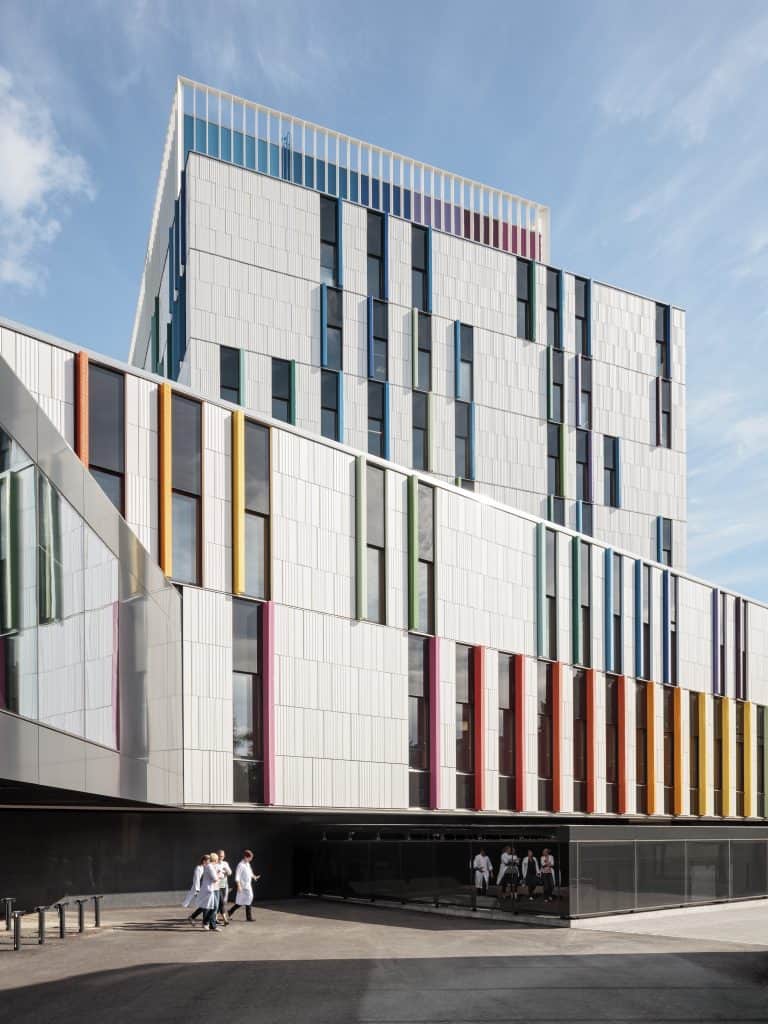 SARC Architects 2018, Lastensairaala, Helsinki
"It was a functional design task first and foremost, but we did our best to showcase its architectural quality as well."
Sakari Forsman
Simultaneous progress
As often happens in large-scale construction projects, the design and construction work overlapped heavily.
"It is not always a positive thing that everything is done simultaneously. But time is money and we have to respect that. Hospital design is one of the most demanding tasks an architect can get and it requires a lot of communication with the end users," Forsman explains.
The challenges of overlapping were tackled by making a clear division between the structures that were expected to remain unchanged and structures that were subject to change.
On the construction site, changes in plans increase pressure. SRV's Julin is used to working under pressure but underlines the importance of planning.
"In this project, the structural engineering was done exceptionally well. However, we had to begin our work with quite a low level of plans at hand because of ongoing communication between the architects and the users."
When the pace is fast and plans are changing, effective use of BIM helps the project stay on schedule and within budget. An intelligent model recalculates itself after every tiny modification. This makes it easy to change plans along the way.
"In big projects we are able to get the most out of BIM models. We have drones monitoring the progress and we are able to present different views of the project quickly and easily. I have the pleasure to work with young, educated project engineers who have great understanding of technology," Julin says.
Virtual modelling and prefabrication often go hand in hand. Digitalisation has yet a lot of unrealised potential in the construction business, notes Ikäheimonen.
"We have just begun to recognise the possibilities of using digital tools and modelling. Along with precast concrete, rebar, molds and such can be prefabricated and modelled."
Mobile technology on site
Business Director Jarmo Manninen from Trimble Solutions says that new features that allowed users to update construction stage model information were evaluated in the New Children's Hospital, including construction status sharing, i.e., maintaining real-time situational awareness of the project.
Manninen emphasises that construction-calibre Building Information Model is much more than a source of drawings and reports, it provides a lot of value for construction projects both in fabrication and construction stages.
"When the Building Information Model is correctly made and updated, it enables users to access up-to-date and precise information throughout the project's life cycle. Fabrication and construction details, quantities of materials, construction sequences, schedules, progress statuses, maintenance information and so on."
Construction-level BIM allows users to effectively use information at the sites. Forsman points out that modelling offers a useful example of Augmented Reality (AR). The workers are able to see what to do and where on their mobile device.
"We have worked with modelling for years as part of planning. The important next step is to take this technology to the site. For example, in this project the positioning of HVAC elements was read directly from the model. It doesn't make sense to print out 2,300 different drawings when all the information is already in the model."
Made together to last
Since the New Children's Hospital was an exceptionally meaningful project, everyone was willing to go above and beyond to make sure it was done right. As Julin notes, children's hospitals are built in Finland only once in 80 years.
"It says a lot about the stakeholders' commitment that the project was finished two months ahead of schedule and it stayed on budget."
Building a hospital is always a demanding project. It requires good cooperation and a high level of skill.
"Compared to a similar scale office building, there's five or six times more electrical work, along with gas systems, safety systems and special requirements to house the latest hospital technology," Julin lists.
One of the guidelines in the design was to think about the end users – not only the personnel but the children for whom the hospital was being built. From the positioning of the windows to colours and materials used in the wards, everything was seen through the eyes of the children.
"A hospital is an institution for healthcare. The clinical and professional level of the building had to be pristine. That was priority number one. But on top of that, we put a lot of effort into making the place feel welcoming and reassuring to the children and their families," Forsman says.
In view of this, the hospital uses special lighting, Moomin art by Tove Jansson, an aquarium, exciting and soothing soundscapes – all kinds of innovative features to create an atmosphere conducive to healing.
No wonder the hospital was awarded with the Finlandia Prize for Architecture in 2018. The prize is awarded by the Finnish Association of Architects (SAFA) to promote appreciation of high-quality architecture and to highlight its importance.
"It was a long project, five years altogether. We all felt that it was a success and of course it feels good that others recognise it too. It was a functional design task first and foremost, but we did our best to showcase its architectural quality as well," Forsman concludes.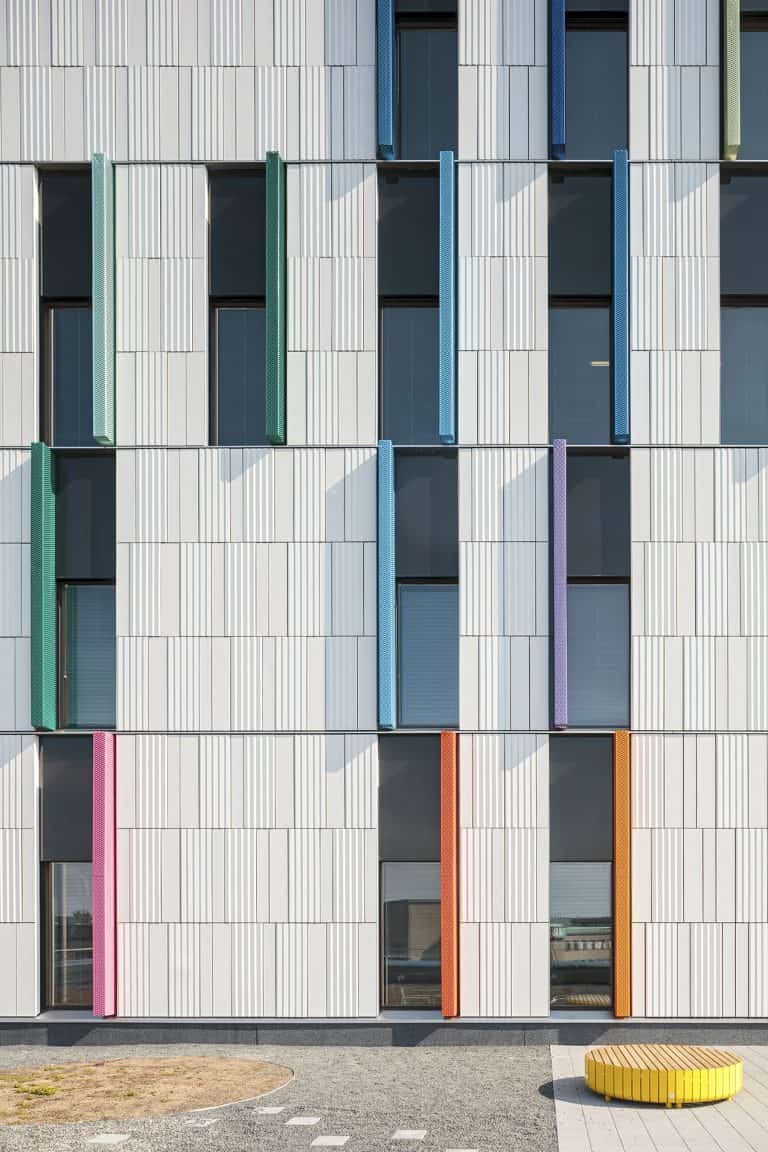 SARC Architects 2018, Lastensairaala, Helsinki
"It says a lot about the stakeholders' commitment that the project was finished two months ahead of schedule and it stayed on budget."
Matti Julin
The New Children's Hospital
Helsinki, Finland
Build schedule: 2013 – 2018
Budget: 168 million euros
Size: 48,000 square meters, 230,000 cubic meters
Floors: 8 above ground, a basement, and a machine room floor on the roof
Precast concrete used: 3,200 elements, equivalent to 18 000 sq m
Rooms (total): 2,069
Operation rooms: 12
Intensive care units: 16
Wards: 118
Consultation and rehabilitation rooms: 220
Glass panels used in facade: 180
Contractor: Haahtela
Architects: SARC, Reino Koivula
Constructor: SRV
Structural engineering: Ramboll Finland
HVAC&A engineering: Ramboll Finland
Electrical engineering: Granlund Oy
Information model coordinator: Byggnadsekonomi
Medical equipment: Granlund
Steel beams and columns: Peikko Finland
Precast elements: Parma