Down memory lane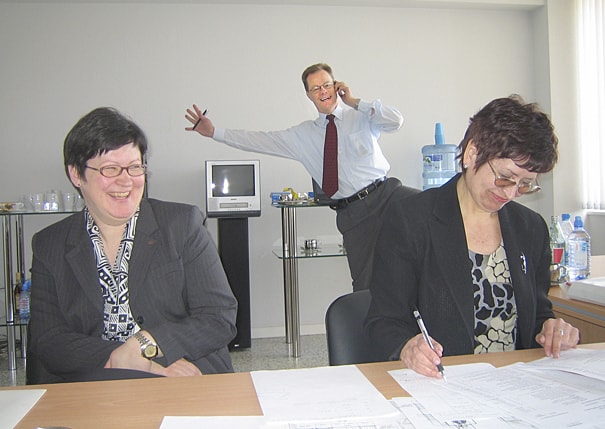 Esa Enqvist, negotiations in Russia.
"When I started, we had just made big deliveries to Kuwait and Saudi Arabia. I had never visited these countries before and it was exciting to do business there," says Esa Enqvist, who joined the company in 1978 as sales engineer and later became CEO of Elematic Engineering before retiring in 2010. "Demand was huge, and deliveries had to be made fast. Once we were negotiating a deal in Riyadh, Saudi Arabia, and our customer threw the papers right back at us, saying that the delivery should be in November and not in May as we had proposed. But in the end, we still managed to reach an agreement and finalise the deal," Enqvist recalls.
"In the 1980s we developed shear compaction, which made extruders a lot less noisy. The technology was revolutionary at the time and its development involved a lot of hard work. But we succeeded and sold many extruders in Europe first. Now this technology is used everywhere in the world – even some of the oldest extruders are still in use," says Tarmo Sahala, who joined Elematic in 1982 as mechanical engineer and now works as Area Sales Director.
"Elematic delivered many large factories to South Korea in the early 1990s and customers often visited the company's headquarters in Finland to finalise project negotiations. It was very close cooperation: when we were writing down details, the customers often sat behind us, telling what needed to be changed and so on. Once our salesperson told the Koreans that my husband and I owned horses. They got excited about the horse-riding opportunity and came to spend the weekend at our place," says Susanna Luoma, who joined Elematic in 1982, and is currently a receptionist.
"My best memories are from Russia where I have worked on many projects from Kaliningrad to Siberia, from the late 1980s and early 1990 and then again since early 2000s", says Timo Ahlfors, who also joined Elematic in 1982 and is now Logistics Manager. "Once I was in a car with a customer who was telling me a story in Russian. Since I had learned some Russian and understood what he said, I just nodded. When we reached the destination, the customer told my interpreter that Timo is like a Russian dog: he understands everything but says nothing. For the same reason I've also been suspected of being a KGB agent," Ahlfors tells smiling.
"Many of Elematic's customers – even big ones – are family businesses and their relationship with us often lasts from one generation to the next. This is especially the case in Southern Europe where the customer will invite you to family dinners once you have become friends. I remember one such dinner where the owner's son was 5 years old and had learnt some English. Now he runs the family business and they are still our customer," Tarmo Sahala tells with satisfaction.