Back to Blog Front page
How to adopt precast concrete as your building technology?
Are you pondering about the suitability of precast concrete structure to your construction projects? Are you not quite sure how to evaluate its benefits? Do you need a clear cost calculation and a plan for the most suitable precast products? If this sounds familiar, concept design services will help you in adopting the precast concrete technology.
Shift from traditional construction to precast
If you are new to precast construction, or would like to expand your knowledge, a concept design will help understanding the feasibility of adopting this technology. A concept design includes an evaluation on how your current and foreseen projects could be structured using precast. It also indicates whether to use a complete or a composite structure. Furthermore, the performance of the precast building in the local ground conditions and the required precast product types will also be evaluated.
For example, Jindal Realty (JRPL), our Indian customer turned to us for adopting precast technology in their project: The Jindal Global City and University at NCR, India. They wanted to explore which construction technology would fulfill the requirements of rapid construction, high quality and less labor oriented work, and how to adopt it. We carried out concept design for their building requirements. The design provided details of how precast can be implemented and their construction methodology converted. As a result, JRPL successfully finished a construction project of a number of 6 to 9 storey tall precast buildings, taking up to approx. 1,000,000 m² of construction. These buildings are complete precast structures in high seismic zone-4 of India. The buildings comprise of a wall-frame system which gives better utilization of floor area compared to conventional construction, JRPL reached all their set requirements.
Choose the most suitable concept design office
When taking up a new construction method, it's extremely important to find a professional partner that can truly help you in reaching the best possible outcomes. If you are considering which structural engineering services provider to choose in the precasting field, you should pay attention to the following issues on top of the critical concept evaluation itself:
– Do the design engineers have sound know-how on developments in the precast industry along with good practices of successfully implemented systems?
– Have they gained experience on geographically varied projects, international structural standards and utilization of varied programs?
In addition, the engineers should have solid knowledge on precast production, plant operations and efficient working methods, as well as structural connections and their lifetime behavior.
Preparing for concept design project
Understanding the nature of your project in totality is crucial for the concept design team, because it's the starting point for evaluating the suitability of precast to the project. To reach the best possible outcome, the team needs to receive architectural drawings, including layouts, elevations, sections and special features – if any. In addition, details of building utility services arrangements, local seismic details and costs of local structural materials are needed.
The concept design phase usually takes 8 to 10 weeks to complete. However, all projects are unique in terms of architectural complexity, seismicity, geographical location and other construction requirements; hence a precise time for the designing phase cannot be provided before knowing all the details affecting the design.
Concept design
The end result of a concept design project is a report including all information that you need for adapting precast construction:
– Basis of structural analysis & design including e.g. loading data, design code details and structural framing concept details
– Outlined structural framing with precast arrangement
– Typical connection details of various precast elements
– Sizing, geometrical details and number of different precast product types including reinforcement, prestressing and concrete strengths
– Suggested changes to architectural design to make the building more efficient with precast system
– Details of production set-up / precast machinery and equipment requirements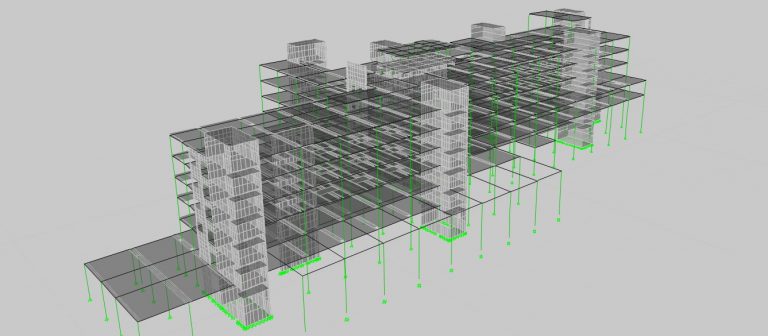 PMHS Hospital
As an example, one of our customers in concept design is KEF Infrastructure. One of their first precast projects in India was the building of PMHS Hospital. When we got involved with KEF, they were already exploring precast technology for their project. The suggestion they had at that time was rather old-fashioned and labor intensive, with complex production and execution. If the original plan had been followed, the project would have been costly and time-consuming with questionable end results.
We carried out concept design for the hospital building. The concept gave details on how modern precast concrete technology can be implemented with efficient precast element requirements. We also gave advice on how to set up a productive and very flexible production system, which will cater to the various project needs in the future.
As a result, KEF was able to set up a productive and cost-efficient solution for the massive 300,00 m² hospital project.located in seismic zone-3 of India. The structural system comprised of multi-storey reinforced precast columns, prestressed precast beams, hollow-core slabs with structural topping, staircases and special- featured graphic concrete façade panels. The PMHS hospital is a unique building in India, constructed with complete precast solution meeting all desired project requirements.
Next steps
After you've gained in-depth knowledge about the precast construction technology and its suitability to your project, the next step is to discuss more about the structural system, suggested architectural changes, project costs and precast production set-up requirements. On top of the feasibility study, we will help you in finalizing the building details and setting up a precast plant. We promise lifetime commitment – from design to the complete life cycle of the factory.
Writer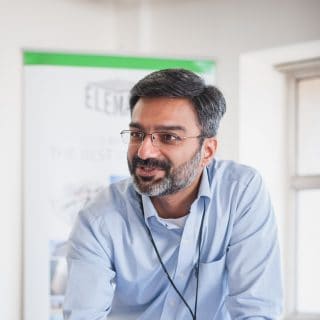 Prakash Shah
Head, Technical Support
Elematic